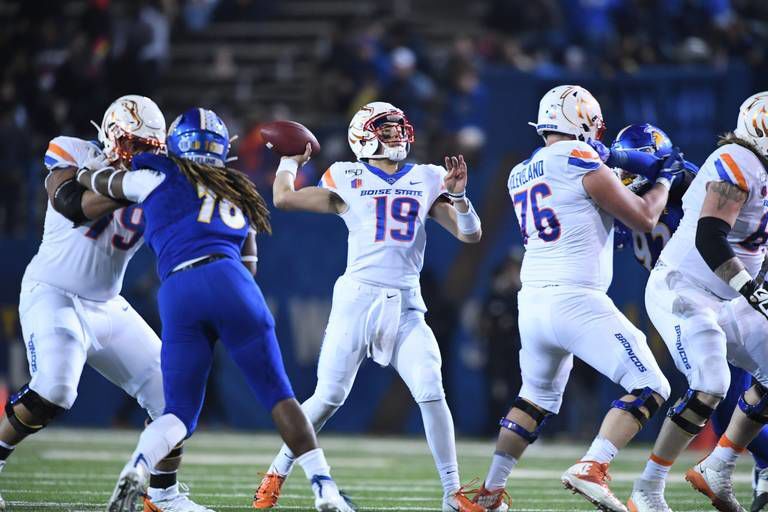 BOISE — Sophomore Hank Bachmeier is entrenched as Boise State's starting quarterback, but his top backup this season may be a newcomer to the program.
Boise State football coach Bryan Harsin said Saturday that Bachmeier is taking the first-team reps in practice, and USC transfer Jack Sears has been taking most of the snaps with the second team as redshirt junior Chase Cord continues to rehab from injuries suffered last season.
Last fall, Cord suffered knee and shoulder injuries, which kept him out of the final five games of the season. He also underwent ankle surgery this offseason, which sidelined him for spring practice even before it was canceled because of COVID-19.
In 2018, Cord appeared in four games before a torn ACL cost him the rest of the season.
Despite the NCAA's decision to give all players an extra year of eligibility, Harsin didn't go as far as to say Cord was going to miss the season. He didn't rule it out, either, saying "it's always an option."
"Chase Cord is as tough a guy as I've ever been around," Harsin said. "He's been through a lot with the injuries, but you've got to be healthy and there's a lot of work, and you don't have the same amount of time and preparation from the spring and summer because we lost all that spring time."
Sears is a former four-star recruit from San Clemente High in California. He was a late addition to the Broncos' 2020 recruiting class after he spent the past three years at USC but sat out last season to focus on completing his undergraduate degree.
Harsin said Sears is still adjusting to life in an unfamiliar system, but he's been impressed with his new quarterback's dedication to his craft.
"He's a very focused player," Harsin said. "Every single day, he has a purpose and he wants to get better at whatever we've discussed and he'll hone in on that and he'll go work on it."
Sears saw limited snaps in 2018 as the Trojans' No. 3 quarterback. He made his collegiate debut against Arizona State and completed 20-of-28 passes for 235 yards and two touchdowns.
The former Trojan isn't the only quarterback getting more reps because of Cord's absence, though. Harsin said former Timberline quarterback Andy Peters — a walk-on who enrolled in January — and 2020 recruit Cade Fennegan have seen considerable snaps since the Broncos began fall practice Sept. 26.
Boise State's coaches aren't shy about playing multiple quarterbacks, and that should prove true again this year. Sears will almost certainly see the field as long as he's healthy, and Fennegan may see some snaps, too.
"He's got a lot to learn, but he's one of those guys who can go out there and wing it just enough to make plays because he can run," Harsin said. "This guy's got some pretty good feel, too, and guys that have feel can do some stuff out there on the field."
In three years at Woodrow Wilson High in Texas, Fennegan racked up 6,454 passing yards and 94 touchdowns and added 796 yards and 18 more scores on the ground. He spent the past two years on an LDS mission in Argentina.
Boise State opens the season Oct. 24 at home against Utah State.
Be the first to know
Get local news delivered to your inbox!