BOISE — Josh Allen was frustrated. At everything.
He was frustrated with himself, his offensive line, his receivers, even the blue turf at Albertsons Stadium.
Allen and the University of Wyoming football team were coming off a 24-14 loss to Boise State Saturday night. It was their third defeat of the season, and Allen — the Cowboys' hyped junior quarterback — underwhelmed.
Saturday's game was played in cold, soggy conditions, and neither offense looked particularly impressive. But one trend continued — Boise State's defense played well against a star opponent.
"He's one of the best football players we've played against," Broncos coach Bryan Harsin said. "We didn't believe that we were gonna shut him down. We knew that we could slow him down."
Allen's final stats: 12-of-27 for 131 yards, a touchdown and two interceptions; 85 yards and a touchdown on 18 rushes (3.4 yards per carry).
Allen is listed at 6-foot-5, 240 pounds. His size helps him break tackles, and he has good speed.
But he said the heavy rushing load on Saturday wasn't planned. Before last week's game at Utah State, Allen had rushed 30 times all season. He's taken 34 carries the last two games.
Allen and Wyoming head coach Craig Bohl said the rain that drenched the first half didn't change their offensive gameplan all that much.
"Footing was OK," Allen said. "That field's not the best field, but with rain, it's OK because it soaked up all the moisture, so you didn't see guys slipping around over there."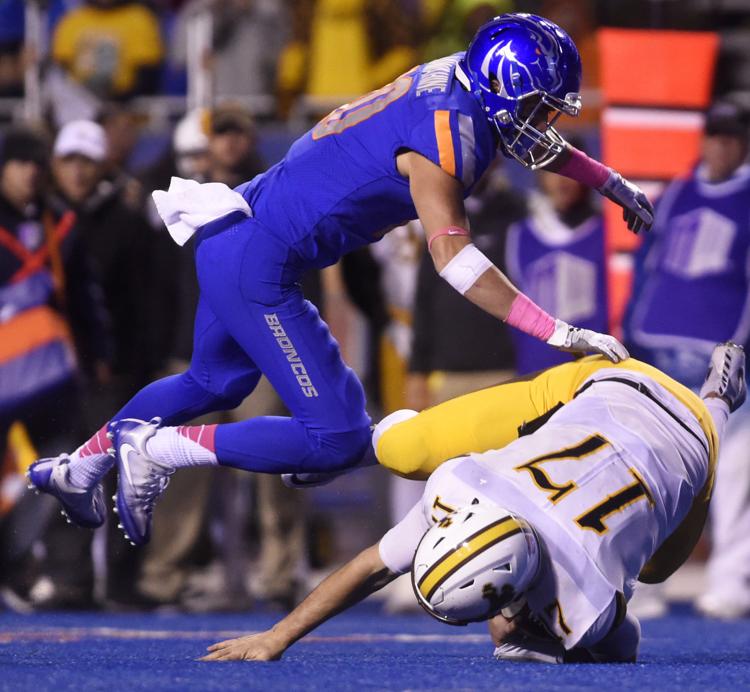 While some of Allen's runs were designed or read options, most were the product of scrambles. Several times throughout the game, Allen looked downfield and couldn't find an open receiver, so he scrambled out of the pocket and tried to make a play with his legs.
"They've got some really good corners out there. It's a tough thing to see out there when there's not much separation and there was really nowhere to go with the ball. They had a few coverage sacks today, and there's really nothing you can do there," Allen said. "Whether that's me throwing the ball better or getting open better or whatever the case may be, we've gotta find a way to pull out wins like this."
Harsin credited the pass rushers for the bulk of the pressure on Allen Saturday night. He even made a "Jurassic Park" reference to illustrate his point.
"It's totally underrated when you're getting some hurry-ups and you're getting some pressure on the quarterback how much that truly affects the quarterback," Harsin said. "When they hesitate, freeze a little bit, and the d-line's able to get there, it's kinda like a velociraptor. One guy's coming over here, and they're looking at him, and puh, you've got Jabril (Frazier) coming from the other side, setting him up."
Nothing the Broncos' pass rush did was unexpected to the Cowboys, Allen said. They mainly rushed four players, and they had no trouble pestering the quarterback.
On several plays, Allen stood patiently in the pocket but couldn't find an open receiver, and the pass rush took advantage. The raptors also had several plays where they got to Allen quickly, forcing a sack or forcing him to scramble from the pocket.
"It's frustrating," Allen said. "We've shown as a line that we can play better than that. We've gotta play better than that. But I have to get rid of the ball faster. I've gotta put it in more catchable situations for our receivers.
"You can't point fingers. It's a team game. I've gotta be better for this team."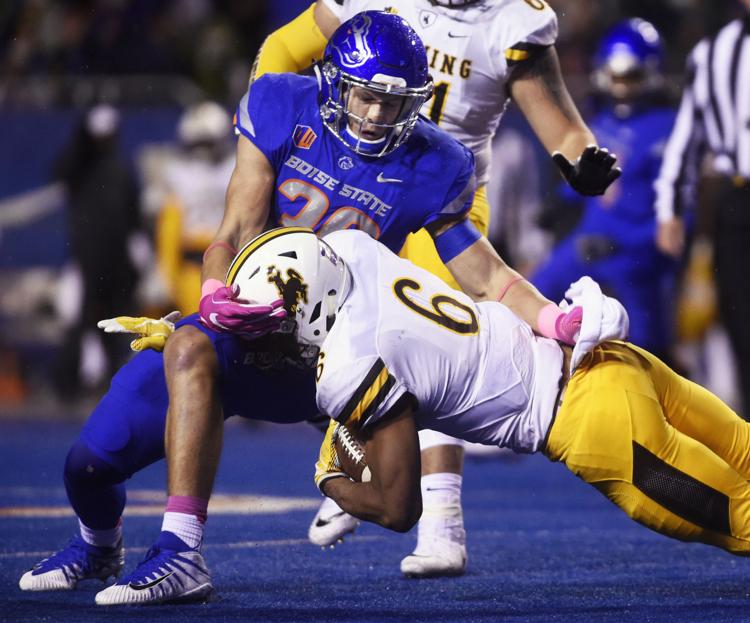 Last week, Boise State traveled to San Diego State and shut down the Aztecs. More specifically, they shut down Rashaad Penny, a Heisman trophy candidate going into the game. The senior rushed for 62 yards and a touchdown on 21 carries (2.5 ypc) in a 31-14 loss.
Allen plays a different position but has received similar hype. Before the season began, he was touted as a top pick in the NFL draft, and he believed in his ability.
"I think I'm the best quarterback in the country," Allen told USA Today in August. "I don't know why I believed it. It's just the things I feel like I can do are better than what other people can do."
Last season, Wyoming handed Boise State its first loss, and Allen had a big game. He completed 18-of-31 passes for 274 yards, three TDs and an INT, and he ran for 53 yards on 11 carries.
On Saturday, in what could be the Broncos' final matchup against Allen, they made the future NFL draft pick look average.
"Obviously, it's a really good team we just played," Allen said. "I missed a few throws I should've made. They got a bit of pressure on me. I was seeing it, feeling it. We just didn't make the plays that we needed to tonight to win."