BOISE — Not much was really pointing in Boise State's favor, neither leading up to the game nor during much of it.
The Broncos entered Saturday's Mountain West championship game fresh off a 28-17 loss in the regular season finale to their championship opponent, the Fresno State Bulldogs.
They were without injured tight end Jake Roh, a dependable target for quarterback Brett Rypien. Matt Pistone was out at the same position, leaving the tight end duties to Alec Dhaenens and John Bates, a duo with only 11 receptions on the season coming into the championship game.
During the game, the Broncos survived a scare in the first half as linebacker Leighton Vander Esch, the conference defensive player of the year, went down after making a tackle, only to have running back Alexander Mattison carted off the field after a left leg injury early in the third quarter, down by four points.
But Boise State pulled off a 17-14 win to capture the conference title. Head coach Brian Harsin said what his team showed on the field in the face of this adversity was the definition of leadership.
"We had a few key players who hadn't been in there, and guys stepped up," he said. "That's guys carrying the flag."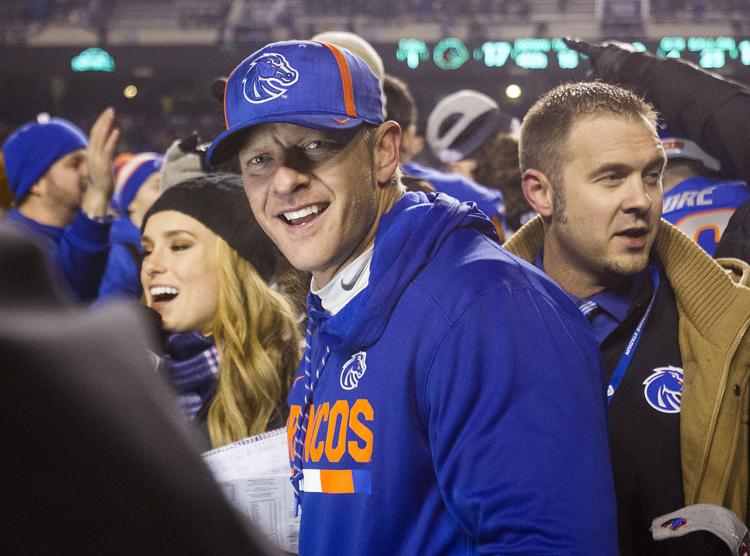 Consider running back Ryan Wolpin, who took on the workload that Mattison had carried much of the game and the entire season. Wolpin entered late in the game, often with the Broncos pinned back deep in their own territory to start drives, and powered his way to chunks of yardage at a time. He ended up tying Mattison on the game with 50 rushing yards in three fewer snaps.
But the stats don't do justice to what Wolpin accomplished, Harsin said. It was his ability to know how to execute in unfamiliar situations, including the game-winning 2-yard rush in the fourth quarter.
"He might have gotten one rep at that [in practice]," Harsin said. "That's was Alexander's play."
"But obviously we executed it perfectly," he continued. "And that's what good players do. They're ready for their moment, and Ryan's been that way this entire season."
It also took a resilient effort from the guys who the team depended on, including Rypien. Even though he'd performed well most of the season, Rypien put up less yardage and fewer touchdowns than previous seasons due to splitting time with Montell Cozart. But he said the "team win," one in which he threw for 246 yards, was extra sweet.
"I feel way better about this feeling right now than I would've last year," he said.
"Leaders don't sit there and look at statistically how they accomplished their goal," Harsin said. "They look at, 'Did they accomplish their goal?' and 'Did they take care of the people around them?' That's what Brett's done."
Receiver Cedrick Wilson, the Broncos' leading receiver who finished with 148 yards in the championship game, beat defenders consistently. But he also showed his football knowledge, requesting the play that put him in position to make a 59-yard reception to set up the game-winning drive.
"They're the ones out there playing the game," Harsin said. "They have an idea or a suggestion and they think they can get it done, we're going to listen."
Finally, Vander Esch, who tied a championship game record set by Boise State's Ben Weaver with 16 tackles, came through in the final defensive stand with an interception off of Fresno State quarterback Marcus McMaryion with less than two minutes to play.
"I could tell he was kind of locked on that the whole time," Vander Esch said, "and he put the ball in the air and I just went up and got it. At that point, the rest is history."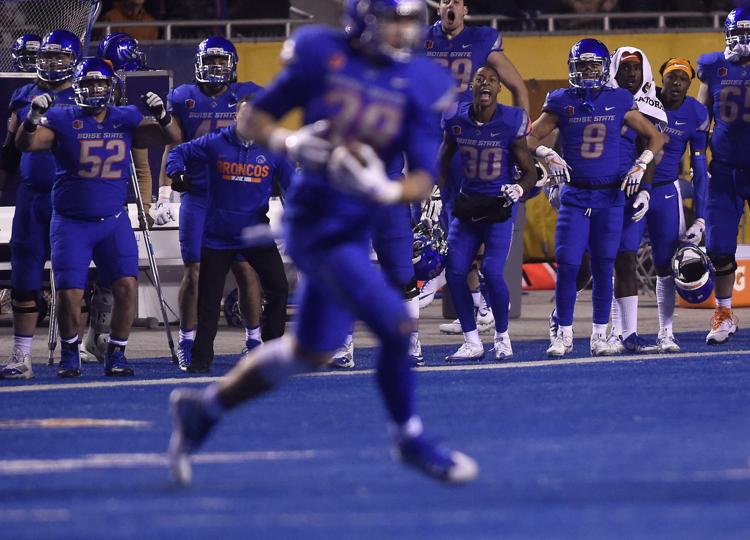 Harsin said the game wasn't won with just these outstanding players. Throughout his coaching tenure in college football, from Boise State to Texas to Arkansas State and back to Boise, he said he's had the chance to coach some pretty talented teams, but raising trophies takes a lot more than talent.
"To win a championship, you've got to have a little bit of that heart," he said. "It's hard to put your finger on exactly what that is, and it's not measurable, but these guys have got it."
A good example of that dedication to winning happened at halftime. Vander Esch said the players led the halftime discussion, and he brought the team in himself to give them a message.
"I told everybody, 'We're about to go win this thing,'" he said "'It's 0-0. Let's go out and grind, one play at a time, and we're going to get it done.'"
"There's been very little [problem] as far as motivating these guys," Harsin said. "That hasn't even kind of been an issue, and it wasn't an issue in the locker room. They said, 'This is what we're going to do. This is how we're going to finish.'"
The Broncos still have one more game to play this season, in the Las Vegas Bowl against Oregon on Saturday, Dec. 16 at 12:30 p.m. local time (1:30 Mountain Time). Harsin said the Broncos will have to clean up some of the "execution part" of their game before facing a Power 5 team, but he has few doubts about his team's resilience and drive after what it proved on Saturday night.
"You can call it what you want – survival or spirit," he said. "Whatever that is, they found a way to do it."