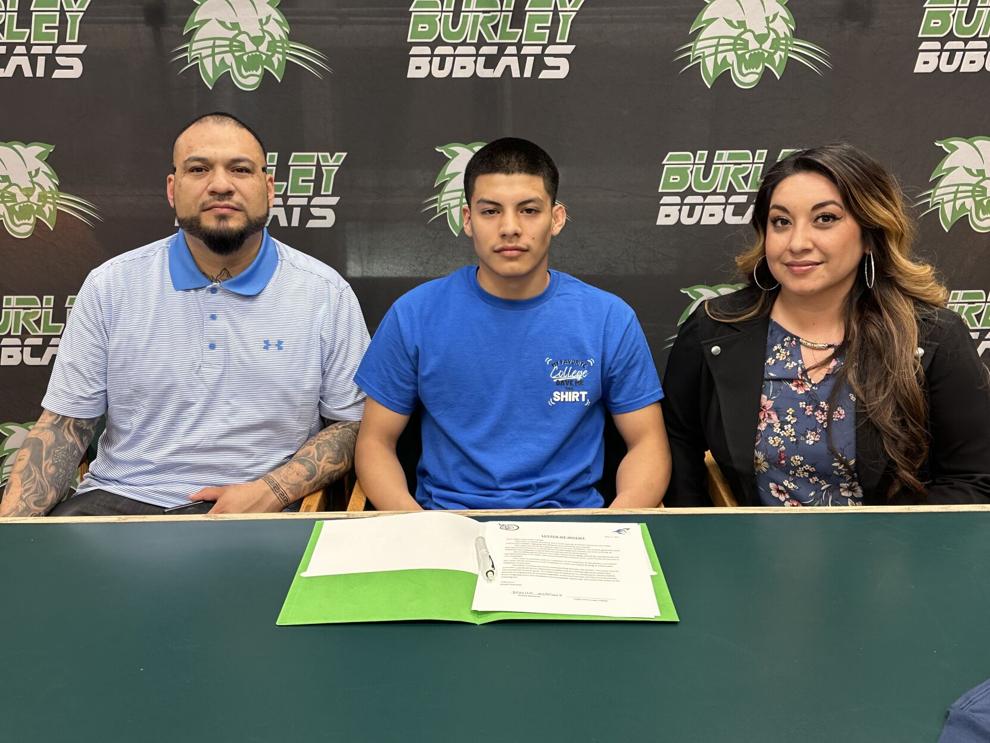 The high school sports season is done, except for rodeo. The collegiate signings aren't.
Burley's Xzavier Martinez is among the latest group of Magic Valley athletes to sign at the next level, inking his national letter of intent to wrestle at NJCAA Division I Colby Community College in Kansas.
Martinez wasn't known for being the most outspoken wrestler, head coach Miles Bishop told the Times-News in an email. He let his wrestling do the talking.
Martinez just "puts his head down and goes to work," Bishop said. "He isn't one to complain or make excuses."
During the Madison Invitational this season, Martinez wrestled four tough matches before showing his coach a swollen hand. It turned out he had fractured his hand the previous week. He injury-defaulted for a fourth-place finish.
Martinez ended his high school varsity career with a 112-51 record. In his senior season, he recorded 31 pins, 11 decisions and four technical falls with 311 match points to close out a 46-21 record.
Colby is a member of the Kansas Jayhawk Conference.
A few other local athletes have signed in recent weeks, too — including three from Canyon Ridge:
, the Golden Eagles' fourth recruit following a 29-2 season that included an undefeated regular season.
Avion Kahinsigned on for track at Lane Community College in Eugene, Oregon. Lane is the nine-time defending c
hampions of the Northwest Athletic Conference.
signed to run track and field at College of Idaho in Caldwell. The Yotes recently sent 16 athletes to the 2023 NAIA championship meet.
Kimberly added two more collegiate signings: Taylor Bishop, who helped the Bulldogs win the 3A state softball title last weekend, is headed to Lassen Community College in Susanville, California, and Connor Laughlin signed to play football for NCAA Division Puget Sound in Tacoma, Washington, after catching 38 passes for 766 yards and nine touchdowns last fall.
They join a growing list of Magic Valley athletes going to the collegiate ranks — including Canyon Ridge's Shelby Geiger (soccer, Columbia Basin College), Twin Falls' Halle Western (golf, Southern Virginia University), Minico's Brevin Trenkle (football, Coffeyville Community College), and Kimberly's Kelsy Stanger (volleyball, Utah State University Eastern), Filer's Gracie Brooks (softball, Snow College), and Minico's Alaynie Wilcox (track, Utah Tech University), Minico's JT Garza (football, University of Minnesota, Morris), and Hudsun Lucero (football, Eastern Oregon University), Zahne Ruiz (wrestling, Ferrum College).