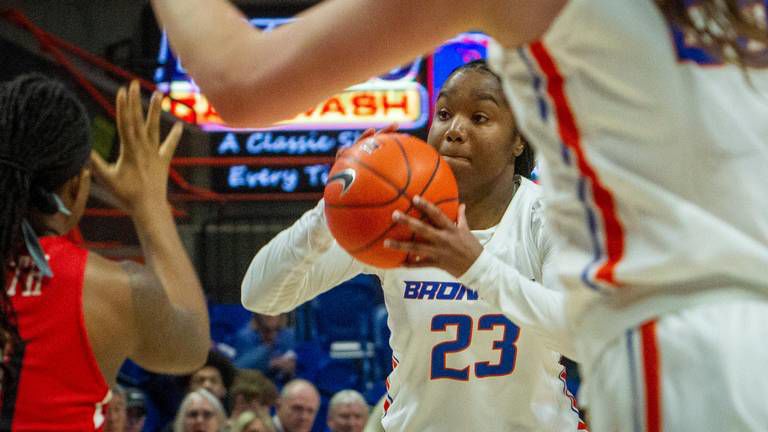 BOISE — The Boise State women's basketball team will miss a trip to the NCAA Tournament because of the new coronavirus — and all Boise State athletic competitions have been suspended.
The NCAA announced Thursday afternoon that it has canceled the Division I men's and women's basketball tournaments, and all remaining winter and spring championships. The Boise State women won the Mountain West championship last week to earn their fourth straight trip to the NCAA Tournament.
The men's basketball team had been hoping for an NIT berth. That tournament also is run by the NCAA.
"I would do anything to play with my girls one more time," Boise State women's star Riley Lupfer told the Idaho Statesman. "To get coached by Cariann (Ramirez), (Heather) Sower and (coach Gordy Presnell) just one more time. It's an indescribable feeling to have your season end like this. I just love them all so much."
Boise State announced Thursday afternoon that it has suspended all athletic competitions, home and away, until further notice.
"Honestly, it's unreal and hard to fathom. Our team has gone through so much this season, and for it to end up this way is unfortunate to say the least," Boise State women's senior standout Braydey Hodgins told the Idaho Statesman.
"At the end of the day, I'm beyond thankful for the memories created with these girls, this staff and others who have helped us on and off the court. We are truly blessed with the way we ended our season. Championship and a win. Not every athlete gets that opportunity."
The gymnastics team was scheduled to host the Mountain Rim Gymnastics Conference championship meet March 21, but Commissioner Kyle Cottam said Thursday afternoon that the meet has been canceled.
Boise State's statement didn't address practices, such as the Boise State football team's spring session. The intrasquad spring game is April 11.
"Based on the rapid evolution of this situation, we are not yet able to answer all of the questions this raises, as these decisions are still being made by stakeholders," a Boise State statement read. "We will update you as additional information becomes available."
The school's decision came shortly after the Mountain West suspended all spring athletic events. Idaho is one of few states without a confirmed case of COVID-19, the disease caused by the coronavirus.
"The health and well-being of student-athletes, as well as the campus and general communities, is of utmost priority," a Mountain West spokesman said in Thursday's release. "Therefore, the board has determined the most prudent course of action is to align with the recommendations of public health care and government officials to help limit the spread of the virus."
According to the release, teams currently on the road may complete those events before returning to campus. For teams on campus, travel is suspended immediately. The policy applies to both conference and nonconference competition.
The conference left decisions regarding the continuation of practices, teams that compete outside the conference and recruiting activities up to each individual school.
At Boise State, the football team is about a week into spring practice, the softball team was scheduled to host No. 25 Fresno State this weekend and the baseball team was set to begin a long road trip.
Fresno State assistant softball coach Matt Lisle tweeted Thursday that the Bulldogs were turning around in Seattle and headed back home.
Boise State's spring sports are baseball, softball, men's and women's tennis, men's and women's golf, men's and women's track and field, and beach volleyball.
At least five other conferences announced the suspension of spring sports Thursday, including the SEC, which has suspended all athletic events until at least March 30.
The NHL and Major League Soccer also became the latest professional leagues to suspend their seasons. Major League Baseball postponed opening day. The NBA was the first professional league to suspend play, doing so Wednesday night after a Utah Jazz player tested positive for coronavirus.
At least five football programs altered spring practice plans or canceled their spring game altogether. Cincinnati canceled its spring game, Baylor suspended the start of spring practice, and Virginia and Notre Dame suspended all football-related activities, including recruiting.
At Nevada, the football team canceled its spring game Wednesday, and the school announced that it would limit fans' entry into baseball and softball games to essential personnel and immediate family. That came before the Mountain West's announcement.
▪ The Cascade Conference (College of Idaho) and Great Northwest Athletic Conference (Northwest Nazarene) suspended athletic competitions Thursday. The Cascade suspension will last at least through March 29.
▪ The ECHL has suspended its hockey season. The Idaho Steelheads had home games scheduled for March 20-21 and April 4. The playoffs would follow that.
Concerned about COVID-19?
Sign up now to get the most recent coronavirus headlines and other important local and national news sent to your email inbox daily.