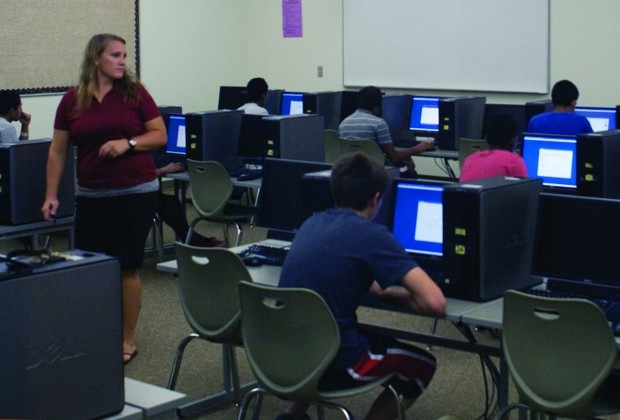 TWIN FALLS • Equipment checkouts. Physicals. And knowing the date and time of the first day of practice.
Those items are all part of the preseason checklist athletes need to fill out leading up to the start of the high school sports season.
This year, another item was added to the checklist: Knowing the Lystedt Law, which is increasingly becoming the standard by which high schools across the country are dealing with concussions and the athletes who suffer them. Already, 38 states have passed legislation identical to the Lystedt Law, with legislation pending in five more. Five states have no concussion legislation, passed or pending. Two states passed a variation of the Lystedt Law (Wyoming, Illinois).
The law, which originated in Washington state and has been endorsed by the National Football League, consists of three major items. Parents and athletes must sign a consent form acknowledging they are aware of the new law. In turn, athletes must be removed from play upon any suspicion that a concussion has been suffered, and they cannot return to play without clearance from a health care professional.
That last part may sound like a tough balancing act for coaches handling game responsibilities, but that clearance can come as quickly as mid-game from someone trained to identify the symptoms of a concussion. Ideally, that person is on the team's sideline.
"That new concussion law has kicked us in gear," Canyon Ridge athletic director Kim Wray said.
"I think it's drastically changing what is done in high school as far as parents, coaches and athletes are concerned," Riverhawks athletic trainer Brooke Rey said.
Prior to passage of the law in April, the only protection in place came from the Idaho High School Activities Association, which had to develop concussion guidelines and make them publicly available to parents.
Rey is a teacher at the school but, like the coaches with whom she works, also receives a stipend for her athletic trainer duties. Canyon Ridge, as well as district rival Twin Falls, has a stipend available for an assistant athletic trainer, but the money involved makes it difficult to attract a trainer with certification.
Smaller schools are nowhere near as fortunate.
"That's a luxury we could not afford," Hagerman athletic director Kevin Cato said when asked where having a certified athletic trainer fit within his budget.
Schools almost always have a medical presence at football games. At larger schools, the ambulance behind an end zone is as much a presence at football games as cheerleaders and waterboys, and at Canyon Ridge junior varsity and varsity games, the game is not allowed to start until it has arrived. The school must pay for that service. Schools in smaller towns usually don't have such a service available, but it is commonplace to have some kind of medical presence inside the stadium.
You have free articles remaining.
The IHSAA has yet to mandate that teams carry a certified athletic trainer on the sidelines, but it would be problematic if they became necessary. Even finding a dual threat like Rey is a tough task for smaller schools.
"We struggle to get teachers as it is, then to ask for them to have a medical background? I don't think a lot of schools could find someone like that," Cato said.
At Canyon Ridge, Rey conducts baseline concussion tests for all athletes in a contact or collision sport. In the fall, that's football and boys and girls soccer. In the winter, it's boys and girls basketball, and wrestling. The cost averages out to anywhere from $5 to $10 per athlete.
Without an athletic trainer, Hagerman coaches will have to adopt a similar attitude to what Kimberly — which will have a certified trainer on the sidelines for games this season — had in years past.
"I think our coaches do a good job of staying caught up on how to recognize concussions," Bulldogs football coach Kirby Bright said. "We do a good job of sitting kids out when we do suspect a concussion."
Part of coaches staying caught up is a mandatory yearly test administered online by the IHSAA.
Not even all bigger schools have an athletic trainer available during games. At Burley, for example, a physical therapist from Cassia Regional Medical Center donates his time to be on the sidelines during just home games.
And the bigger the school, the less responsibility a coach typically has for identifying concussions or clearing players who have suffered them to return to play. According to a 2006 study of Idaho high school football coaches conducted by two Idaho State University professors, not a single coach at the Class 5A level was involved with identifying concussions in players or clearing them to play in practice or in games; an athletic trainer filled that responsibility.
In Class 4A, where the largest schools within the Times-News coverage area — Twin Falls, Canyon Ridge, Jerome, Burley, Minico and Wood River — are classified, it did not exclusively use athletic trainers to handle concussion matters for games or practices, but trainers were used in about 80 percent of concussions that game in games; about 65 percent for practice-induced concussions.
The smaller the classification, the more involved the coach or another person became. In Class 1A, coaches handled the majority of identification in practices (70 percent of reported instances), while "other person" did likewise (55 percent) in games. When it came to resuming playing, the coach was the biggest influence on players returning to practice (65 percent) and playing in games (45 percent, with the remaining 55 percent split between an athletic trainer or "other person").
About 60 percent of the state's coaches took part in the study.
There is a sense of relief from coaches over the new law.
"It's that question mark of when does a player come back in the game that we don't want to have to deal with," Bright said. "Playing the game for so long, we've all been dinged and we're thinking, 'Whew!' … a little snot-bubble right there and we're ready to go.
"Well we can't do that anymore. And we can't allow that anymore," Bright said. "So having someone more qualified to be able to say yea or nay really helps us out."