DECLO — At this dairy, cows are milked, pampered and fed by robots.
Heglar Creek Dairy's robotic barn has been up and running for three months, and the cows are already milking it for all it's worth. They check in regularly with the Lely Astronaut milking robot, which scans their collars and dispenses treats. The dairy cows lean against automated back-scratching brushes for stress relief. And they even sleep on water beds in a climate-controlled barn.
It's one of only two dairies of its kind in southern Idaho, but the idea is catching on. Two more dairies are installing robotic technologies, said Todd Webb, a partner in Heglar Creek Dairy and Snake River Robotics east of Declo.
"Cows in a conventional barn are generally more anxious," Webb said. "The more we can keep equipment and people out of the corrals, the better the cows are at giving us milk."
And why not add other amenities while you're at it? The back-scratching brush? "That's just a comfort toy," Webb says.
Heglar Creek Dairy in Cassia County is a part of Heglar Creek Farms, which was established 20 years ago when two families merged their operations. The farm diversified several years ago in order to provide more opportunities for the younger generation. Today, the partners also own and operate Heglar Creek Cattle, Heglar Creek Electric, Raft River Sod and Snake River Robotics (a Lely dealer and service center).
Robotics don't only improve the quality of life for dairy cows; they can also help dairies address a labor shortage.
"That's why robotics is becoming a viable thing," Webb said. "The motivation for (switching to) robots is not to take jobs away from people. Robot technology exists because there is a labor demand."
What results is a lower operational cost for dairies — and higher-paying, skilled jobs for agriculture workers.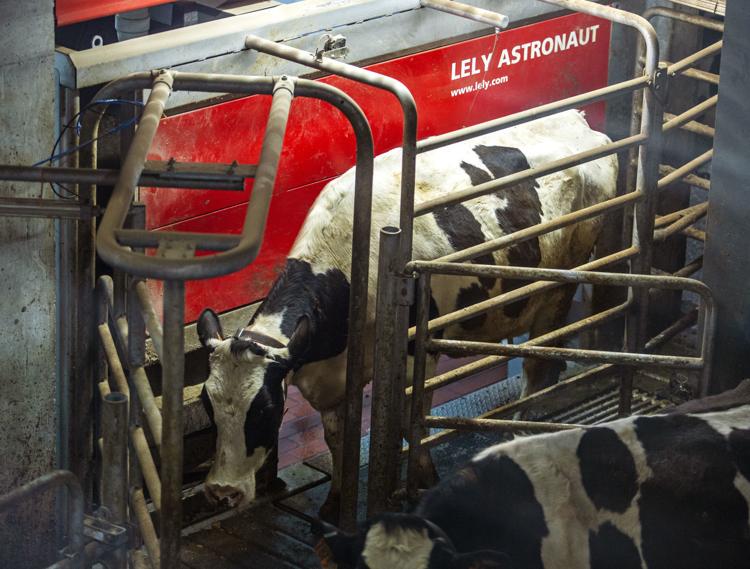 How it works
It's hard to miss the big red barn at the top of the hill. Built to hold up to 1,100 cows, the robotic dairy was an engineering feat. Lines, cables and fibers run milk, chemicals and communications throughout the 400-by-400 barn. The company contracts 11 vendors for the dairy.
Behind barn doors, Lely brand robots and other technologies do everything from feeding the animals to washing their teats and scooping manure. The cows have the option to go into a separate pen, where the Lely Astronaut is, to receive a treat and be milked.
"Cows can come in and leave as they want," Webb said. "They're enticed to come in with feed."
A healthy Holstein enters the robotic enclosure an average of five to six times a day, but gets milked only three times a day. She is weighed, and the robot scans the collar around her neck to identify which cow is in the pen. If it's time for the cow to be milked, the Lely Astronaut will dispense a certain type and amount of food based on each cow's diet. Rationing is determined by milk production and lactation cycle.
While the cow is eating, the milking process begins. The robot sends out a couplet of spinning brushes that clean the cow's teats and stimulate nerves for lactation. The brushes are disinfected, and cylindrical teat cups identify and affix to each of the cow's teats — attaching in order of which "quadrant" milks the slowest.
To the cow, the process is the same every time.
"The robot doesn't get frustrated," CFO Todd Jensen said. "If it misses, it just tries again."
If the animal kicks a cup, it cannot fall to the ground, but simply bounces back and reattaches. After milking, the robot applies a chemical to the teats to control infection.
The robot can tell if the cow is sick, based on her milk temperature or color. If desired, the milk can be easily sent to a separate tank or dumping area rather than getting mixed in with the rest.
The cow's collar also tracks her activity and cud-chewing. Unhealthy cows — or those ready for breeding — are funneled into a separate area after leaving the robot. They still have access to the robot at all times, Webb said.
The robotic dairy can detect and treat sick cows days faster than in a conventional dairy, he said. And the dairy's robotic systems also inform the manager which cows haven't been milked in a 12-hour cycle.
Meanwhile, a feed-pushing robot circulates the barn to push food closer to the hungry Holsteins. And a pulley system with chains slowly pushes scrapers across the bottom of the corral to clean out manure, scooping it into large grates in the floor that will send it to be processed. Dairy managers periodically send the cows through a "foot bath" to help harden and disinfect their hooves.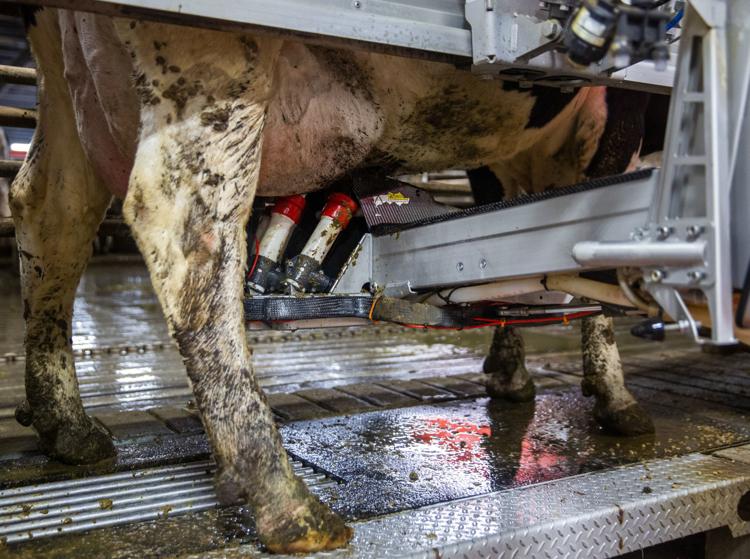 Healthier, happier cows and farmers
The barn's atmosphere is relaxed and absent of mooing or bellowing. Large fans above circulate and ventilate, providing a complete air exchange about every 15 minutes in winter, and every 90 seconds in summer, Webb said.
When the cows aren't being milked, many of them mill about or choose to lay on a "water bed" covered in compost. The beds are comfortable for the animals and reduce injuries, Webb said.
This translates to both health and behavior. "Cows are less stressed and they have fewer health issues," Webb said. "We see increased milk production and increased lifespan of cows."
Heglar Creek Dairy's robotic barn took a year and a half to build. It was a substantial investment, but one Webb thinks will pay off. The dairy can collect more data from individual cows than in a conventional barn, he said.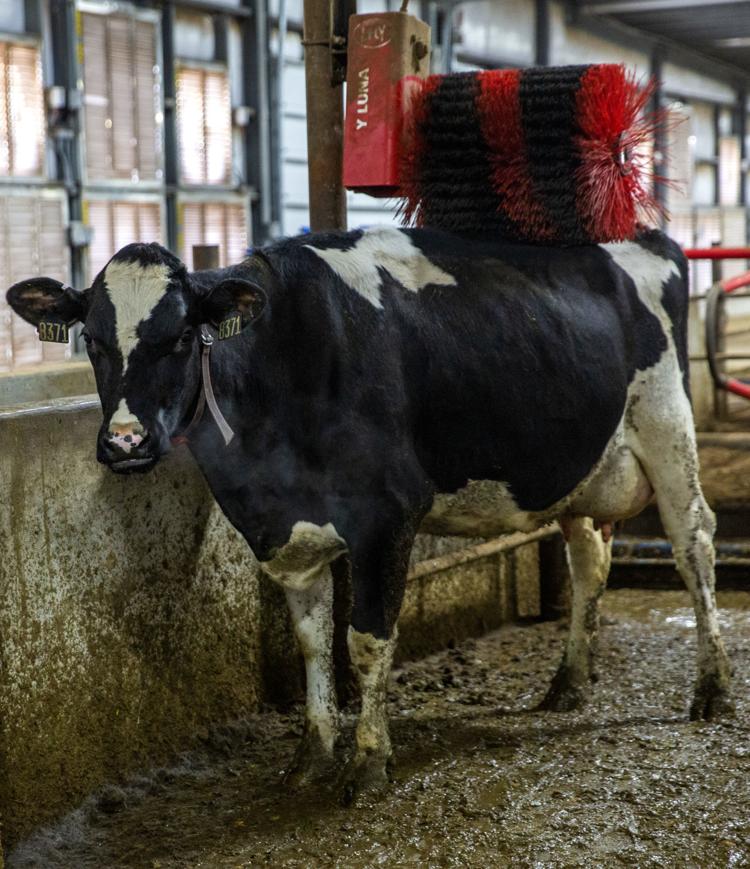 Robotic technology is catching on
Holland-based Lely has been developing its dairy robots for more than two decades. Small dairies began using them to help improve the quality of life for farmers and employees, Webb said.
Farmers are enjoying increased leisure time and flexibility in their schedules due to these automated systems. "A lot of conventional dairymen have never been to a basketball game because basketball games happen at 4 o'clock," Snake River Robotics Engineer Kelby Nelson said.
The robots are changing that. It's also a good way to get the younger, more tech-savvy generations involved, Webb said.
Robotic technology is becoming a large-dairy solution, where managers can collect more data and use sophisticated software. Tech-savvy operators can set up milk tables to determine how many pounds they want to be collected per milking. Complex calculations determine the return on investment while each robot milks 60 cows three or more times per day.
"It's a management tool and it's helped us decrease our cost of operations," Webb said. "We don't have to train a robot to milk a cow."
Be the first to know
Get local news delivered to your inbox!