MAGIC MOUNTAIN — Lane Daley and a few other female ski patrollers recently calculated how many women patrollers they thought Magic Mountain had.
"Our patrol here, we could use more women in it," Daley said. "I think we did a quick calculation the other day and we're somewhere in the 15 to 20 percent female (range), which is pretty low."
In the northern Magic Valley at Soldier Mountain Resort, ski patroller and guide Mollie Mclam expressed similar sentiments, saying she is the only woman guide and one of 13 female patrollers out of 40 and the resort.
According to Jane Anderson, logistics coordinator with the American Mountain Guides Association, women make up only 11% of all ski guides nationwide within the association, a number even lower than patrolling.
There is some good news, however, from the National Ski Patrol: The number of women patrollers has grown from 19% in 2007 to 23% this year. Female patrollers and guides on the slopes is not something new either.
Women were first welcomed as ski patrollers into the National Ski Patrol in 1941, three years after the agency was founded. There are now about 7,135 patrollers. The American Mountain Guides Association came to be in its current form in 1979, and now has about 4,500 members.
But in terms of ski guides, Mclam told the Time-News she thought there are only around four or five guides in total.
Yet in contrast to the seemingly low numbers of females patrolling or guiding, a 2020 Outdoor Foundation survey found 46.2% of outdoor participants were women and 53.8% were men, the smallest gap on record.
So why are there not more women patrolling and guiding?
Simply put the job caters to men more.
According to the U.S. Bureau of Labor Statistics, construction work holds the lowest percentage of female representation among surveyed occupations, at 9%. The second-lowest representation is ski guiding and patrolling is not that much further behind.
The uphill battle to get more women on mountains, however, is not stopping these two from following their dreams and spreading the word.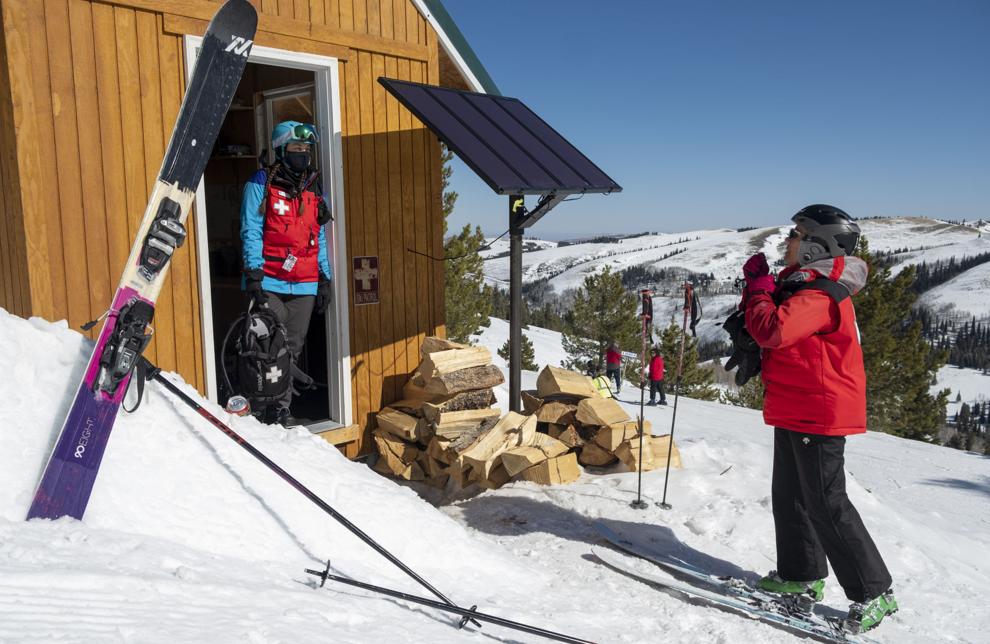 "It is true that I am a minority, but one could find ways to separate all of us in one way or another, and receive pushback because of gender, age, race, religion, birthplace, skier/boarder, etc," Mclam said. "I am fortunate to be respected and treated as an equal among my peers, but I'm also not given any accommodations and (am) expected to pull my own weight. I wouldn't expect anything less from true Idahoans."
Daley expressed her thoughts on her experiences while evolving with Magic's ski patrol.
"I think people have this idea that, 'oh I have to have all this medical knowledge in order to be a patroller,' or 'I have to be this really really phenomenal skier,'" she said. "You do have to have that to get there (eventually) but it doesn't mean you have to start off with it. I started skiing seven years ago. By no means am I the strongest skier on this hill, but I can run a toboggan on this hill because it is a smaller hill and I'm a strong enough skier to do that."
On the mountain and what to expect
Daley said the resort aims to always have four ski patrollers on the hill when open. On one late March day recently there were 10 or 11 on the slopes.
"We try to ask patrollers to come out here at least 10 days a year," Daley said. "Amy (Wiesmore), in particular, I think she might have the record for most days on the hill. She's already up over two dozen I think."
Magic Mountain is an all volunteer-based patrol system. Soldier has a similar model to Magic, with both a professional and volunteer patrol working together.
But being a patroller or guide, or becoming a patroller or guide, is not as hard as one might think.
"I think what I would want to say to other potential patrollers is that, 'you can do it,'" she said.
Mclam would tell other women the same.
"Go for it, and don't let anyone tell you otherwise. It might sound cliche, but follow your dreams. Remember though, that 'follow' is an all-inclusive word. It takes work," Mclam said.
"I have been given many outstanding opportunities in my life, and while it may seem that my current role as a cat ski guide fell into my lap, it only did because I had the experience, education, and years spent in those exact mountains, to back up the offer," she said.