WHITEFISH, Mont. (AP) — Kate Atha chuckles as she recalls reactions —especially from older men — when the petite ski patroller in her red coat arrives with a bright orange toboggan to haul injured people off of the Whitefish Mountain Resort's slopes.
"It's usually a big guy who tells me, 'You're not going to take me off the mountain,'" recalls the 31-year-old patroller. She still looks young enough to get carded when picking up a six-pack of beer, but has been skiing since she was 3 years old and patrolling almost her entire adult life. "One time, they asked if (the male patroller) with me could do it instead. I told him, 'Sure. I just checked him off on using the toboggan last week.'"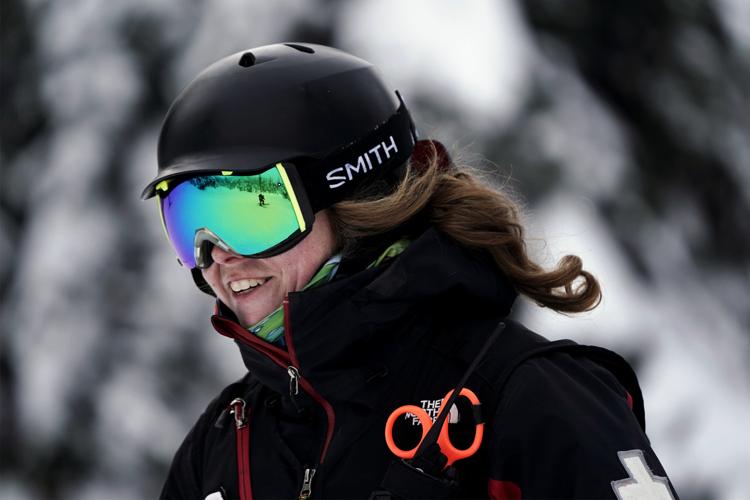 Her blue-green eyes twinkle as she reports that the injured skier changed his mind, and Atha gave him a smooth cruise down to the base clinic, the Missoulian reported .
It's a scene that can occur four of 10 times on Big Mountain, where the Whitefish Mountain Resort Patrol Manager Dave Stephens has conscientiously made a practice of hiring capable people to cover the 3,000 acres of skiable terrain. This year, 13 of his 29 patrollers are female — in a profession that historically relied on strong men with above-average adventure-induced testosterone levels — buoyed by their ability to ski anything and save lives in often brutal winter conditions.
Although hard numbers aren't readily available, the National Ski Patrol estimates women typically make up about 25 percent of the ranks, which is up from the national average of about 20 percent a decade ago.
"When I took over five years ago as director and started conducting interviews, it wasn't the case that I intentionally tried to hire more women. It simply was the case that I had very qualified women sitting across the interview table from me," Stephens said. "They shined more than other interviewees. I was interested in giving them an opportunity in what has been a predominantly male-dominated industry."
It isn't just the ability to perform the job, however, that Stephens wants. He looks at the whole person and found that sometimes women bring a different understanding when responding to the work, as well as a different type of compassion. He also likes a bit of humility in his patrollers and said that the women help lighten the mood. He doesn't want just the most qualified people, but rather the best fit for the team.
"There's no doubt that even though this is a strong group of alpha males and females, by having some women on patrol they tend to be a little more of the voice of reason when approaching certain situations," Stephens said. "They no longer have to be the first out of the door because there's so many women on the staff. They've paid their dues and proven themselves to be capable patrollers, regardless of whether they're male or female."
That attitude, along with Atha's college background — bachelors' degrees in recreation and tourism management and earth science, along with a minor in ski area management — prompted Stephens to promote Atha to assistant patrol manager. Her summer job as a mountain bike patroller and her leadership skills bolstered his decision.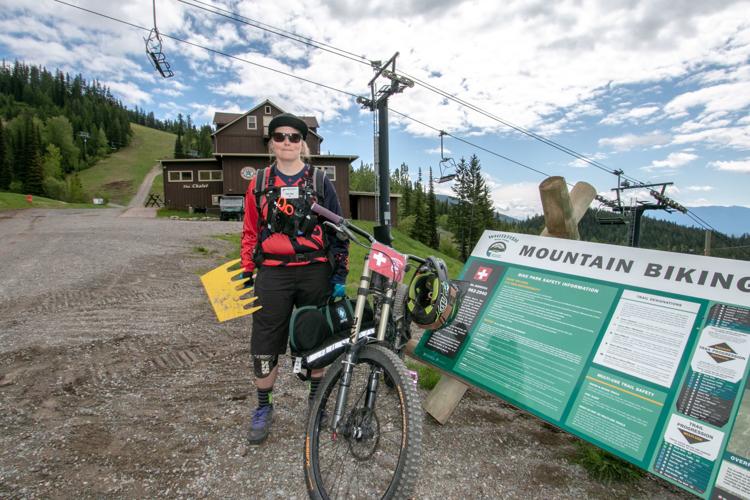 "She leads by example, and she's professional and intelligent," Stephens said.
On Wednesday, five female and seven male ski patrollers met at 8 a.m. for the daily briefing before heading up Big Mountain. Amid the scent of toast in the air and the snap of boot buckles, Atha provided a breakdown of how the day might unfold. News that temperatures were negative 2 at the summit and a relatively balmy 6 degrees at the base drew cheers from the patrollers in a season that included the second-coldest February on record.
"If we hit the (projected) high of 17, it will be 33 degrees warmer than what we've been seeing," Atha noted. She added that stubborn wind slabs from Arctic northern blasts aren't responding to efforts to remove the avalanche danger, but that will change as the weather warms. She reminded her peers of an upcoming potluck, a test with avalanche dogs and the end of night skiing on Saturday. She also cautioned patrollers to check their new work schedules before heading out the door to start a day that always promises to be different than yesterday.
Whether male or female, most of the patrollers have similar backgrounds. They're often adrenaline junkies with lengthy backgrounds in the backcountry. Many are whitewater, backcountry or mountain-bike guides in the summer, cobbling together high-risk, low-paying jobs to eke out a living that many nine-to-fivers with desk jobs only dream about.
With 20 years under her ski patrol backpack, Brenda Guzman is the longest-serving woman on this year's Big Mountain patrol. A whitewater raft guide and mother of two, she's humbled by the women who paved the way for her in these professions.
"I feel like I had it a lot easier than the women who came maybe 10 years or so before me; those were the women that really paved the way for us," Guzman said. "When I started as a river guide in '96, one of the first things one of the senior women guides told me was 'You need to expect to work twice as hard for half of the credit as the men. And don't blow it for the rest of us women.'
"I knew we had to toe the line to keep the respect that's been earned."
While they may have the same skill sets and job requirements, Guzman notes that "pound for pound," men are stronger and larger than women, which means women sometimes have to take a different approach to certain jobs. Often that involves using finesse rather than muscling through a situation.
Atha said she also stepped up her game. When three avalanche beacon drills were required in a week, she'd do five or six. Despite what Stephens said, she also always tries to be the first person out the door when an emergency occurs in order to build her skill set.
"I don't want anyone to ever say 'You're good for a girl,'" Atha said. "Just 'You're good.' I want people to think that if they're injured out there and see Kate coming with a sled, that they'll be OK. It's the classic case of working smarter, not harder.
"You have to be a Jill-of-all-trades."
It's also important for the women on the crew to be a positive role model for girls who might want to become ski patrollers. Not only do they practice that every day when interacting with the public, on March 9, the Whitefish Mountain Resort hosted "SheJumps," a Wild Skills Junior Ski Patrol day camp.
During the camp, intermediate to expert skiers and snowboarders ages 8 to 17 who identify as female are taught a range of outdoor skills, mountain safety and first aid in a supportive mentoring environment.
"It's important for young women to see us older women in predominately male jobs, to see it really doesn't matter. It's about you," Guzman said. "These young ladies are smart and powerful, with fantastic energy. Spreading that positive energy needs to be the universal message."
That message is important to Marshand Dye, who Wednesday morning donned her red coat, clicked into her ski bindings, and headed out with a fellow patroller from the top of Big Mountain to check on signage, snow conditions and grooming irregularities at the Whitefish Mountain Resort. She glided lightly, deftly, on her skis, making little jumps off of snow mounds while carrying a 10-pound drill with a foot-long bit to bore out holes for bamboo poles delineating boundaries.
Earlier in the day, Dye informed her fellow patrollers that her climbing harness, used to evacuate chairlifts, no longer fits since she's about four months pregnant. They laughed, chiding her about not being able to do evacuations and having to eventually work a desk job this year.
Dye shook off the good-natured ribbing with a smile. She's in her 11th year patrolling and is OK with scaling back her duties for a little while.
"I'm pushing it a bit because I still want to be part of the team, but I'm at the point now when someone else is relying on me," Dye said. "But I've had a lot of support from my team."
That includes Stephens, who noted they make accommodations for anyone who has a change in abilities, whether it's a broken limb or a pregnancy.
"As a patrol family, we react to those situations, whether it's getting pregnant or a hurt ankle," Stephens said. "Staff members are ready to step in."
Atha knows the feeling of having to step back. Now that she's part of the management team, she no longer gets to run on all the calls. Instead, more often than not she and Stephens stay at patrol headquarters and direct the rescues and other activities.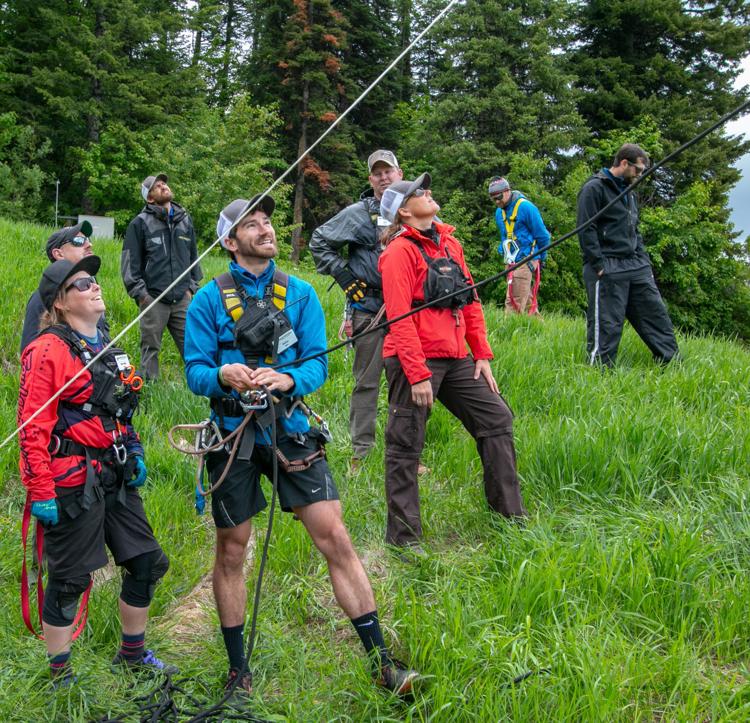 Yet it's still the best job in the world for both of them.
"That's not lost on us, how lucky we are to be here and serve the general public. Even when it's 20 below," Stephens said.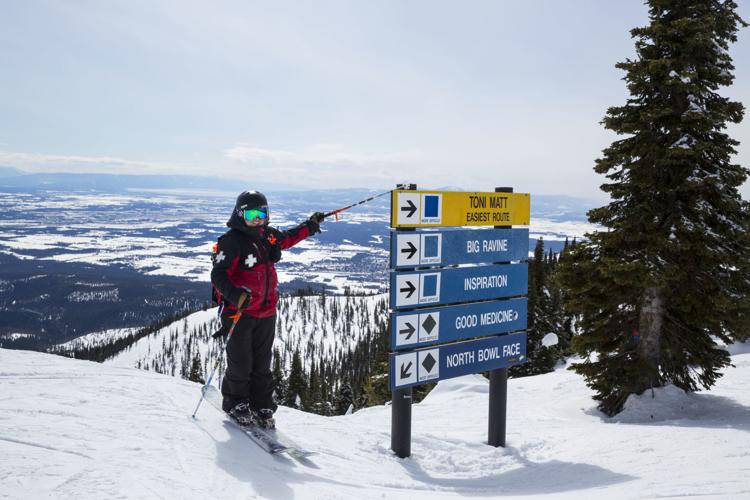 Atha added that they all balance the fun work with the grunt work, noting with a grin that throwing bombs during avalanche mitigation work never gets old.
"If it was always easy, it wouldn't be the same. We like a challenge," Atha said.