TWIN FALLS — If you look hard enough out on the trails of Auger Falls or Indian Spring, you'll find a group of ladies like no other. Some nights there are just two, but on others there are eight or 10 or more. Regardless of the headcount, the club is a sisterhood and a community that shares a passion for adventure.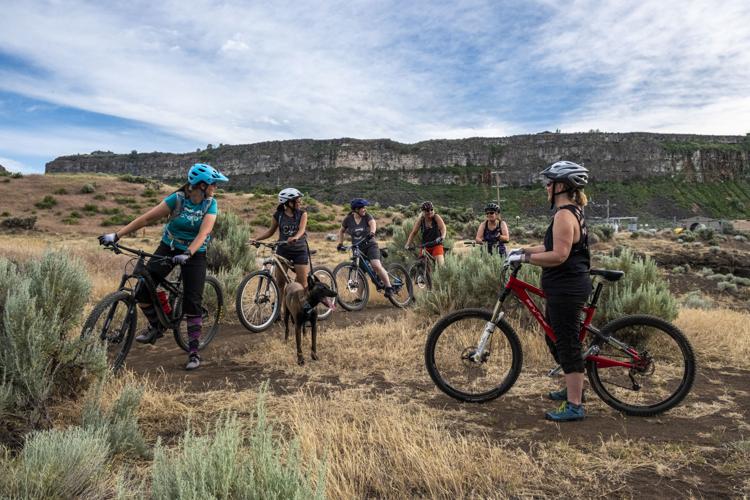 They call themselves Strong Women who Adventure Group, or SWAG. Their mission — to encourage women to "get out there" into the outdoors and the adventure-sports world while supporting one another along the way. For Clif Bar engineer and SWAG founder Lane Daley, the story began in the winter.
While snowshoeing in Thompson Creek in February, Daley and a couple of her girlfriends came across a group of Nordic skiers. Chatting briefly on the trail, one of the ladies in the group of skiers asked, "Where are you guys going with all this stuff?"
Daley told them her group was packing in the heavier load of gear for a multiple overnight stays at the High Desert Nordic Society's yurt.
"That is so awesome," the skier said.
She said they were like a group of "strong women who go on adventures." This inspired Daley and her cohort to brainstorm the group's name.
"There were a lot of women who like to do this stuff (snowshoeing, mountain biking, and multi-day backpacking)," Daley says. "We needed a name for this group that was catchy... and a good acronym for it."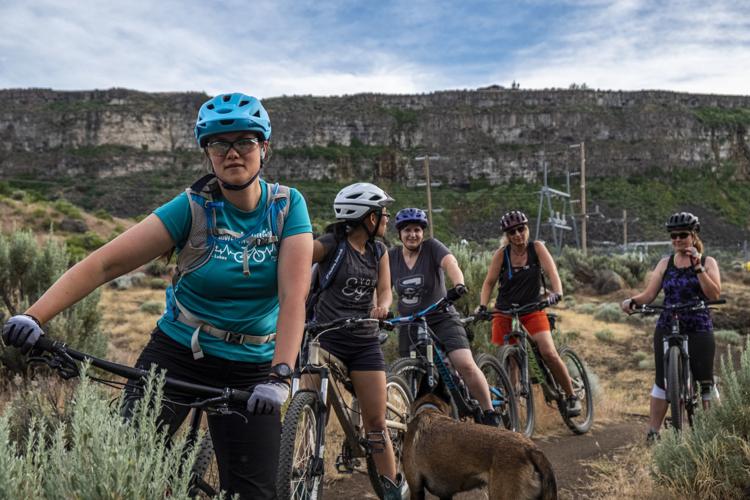 One iteration they came up with was SWAT, or Strong Women who Adventure Team. They eventually settled on SWAG.
"The name SWAG was born out of other women who like to do this stuff, connecting with them and the desire to go do it," Daley said.
SWAG's mantra is simple too, with only two criteria. The first, you must identify as a woman (sorry fellas); and two, you must be kind, respectful and encouraging to your fellow female adventurers.
"Women who are out there and got into these sports are just looking for a community to continue to participate in," Daley said. "With our mountain bike rides, we're not covering like 20 miles and 2000 feet of elevation gain on a Thursday evening."
That thought process has stuck with Daley's vision. She discovered the dialogue was different among women than men.
She observed men verbalizing their desires to "one-up" each other and race faster and faster on the trails and try to push the envelope more and more.
She relayed bike ride experiences with her male counterparts also, where she felt she couldn't quite keep up all the time, but wanted more from women-specific rides that leaned more toward entry level.
"When I went on the women's rides, they were almost always entry level," Daley said. "Yet I saw in Twin Falls there are lots of opportunities to get women into these outdoor sports, which is phenomenal, but more and more when we did have women's events, they were synonymous with entry level, which isn't true."
The principle of not doing something so intense it can make some people uncomfortable is important to SWAG and Daley. A situation where part of the group wants fewer miles, or more, less technical trails or more, Daley said the group will just split off, ensuring comfortability among everyone, while maintaining a great experience for all. She added that SWAG is more about the ride, hike or adventure than socializing.
"I see it as a community, and everyone is going to get different things out of it," she said. "For me, it has been really cool mountain biking with these other women. Say there is an obstacle and I want to re-ride it.
"We'll all go back and re-ride it or somebody will say 'Oh, that rock drop coming up, I've never cleared it, but I want to give it a go,' and we'll all say, 'Well, then let's get it.'"
If Daley is not around for SWAG's Thursday night rides, their featured summer adventure, one of her cohorts steps into the lead role. She says that SWAG is there for people to use, stating her responsibility is to get the group started and with help from the local bike shops, spread the word about SWAG. She also sees how the group has helped create a community of different types of women.
"We like to show others that women can get out there too and do say, trail maintenance, move dirt around," Daley said. "We are still stewards of our environment."
SWAG is primarily focused on adventure sports that don't have a larger female population.
"This gets us together to help support each other while doing 'x' sport at the time," Daley said.
Daley envisions the future positively. Thursday evening's mountain bike rides have established SWAG's summer presence. Hiking, backpacking and bike-packing events augment summer options.
In colder months, Nordic and alpine skiing, and snowshoeing show promise, she said. Since its start in February, the word was still new to most, but since they've gained traction, more women are gravitating to SWAG.