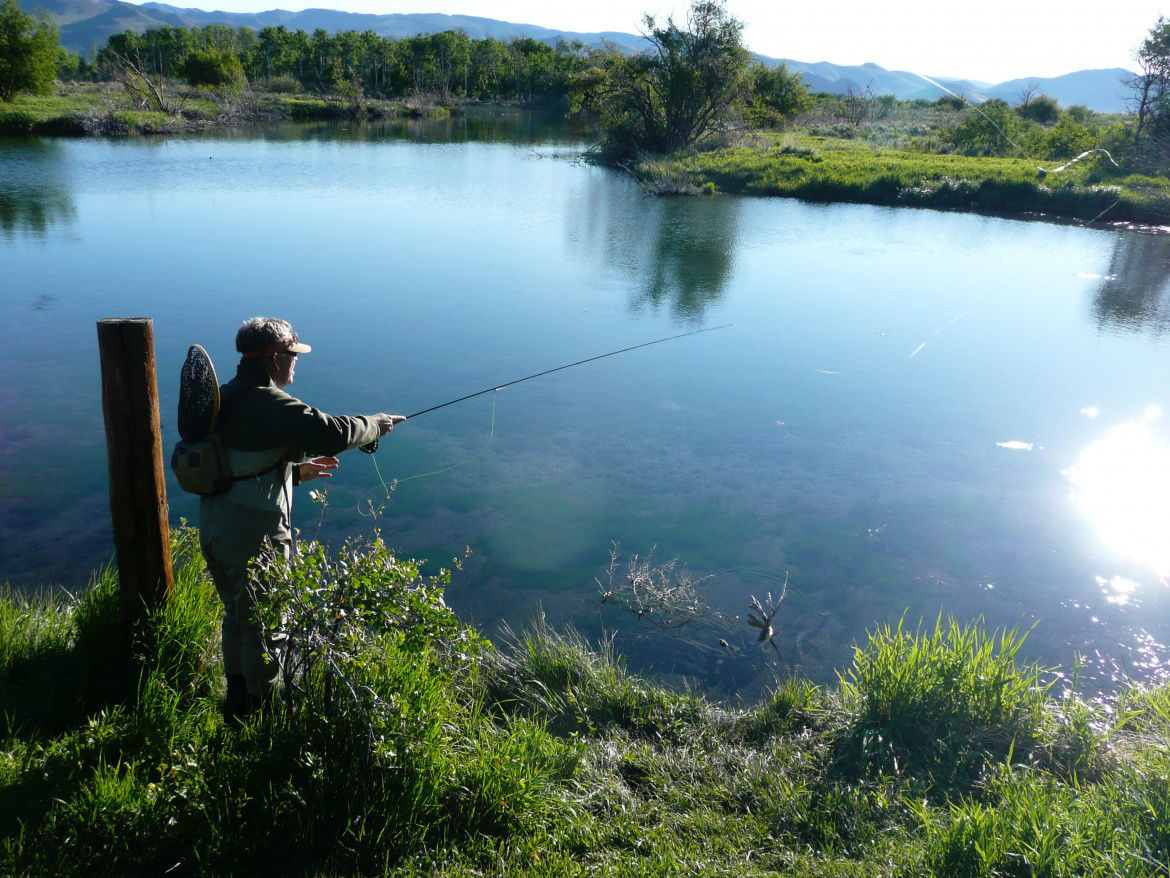 BOISE — Many rivers are coming into prime condition, and the 4th of July weekend is the unofficial kick-off for mountain lakes fishing. This is a favorite time for Idahoans and visitors to get out and enjoy the backcountry.
Since Memorial Day, when conditions were running high and cold from snow-melt, most rivers have now subsided and warmed a little which tends to make fish more active and hungry. However, some snow remains at high elevations, so not all lakes will be accessible.
Listed below are some Magic Valley area fishing spots:
— This classic spring creek is a mecca for anglers wanting to ply their skills against the creek's wily rainbow and brown trout. The creek has many access points, but the Nature Conservancy Preserve west of Picabo is one of the favorites and one of the most picturesque settings for trout anglers. The stream's abundant and predictable insect hatches frequently bring trout to the surface, but these fish have grown up with real and artificial flies drifting over their heads and have learned to separate the real from the imitators. Part of the fun is trying to fool those cagey fish. Even if you can't, the scenery alone makes this spot a worthy fishing destination. Fishing rules vary throughout the creek, so be sure to double check them before you fish.
— The reservoir received 26,000 rainbow trout last year, and it has a reputation for fast-growing fish. Last year's hold-overs and this year's stocking of 12-inch rainbows should provide good fishing for shore anglers and trollers with a nice mix of sizes. The reservoir also has walleye fishing that typically gets going later in the spring.
— Many anglers fish for brown and rainbow trout from float tubes, and there are also remnant cutthroat trout, so you can go out and catch three different species at this site. Situated in the southeastern portion of the Magic Valley region, about 15 miles south of Raft River, this reservoir is a great destination for Pocatello and Magic Valley residents. Sublett Reservoir has three tributaries — Lake Fork, Sublett Creek and Van Camp Creek — where the fishing can also be good. Dispersed camping is available around the reservoir, in addition to a developed campground managed by the Forest Service that sits about two miles from the reservoir. There are no fees, and it's a first come, first served campground. Amenities include toilets, tables, grills and a boat ramp. It's suitable for both tent and trailer camping.
, upstream of Magic Reservoir — A big snow year has made for high flows in the main Big Wood; so far it is not fishable. That could change soon. The flows at this popular fly-fishing destination — which are typically more forgiving for the novice fly angler than Silver Creek, a tributary of the Big Wood River — could be suitable for fishing for the first time this summer. Before heading out, anglers should keep an eye on river flows. There are many access points, and you can camp along the banks of the Big Wood or fish within walking distance of downtown Ketchum. Catch and release big rainbow and brown trout or head further upstream in search of a more off-the-grid fishing experience. Be sure to refer to the 2019-2021 Idaho Fishing Seasons and Rules because they vary throughout the river.
— There aren't many better places to fish for kokanee salmon in Idaho right now than Anderson Ranch, a 7.4-square-mile reservoir located about 35 miles northeast of Mountain Home. Kokanee are starting to move to deeper water with the warmer weather, so down-riggers will help. Anglers trolling for kokanee may also encounter landlocked Chinook salmon and rainbow trout. Sometimes overlooked is the reservoir's small-mouth bass fishery. There are four major boat launches and more than a dozen Forest Service campgrounds, although they will likely be filled on the 4th of July weekend and other peak summer weekends.
Be the first to know
Get local news delivered to your inbox!