JEROME — Jim DeMaagd has always felt at home in wide open spaces, having spent most of his life in a rural setting. "I understand the cosmopolitan lifestyle, but it's not for me," DeMaagd said. He has inhabited towns of 500 people as well as cities like Denver, and has worked in Washington, D.C., "It's nice to disconnect and listen to the trees sway in the wind rather than the cars beeping," he said. "I feel more comfortable when I have a little space around me."
DeMaagd's formative career was in geology and minerals. He attended California State University, Chico, and graduated in 1993 with a bachelor's of science in geology. Previously, he was a firefighter in California for five seasons.
"I kind of thought that was the path I was going to follow," he said, "but I got my degree and thought I'd better give it a shot."
He aimed high and landed in the forest service, where he took his first developmental position — a temporary one at the Shasta-Trinity National Forest. Three years later, he was permanent. Later, he became a certified mineral examiner, and his focus stayed on geology and minerals until 2008.
Then, something shifted. "I started taking some leadership courses and realized there were things outside of geology that piqued my interest," he said, "so I started moving toward the leadership and management side of things."
In 2015, he accepted a leadership position as the deputy forest supervisor in Mt. Hood National Forest or Region 6, which comprises Oregon and Washington. "They consider it the alter ego of the forest supervisor," Demaagd said. "Some forests have a forest supervisor and a deputy, and some just have a forest supervisor, such as this one," he said, referencing Sawtooth National Forest, where he currently holds the title.
But DeMaagd's route to the intermountain region was a bit of a circuitous one having lived in both California and Oregon previously.
"What drew me to the Sawtooth was a different landscape," he said, "and the cohesive team in place here."
DeMaagd is no stranger to relocating. "For many in the forest service, it's a lifestyle," he said. "You pick up and move." His wife of two decades, Billie Jo, is a budget analyst with the Bureau of Reclamation. Her job is virtual, which makes this lifestyle possible. "It makes it easier to move around," he said.
The couple do not have children, but they cherish their two Australian shepherds. Coasters with photos of the canines decorate DeMaagd's desk at the Jerome office. "One of the reasons we bought our house here is because it had a fence for the dogs," he said.
But DeMaagd didn't know he would be relocating again when he was hired on as a acting forest supervisor on Sept. 1 to replace Kit Mullen, who retired at the end of August after four years at her post.
DeMaagd served a 120-day detail, and applied for the long term position. "It's not a common thing where you come as a detail and you end up getting the job," DeMaagd said. "But coming in on the detail made me realize this is a place I wanted to be."
Now responsible for Sawtooth National Forest's 2.1 million acres, DeMaagd says that's nearly twice the size of what he supervised in Oregon. Despite the sizable geographical difference, the issues are similar.
"This is a different dynamic with the same concerns, maybe just not as many," he said. As a multiple use agency, there are a lot of moving parts. One ongoing effort at the center is working to improve forest health, which involves creating more fuel wood, and removing dead lodgepole pine, a current focus of the timber program.
"It's the process of making the forest more resilient, not unlike any other forest," he said.
But the Sawtooth comes with a vast array of programs, DeMaagd explained from a long range program with range allotments to a locatable and common variety minerals program — one of the larger ones nationally — according to DeMaagd, and a complex fire program, which houses a 20-person Type 1 hotshot handcrew in the building.
"The fascinating part of the Sawtooth is the diversity of the programs," he said.
DeMaagd relocated from a forest that holds five ski areas. "We have a huge recreation program here, with four ski areas to the north and the south of the office here," he said. "This wasn't an unknown to me."
The new forest supervisor's top priorities are twofold — to engage with employees and to engage with the community and the forest's partners. "It's one thing to be a government agency in an area," he said. "It's another thing to be an agency tied to the area. We need the community to understand that we are there for them."
DeMaagd hopes to maintain community engagement as a key priority, and welcomes both support and concerns, especially during NEPA (National Environmental Policy Act) scoping and objection periods, which happen approximately 10 times per year with open dates published in the paper. "They (the public) has to be part of the process or we can't be successful," he said.
DeMaagd looks forward to getting settled in so he can take up his side hobbies again — hunting, building cars and leatherwork.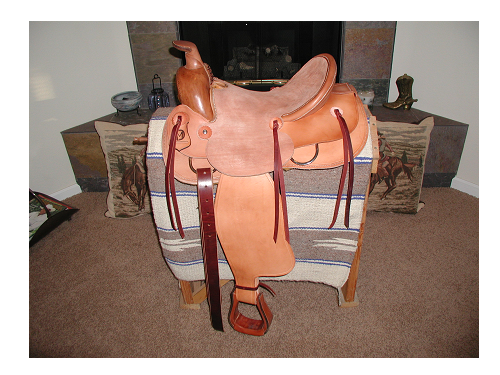 "One day I was curious how to make a saddle, so I started looking at one," he said," and the next day I built one." DeMaagd gives his saddles to relatives, including his in-laws in Oregon who are ranchers, and sells them to people he knows.
Another item on his agenda is spending more time in the Sawtooth National Recreation Area. "I look forward to getting out into the woods and wilderness," he said. "That's where I feel most comfortable — in wide open spaces without a lot of people around."
Public Affairs Officer Julie Thomas is thrilled to have DeMaagd on board. "It meant a lot to us to keep the same consistency we had when he was the acting forest supervisor," she said. "Jim is a great addition to our forest and our office here in Twin Falls. We look forward to many years of him leading the Sawtooth."
The Sawtooth National Forest was established in 1905. Its land stretches from south-central Idaho into northern Utah. Visit its website to learn more at fs.usda.gov/main/sawtooth/home.