SUN VALLEY — Matt Green took a tentative step forward, calculating what it would feel like to step into a couple of inches of fresh snow with a snowshoe on his foot.
The New Yorker had walked 3,100 miles across the United States and nearly 8,000 miles along every street and walking path in New York, explained the acclaimed documentary film "The World Before Your Feet."
But he had never walked in snowshoes until Kristine Bretall of the Sun Valley Museum of Art outfitted him with a pair and invited Sun Valley residents to join him on a walk through the woods behind the Sawtooth National Recreational Area headquarters north of Ketchum.
"I figured it was the iconic way for him to take a walk during winter in Sun Valley," said Bretall, who invited Green to Sun Valley for two screenings of his film for the museum. "And it turned out he had never snowshoed before."
Veteran snowshoer or not, Green could have been forgiven for thinking he was in New York on that snowshoe trek. Nearly 20 men and women joined him, peppering him with questions about why he had left his civil engineering job to make a career out of walking.
And a couple of other groups of five and six snowshoers each took to the trail just minutes after his group started out. Just three cross-country skiers took to the nearby trails during that time.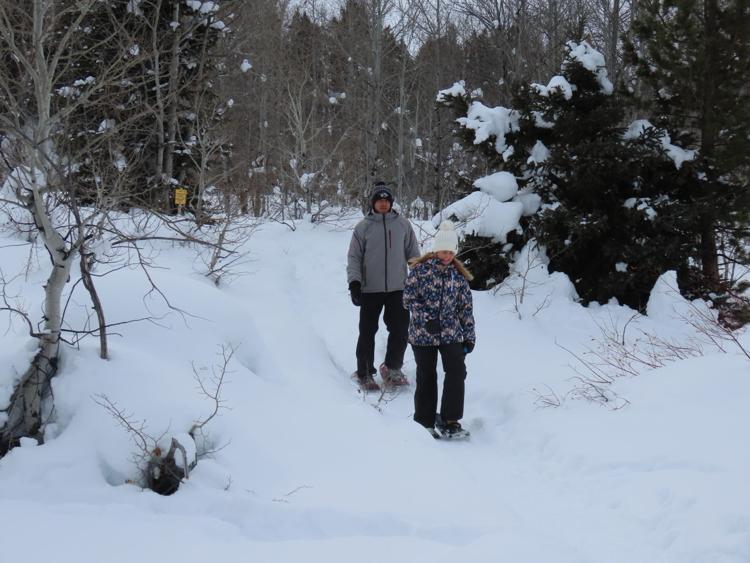 "We have been seeing more and more snowshoers in the past several years," said Cindy Hamlin, who oversees the Nordic patrol for the Blaine County Recreation District's North Valley Trails. "I think we're seeing such an increase because it's something pretty much everyone can do — it's not much more difficult than walking.
"And we especially see the numbers soar on gray days when people think the skiing might not be as good."
Elkhorn resident Margaret Gold, who joined a group hiking across the snowy fields at Greenhorn Gulch south of Ketchum on Sunday, has another explanation.
"I think more and more people are getting into it because the snowshoes have gotten so easy to put on and take off and walk in," she said, showing off the new snowshoes she'd purchased just the week before. "They give you a way to get out in winter if you don't ski."
One never sees the old wooden snowshoes that measured three and four feet long and were handcrafted from steam-bent white ash and hand-laced rawhide around Sun Valley except for hanging over a fireplace.
Those snowshoes, used by woodsmen 100 years ago provided good flotation in deep snow and their tail shape improved tracking.
But more practical for modern recreationists are snowshoes like the MSR Evo and Explore Snowshoes, which are lightweight and small and have DuoFit bindings that accommodate a wide range of footwear. And L.L. Bean's Winter Walkers have ratcheting bindings that are easy to use, even with gloves.
Users can use ski or hiking poles, or they can snowshoe without poles.
Using paddle-like snowshoes to keep from post-holing in the snow opens outdoor lovers to a wide range of possibilities.
Those who explore summer hiking trails on snowshoes will find the terrain vastly different than in summer when purple and yellow wildflowers are poking up amidst bunchgrass and sagebrush.
Snowshoes can even take you places you might never think of going in summer as the snow covers up familiar trails, inviting snowshoers to take off across areas that might be heavily dotted by sagebrush in summer.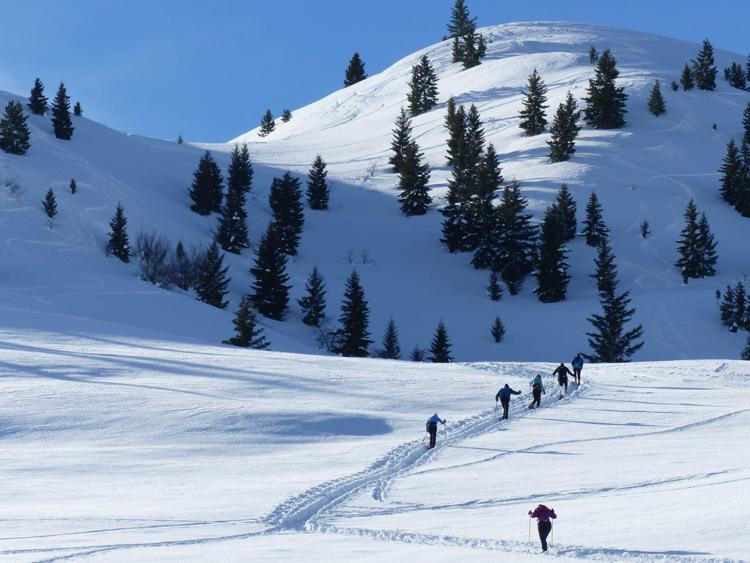 Ski instructors at Sun Valley Nordic Center stomp out snowshoe paths that take snowshoers from the Sun Valley Club to Trail Creek Cabin, along Trail Creek and to vistas overlooking Sun Valley's famed golf course and ski resort. You can follow a guide, who will offer stories of Sun Valley's rich history as you go. Or, you can go on your own, following the tiny yellow snowshoe logos.
The county's recreational district's Nordic patrols also stomp out snowshoe trails through the woods behind SNRA headquarters, in view of the Boulder Mountains at Billy's Bridge 17 miles north of Ketchum and up and down the hills at Galena Lodge.
Trail passes costing $5 are required for both Sun Valley Nordic Center and the North Valley Trails. And snowshoers are asked to exercise trail etiquette, refraining from snowshoeing on ski tracks unless the snowshoe path crosses one.
You don't need to stick to a trail. You can simply take off on your own, plotting your own path on the hills overlooking Elkhorn, across the snow-covered hillsides at popular hiking areas like Greenhorn Gulch or Adam's Gulch or along the Big Wood River as it winds through Hailey.
Roads, such as Lake Creek Road just north of Ketchum, offer good starting points for beginners.
Sorrels and other insulated waterproof boots are the safe bet following deep snows. But closed-back winter clogs offer a reasonable choice of footwear when following a packed path.
Wear warm, breathable clothing that you can take off as you work up a sweat. Wet clothing can make you chill.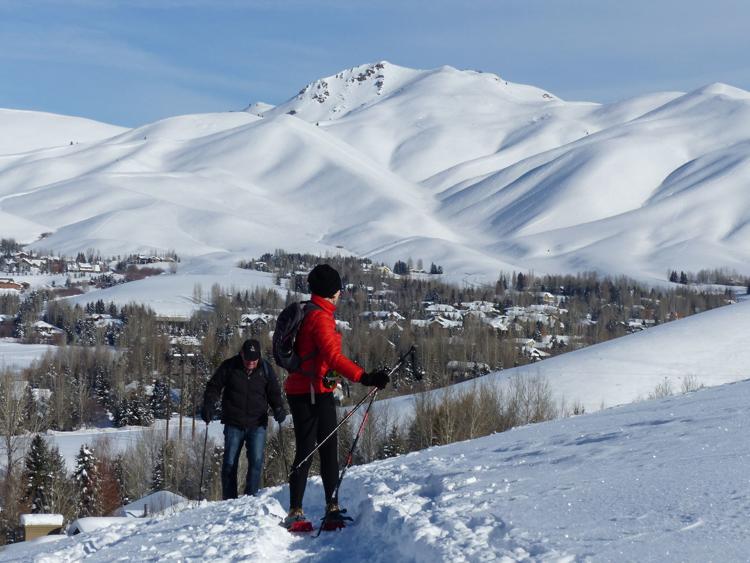 If you don't have snowshoes, you can rent them. Snowshoe rentals are available at Sun Valley Nordic Center, Galena Lodge and Ketchum outdoor stores, such as The Elephant's Perch and Backwoods Mountain Sports.
Whatever you choose, you're in for a magical experience, said Mila Lyon, an ardent snowshoer from Hailey.
"Our snowshoe hike at Galena a couple Sundays ago was beautiful," Lyon said. "The day was sunny and the snow diamonds glittered in the fluffy snow.
"Hiking through the forest of lodgepole pine, we saw rabbit tracks and those of magpies. And then a 360-degree view of the Boulders cresting Galen Pass and meeting the Smoky Mountains near Titus Peak…"
Be the first to know
Get local news delivered to your inbox!