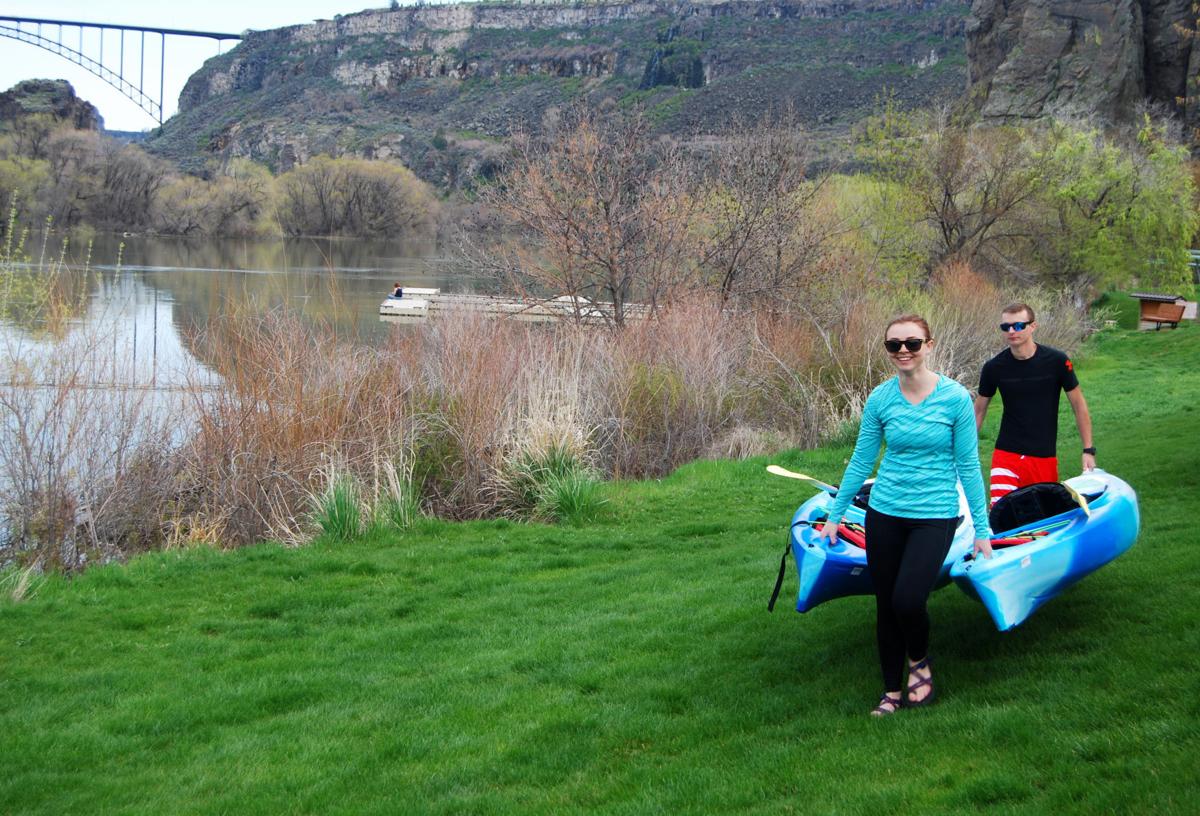 TWIN FALLS — If at first you don't succeed … try another commission.
When AWOL Adventure Sports' Paul Melni asked Twin Falls County commissioners to extend his watercraft rental limit in December, they weren't receptive to the idea.
AWOL had been allowed 50 rental boats during its first year as Centennial Waterfront Park's vendor. Melni was asking for 80 rentals — plus a shipping container on site for storage. But commissioners, wishing to respect other park users, denied his request.
After two new commissioners joined the board this year, Melni gave it another go. With a more comprehensive presentation — and Southern Idaho Tourism on his side — he got approval in February for 60 rental boats and a shipping container at the park.
As AWOL ramps up for another busy season, it's bringing more tandem kayak rentals to Twin Falls, plus a new scuba diving and kayak shop.
"He understands his business," Southern Idaho Tourism Executive Director Melissa Barry said. "… Probably the fastest-growing recreation piece we have is self-powered watersports."
This year's rental lineup includes 10 more tandem kayaks, double what AWOL had available last year.
"They were rented out every single day, all day long," Melni recalled. "Lots of couples like to go out and experience it together."
Tandem kayaking is also big for parents with children. The new kayaks have an optional third seat for children 5 and younger, he said.
AWOL began its rental season in late April with weekend rentals. It will open daily from Memorial Day to Labor Day.
Barry said she advocated for the additional boats because of the economic benefit they bring. Of the 5,300 paid rentals last year, most were for four hours, Melni said. The longer people stay in town, the more they spend, Barry said.
Commissioners were less concerned about crowding the nonmotorized boat launch with extra rentals once they realized AWOL assists private boaters, Commissioner Terry Kramer said.
"We looked at really the usage down there," Commissioner Don Hall said. "We felt that this was best for the community, now."
Besides that, they faced a safety concern with Melni's decision to upgrade his fleet to include more tandem kayaks — which require more storage space. That meant Melni and his wife, Krysta, would need to haul two trailers, instead of one, down to Centennial Waterfront Park every day.
"It was really the congestion of having the extra traffic," Kramer said, that changed his mind on allowing a shipping container.
The on-site storage container will allow AWOL to open one hour earlier on weekdays (9 a.m.) and two hours earlier on weekends (8 a.m.).
Melni is also pursuing another venture this spring: AWOL Dive and Kayak. The shop will open May 15 at 468 Addison Ave. W.
Inside the newly painted and carpeted shop, customers can expect to find scuba diving equipment and kayaks they can rent for use anywhere other than Centennial Waterfront Park.
"It's going to be a game changer for our local dive community," Melni said.
The shop will be open year-round from 10 a.m. to 6 p.m. daily; closing on Sundays and Mondays from November to March.
AWOL Dive and Kayak will offer scuba diving classes, ranging from beginner level to advanced search-and-rescue diving. Melni will also host two international scuba diving trips per year.
He's also expanding his popular Discover Scuba Diving classes (for ages 10 and older). These will take place once a month at Banbury Hot Springs or Filer's city pool — with Twin Falls' city pool possibly included later. Classes cost $35 for two hours of practice with equipment, plus underwater games.
"We're investing in a lot more equipment for smaller-sized divers," Melni said.
He will also expand his free air tank rentals for certified divers to every Wednesday night, beginning June 7, at Dierkes Lake.
Paul and Krysta Melni opened AWOL Adventure Sports in Twin Falls last year but had previous experience in retail and customer service. The vendor pays Twin Falls County $15,000 a year to provide boat rentals at Centennial Waterfront Park from April to December. It still has another three years on its lease.