SUN VALLEY — It's always been known as Sun Valley's Roundhouse Gondola.
And it's ferried many a skier, hiker, mountain biker and even the occasional baby stroller up the mountain.
But there's something new afoot this summer, evidenced by the parade of dachshunds, standard poodles, miniature schnauzers and Sun Valley's ubiquitous black labs getting on and off the gondola.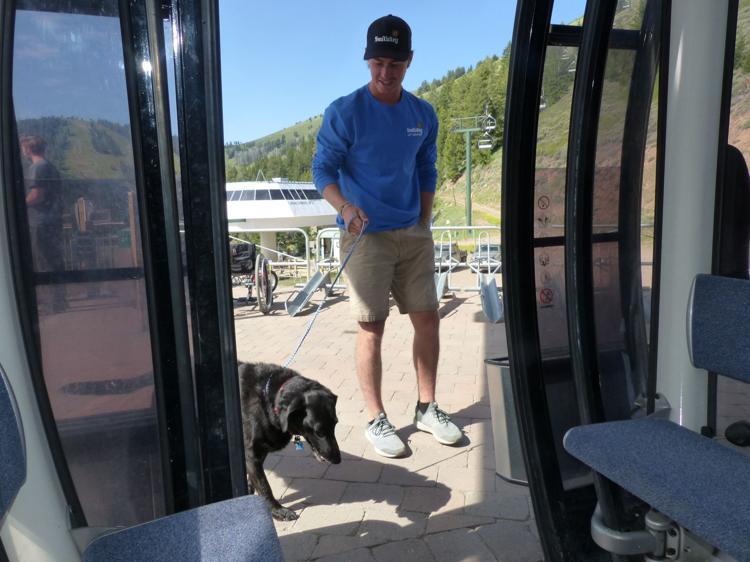 Yes, Sun Valley Resort has gone to the dogs, rechristening its gondola the "Dogondola."
The development has been coming for a long time.
"Sun Valley Resort decided to give it a trial run this year because so many people hike with their dogs," said Kelli Lusk, the resort's communications manager.
Canines can ride the gondola to the Roundhouse Restaurant, but the two-legged creatures must have a pass. Dog owners may purchase Sun Valley lift tickets for their dogs, picture included, for $10. The money goes to Mountain Humane animal welfare campus in Hailey.
"My dogs wear theirs with pride — it shows they're Sun Valley dogs," said Jen Barth, dog-mom to Penny, Pippy, Posie and Paulie.
"Taking the dogs on the gondola is another fun thing to do with your dog. First time they go on, they're a little skeptical — they run on really fast. But my dogs love it. We hike up to the top of the mountain, then down to the Roundhouse where we catch the gondola, and then they go home and pass out after such an exciting adventurous day."
There is no charge for either human or dog to ride the gondola down the mountain and that's what many Wood River Valley residents do.
Among them: Molly and Steve Brown, who take their two standard poodles — one is a year-and-a-half old and the other is 10 months old — hiking with them.
"I like hiking up, but not down because I've got bad knees. So absolutely I like the fact that I can hike with my dogs without stressing my knees," said Steve Brown. "The dogs? They're just happy to go on a hike."
Those who want to stop for salads, soups and sandwiches are invited to let their dogs sit with them while they eat on the deck of the historic mountain restaurant built in 1939. Dogs are not allowed inside the restaurant unless they're service dogs.
But Roundhouse waiters are quick to greet even deck dogs with white towels dangling from their wrists and a big bowl of cool water.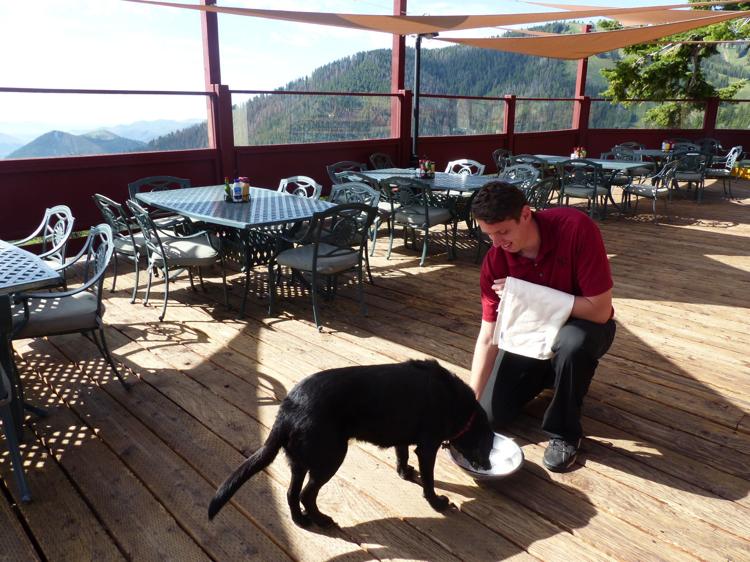 "We bring their bowl and they're oh so nice," said Michal Orvisky, a waiter from Slovakia.
Dogs who don't want to wait for liquid refreshment on the deck are not slighted. Lift operators have placed two large tubs of water near the gondola's exit point. Canines seemingly have no trouble recognizing the large print on the side of the tubs, which say "For Dogs," because they all make a beeline for them.
Some people just hike straight up Lower River Run, turning off on one of the service roads midway up the ski run that wind around to the gondola.
But most follow the Bald Mountain Tour from the base of River Run Plaza Base.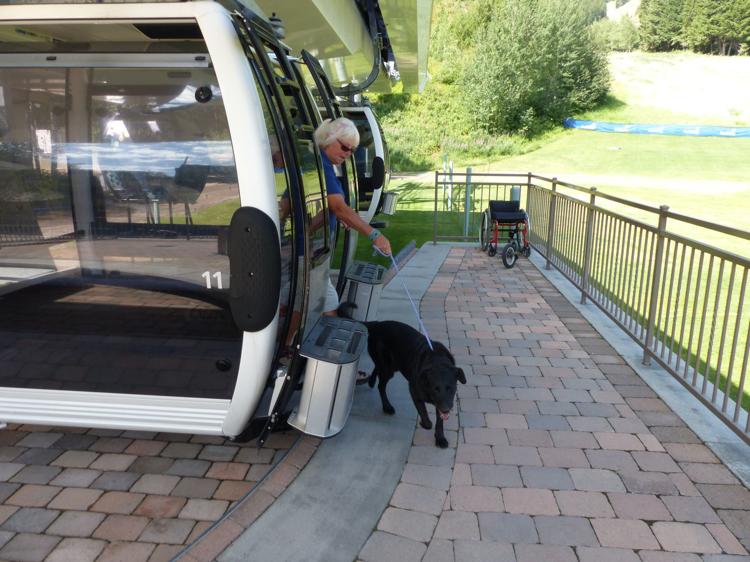 The trail leads above the Big Wood River to the BLM overlook offering views of Ketchum and the Pioneer Mountains. From there they continue across Janss Pass, Graduate and Can Can to the Roundhouse Connector, a .7-mile segment that takes them across Mid-River Run and Canyon to the gondola.
All told, the hike is about five miles with a 2,200-foot elevation gain. And it contains quite a bit of shade, especially in the beginning, as it takes people past lavender penstemon, yellow heartleaf arnica and pink sandform.
"My dog Dudley loves the gondola," said Paula Perry, a Ketchum restaurant owner. "Of course, he'd probably say, 'Feed me bacon and I'll follow you anywhere!'"
Like skiing, there is a responsibility code for dogs and their owners.
Dogs may hike unleashed under voice control, but they must remain leashed while traveling inside the gondola.
While they are allowed in the gondola, they are not allowed on the open Christmas chairlift that takes hikers and bikers from the gondola to the top of Baldy.
Owners are asked to carry water for their dogs, as there is no natural water source on the trail.
Dog waste must be picked up and disposed of in the bins provided.
Dog owners are asked not to let their pets jump on people or other dogs or allow them to chase maintenance vehicles.
Visitors to Sun Valley have happily taken advantage of the new liberties extended to their canine companions. Among them, Boiseans Andy and Shannon Erstad, who recently rode the gondola to the Roundhouse and hiked down the trail from there with two fellow friends and their dogs, Fenn and Rory.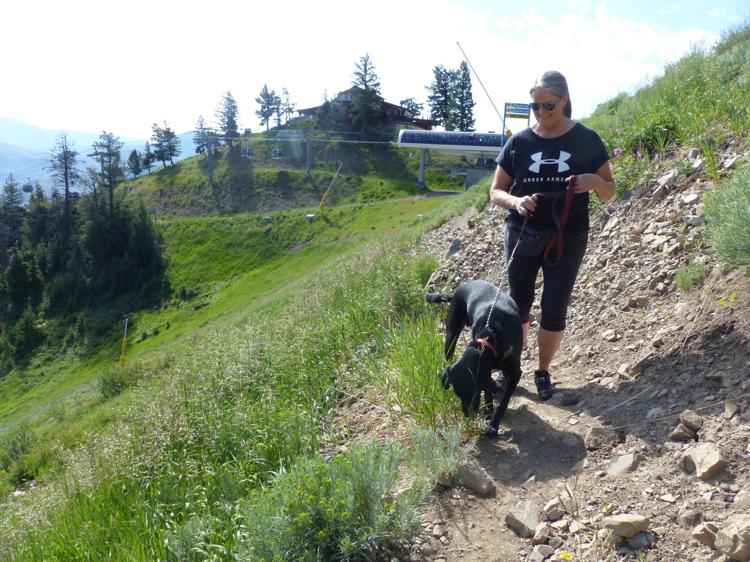 "It's really easy to get on and off with them," Shannon Erstad said.
"And it gives us something we can do with our dogs when we come over here," Andy Erstad said.
Want to know more? Call Sun Valley Resort at 208-622-6136.
Be the first to know
Get local news delivered to your inbox!