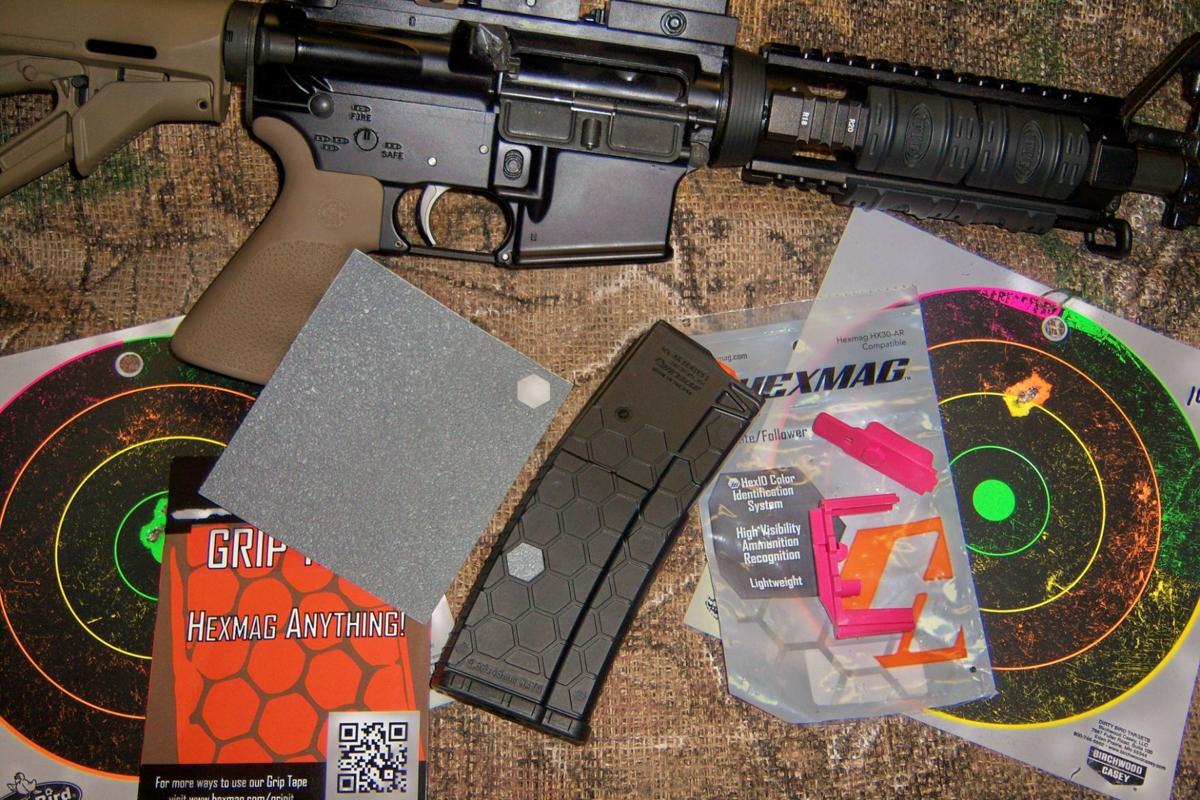 In the wide, wonderful world of polymer AR 15 magazines, there's a new synthetic bullet box that's creating quite a stir and garnering lots of industry and social media attention. Known as the Hexmag — for reasons that will soon become apparent — this 30-round magazine incorporates a number of features that AR riflemen, competitive shooters, law enforcement and tactical personnel are finding appealing.
Originally conceived early in 2013 as a prototyping exercise in 3-D design and printing by a group of friends in Loveland, Colo., the first 30-round Hexmags started appearing on store shelves in March 2014. Sales in the highly competitive AR magazine market were brisk right from the start and show little sign of slowing.
Because comparisons are inevitable, let's dissect the Hexmag beside its closest competitor, the most popular synthetic magazine on the market, MagPul's ubiquitous PMAG Gen M3'S. Though similar in thickness and durability, the fiber-reinforced nylon body of the Hexmag (available in four colors) sports a slick matte finish compared with the PMAG's grainy-textured exterior, which I believe offers a better grip for manipulating the mag during tactical reloads.
The Hexmag design compensates somewhat with its high-relief hexagonal (hence its name) ribbing on both sides of the mag body and the horizontal ribs on the front and rear surfaces. As a bonus, you can purchase Hexmag's hexagonal die-cut vinyl grip tape segments. The tacky rubber segments seat perfectly into the hex slots, allowing you to arrange them into the pattern that affords you the best possible grip. Available in black and grey, they really work, and aesthetically they're tacti-cool.
The feature that has garnered the most attention for the fledgling company is its HexID system. Composed of six brightly colored (such as Zombie Green or Panther Pink) and readily interchangeable magazine followers and latch plates, the HexID feature allows the shooter to color code his AR magazines for specific loads and cartridges. You could, let's say, select Blackout Black for your 150-grain .300 AAC/Blackout loads and the brilliant Nimbus Blue to delineate your match 69-grain 5.56 Sierra loadings.
Because AR 15 magazines are fully interchangeable between the various AR-compatible cartridges (5.56, .300 AAC, 458 SOCOM, 50 Beowulf), and many AR enthusiasts own several of the slick little semiautos, the result of attempting to feed the wrong cartridge into the wrong gun could range from unpleasant to disastrous. Judicious use of the HexID system could prevent such a calamity. Also, the large hex button on the latch plate allows for the industry's most convenient no-tools disassembly/reassembly for routine cleaning and maintenance.
A real bonus for AR owners who live in states that restrict magazine capacity is the Hexmag's 10/30-, 15/30-round adapter system. The synthetic magazine followers fit into the standard 30-round magazine body, but they permanently restrict loading to 10 or 15 cartridges.
Regardless of capacity, Hexmags are priced to sell. Individual mags retail for around $12. My favorite online AR magazine retailer, GunMagWarehouse.com, will sell you a set of six (in any capacity) for $70.
In closing, let me mention that my range buddies and I have been running our Hexmags through a variety of AR platforms for more than a year now and still have nothing but praise for the design. Pick up a few at your local dealer; you won't be disappointed.
Be the first to know
Get local news delivered to your inbox!