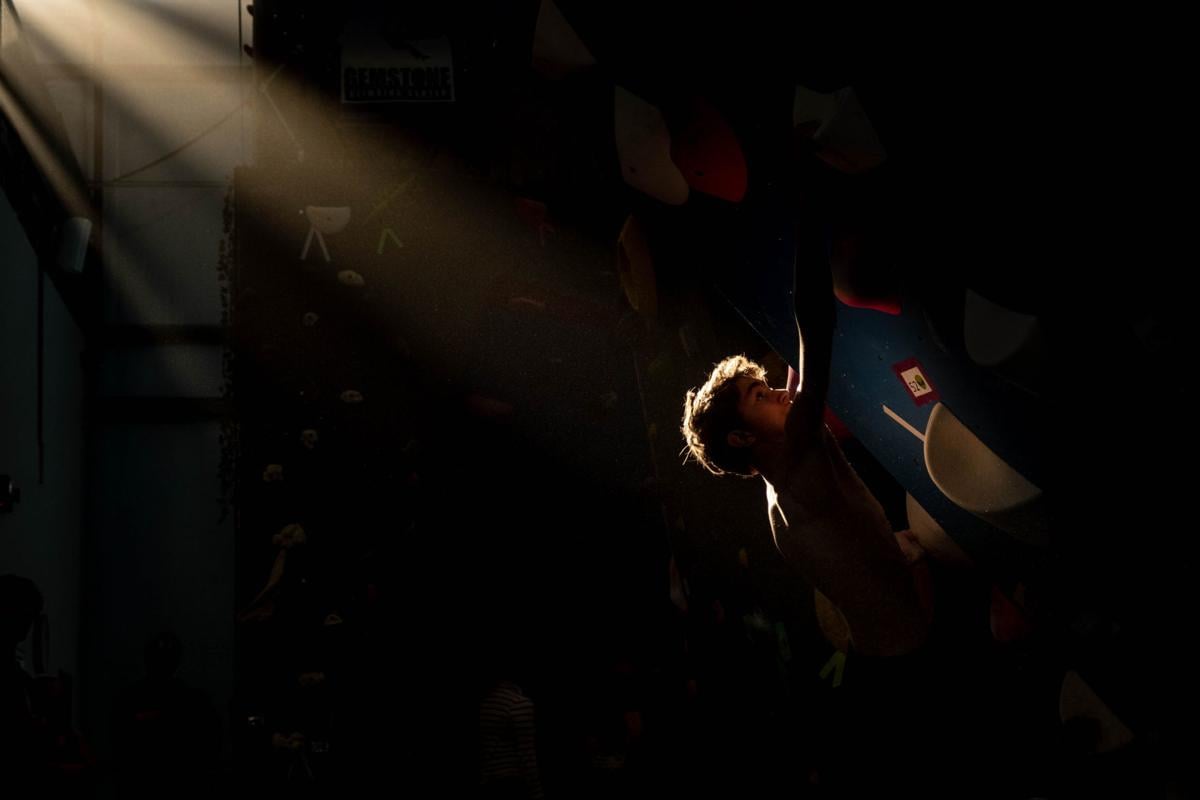 TWIN FALLS — The future of competitive bouldering in the Magic Valley is looking up, literally.
On Sundays while many are attending church or eating brunch at their favorite diner, the Gemstone Climbing Center's Climbing Crushers youth team are sending it — and a few of them still have their braces on.
Practice makes perfect, right?
On the heels of the 2019 USA Climbing Bouldering Regional Championships, which took place on Dec. 14 in Ogden, Utah, the Climbing Crushers are working out and practicing routes with renewed purpose. Two of the team's youthful climbers qualified for the competition, and a third climber received an invitation. Two of the climbers are under 10. The team is getting pumped for the divisional championships in Denver, Colorado, on Jan. 18.
But who are these young ROCK stars?
Theodore Kapeleris is a tall, lean 14-year-old with a unique entrance into the climbing circuit. The athlete qualified in 11th place at regionals in the Youth B Bouldering category, and he has only been climbing competitively for about a year.
Theodore's first introduction to climbing was at a birthday party at Gemstone Climbing Center. He enjoyed the experience so much that he started climbing soon afterward and later signed up to be on the recreational team. For six months, he learned, progressed, gained strength and eventually joined the competition team.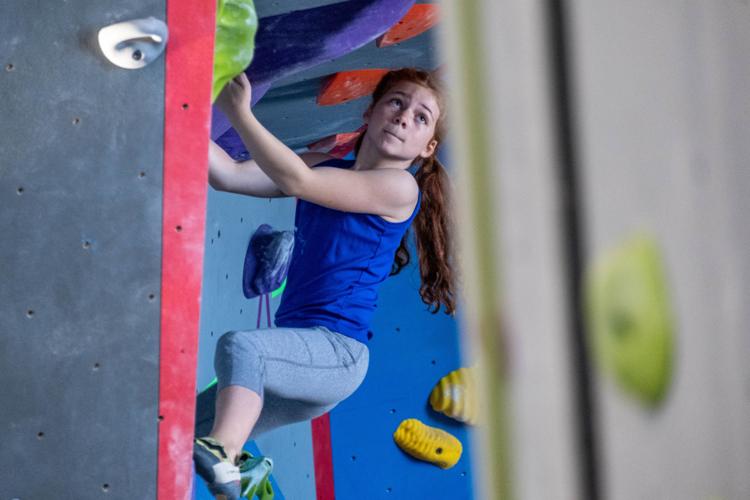 "I joined the comp team around January (2019)," Theodore said. "I've been taking it (competitive climbing) seriously for about a year now. It has been lots of fun."
Like all the climbers on the team, he's goal-oriented. He was unsuccessful sending the coordination move on the route at regionals in mid-December. In 2020, the 8th-grader will focus on explosiveness and coordination moves.
"On climb two (regionals), a coordination move got to me," Theodore said. "It was a side pull to a slopey rail, like a one, two, three maneuver, but the side pull was tough. Only one (climber) topped out."
Theodore's success in competitions is a testament to his focus and hard work. After a sixth-place finish at his first competition in October 2018, he has placed second in two competitions in 2019. Now, he is looking to his climbing future, considering living in Salt Lake City, becoming a route-setter and even dreaming of the Olympics — the Olympic Games will debut sport climbing in 2020.
"I want to see where my climbing goes," he said. "If I could start climbing professionally, that would make a dream come true for me. I would like to make it into the Olympics, but I'm not quite ready for that right now."
Fostering friendships on the climbing wall
Nine-year-old Naomi Clysdale and 10-year-old Sofia Long are good friends. Both have been climbing for about two years and are each other's champion while climbing. In the Youth D Bouldering category at regionals, Sofia qualified in 10th place and Naomi placed 11th. Naomi was invited to the divisional championship due to a higher-placing climber's forfeiture.
But in the realm of competitive climbing, even the best of friends need individual time to focus on the routes in place.
"We help each other out all the time," Sofia said. "We have an 'I don't want to beat you' thing going."
During isolation time before the finals, however, outsiders (parents, other climbers, coaches) cannot hand the finalists chalk or offer beta on the routes, and the competitors didn't see each other until afterward.
"The climb in the cave was tough," Sofia said of one of the climbs in the finals. "Juggy for sure."
But beta like that could not be passed on to Naomi, even with the best intentions from Sophia, or vice versa. That's the nature of the beast. The silver linings in competitive climbing are friendship and community, regardless of who comes out on top.
Both girls have different personalities and styles, some that complement the other while on the wall. Naomi is soft-spoken with a fastidious nature while Sofia is outspoken and excitable.
"We push our limits and go for it," Naomi said. "It is not a sport where it's just one thing. There are different concepts to it. There is not just one way to climb."
The girls both spoke of becoming route-setters as their young climbing careers progress, but first things first. Divisional Championships in Denver will present the athletes with tougher teams and climbers will be competing against one another. ABC Climbing team out of Boulder, Colorado, for instance, is a highly competitive group that will be at divisionals.
"It's nerve-wracking going against the best," Naomi said, referring to the ABC team.
"Yeah, they're tough," Sophia agreed.
Training for the future
Between competitions, the young climbers' practice routines involve gaining strength and knowledge on the wall — key aspects for advancement. Head coach Ryan Terry works to further the progression and growth of the young climbers daily in the gym.
"During the week the climbers work on drills, strength training, endurance and technique," Terry said. "On Sundays, the climbers work on individual projects, zeroing in on what they want to accomplish."
Terry also said the climbers record their goals in a notebook and monitor their advances throughout.
"The kids set monthly goals," he said. "We meet with the kids a couple of times a month to see where they are at. We are looking at certain measurable goals like 15 solid pull-ups for example."
The coach also pointed out that one of the goals at Gemstone is shared by USA Climbing: to train the climbers for the Youth National Championship.
"We gotta get somebody to Youth National Championships," Terry said. "Definitely got a bit of a ways to go, but would like to see one of our kids shoot for it and it is on our radar."
As divisionals approach, however, Terry will be stepping aside as head coach and Derek Craig will be taking over as the team travels to Denver, but Terry will be staying on board with the team.
For more information about Gemstone Climbing Center's competitive team click here.
To view the USAC Competitive Climbing team results from climbing competitions click here.
Be the first to know
Get local news delivered to your inbox!