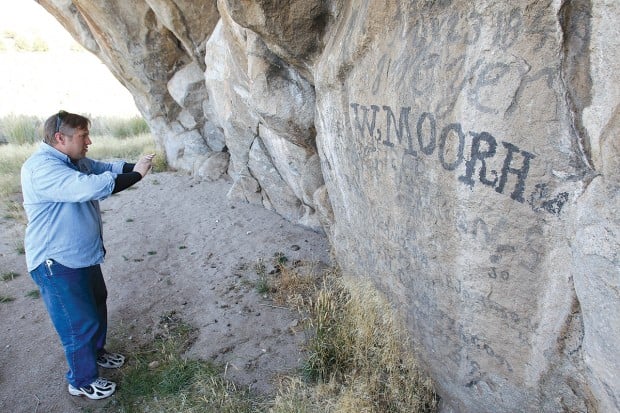 ALMO • The climbing possibilities draw people to City of Rocks from all over the world, but the first adventurers who came through the area left their mark
In south-central Idaho, the Oregon Trail ran next to the Snake River. Other pioneers found themselves in Cassia County, close to the Utah border.
It's been about 150 years since those settlers passed through Magic Valley on their way farther West, but shadows of their migration remain today.
At City of Rocks, pioneers painted their names in axle grease on the rock as they spent the night at the site, according to Shawn Willsey, geology professor at College of SouthernIdaho.
Some signatures are still clear, like one that reads "A. Freeman, June.12.50."Others are faded and smudged. The earliest names date back to 1849, according to "TheOregon Trail Revisited,"by Gregory Franzwa.
You have free articles remaining.
If you go to Register Rock, don't touch. The oils from your fingers can damage the signatures.
There are also areas throughout south-central Idaho where you can see wagon ruts carved into rocks.
At Milner Dam, you can see deep wagon ruts, said TwinFalls historian JimGentry.
"The Milner Ruts are really good,"Gentry said. From the west entrance to Milner Dam, look north. You'll see a shelter and the beginning of a hiking trail that will take you to the wagon ruts.
Head west and you can see more ruts southeast of CJ Strike Reservoir, about 21 miles south of MountainHome.Look for marked sections along hiking trails that designate the ruts.
Oregon Trail ruts aren't cordoned off, and you can walk on them all you like. But compared to other Idaho landmarks, like geological spots, they're fragile. Don't drive on them, especially when they're rainy and muddy, pleads the Idaho Chapter of the Oregon/California Trail Association.