TWIN FALLS — Strategically dodging the plethora of mud puddles on the way to Auger Falls, it occurred to me that joining a group of runners for a moonlight jog was perhaps not my best idea. Canyon Springs Road can be unpredictable at night. Fortunately, it turned out to be my best idea of the day.
A softly lit display of Christmas lights twinkled in the back of an SUV as the last bits of sunlight disappeared over the Snake River.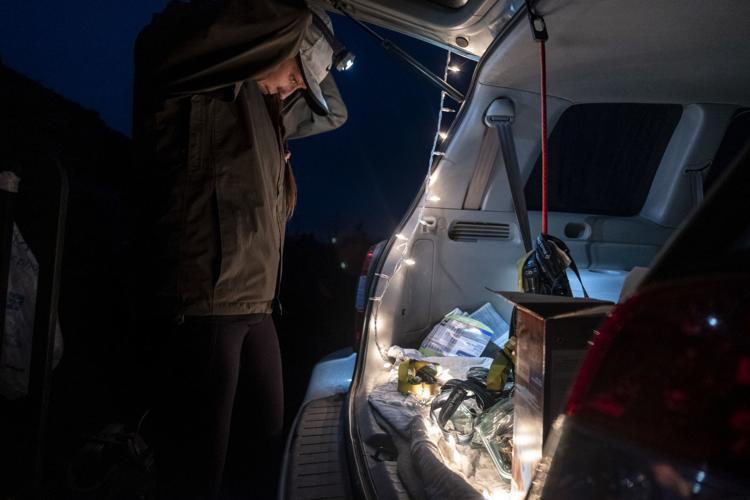 College of Southern Idaho Outdoor Recreation Coordinator Christa Gessaman chatted with a small group of participants brave enough to venture out for a late evening run before the event began.
"Alright everybody, welcome," Gessaman said, while Copper the ORC dog greeted the runners with slobbery kisses. "If you need a headlamp for tonight's run, come on over here and I'll get you set up."
Gessaman's words of encouragement, brief pep talk about potential routes provided inspiration as the group of eight readied to run along Homestead and Eagle trails before looping back on the service road. 
You have free articles remaining.
A few warm-up sprints energized the group. Headlamp lights bounced along the muddy gravel as the runners took off. The fast walk to Homestead provided enough time to get the blood pumping before the beams of light disappeared into the canyon brush. Thirty seconds later, the group was gone and the sounds of the rushing river returned.
Posting up on the service road nearly a mile from the parking lot, I waited for the reflections of the headlamps and pitter-patter of footsteps. Pressing the shutter release as one of the runners neared, I noticed a mysterious glow against the city lights bouncing off the clouds. 
The larger group had stopped at Auger Falls for some water and a breather, but faint voices resonated above the river. Nearing 10 p.m., the rain started up again. Words from Gessaman's speech resonated in my mind as the drizzle turned to heavy drops, prompting my return to the trailhead.
"Now make sure you are back by 10:30," she said. "If you're not, this train will be leaving and we'll have to get those headlamps back from you some other way."
The last runners arrived back at basecamp right on schedule. Greeted by Copper's welcoming tail wags, the group chatted and sipped warm cocoa before parting ways for the night. Perhaps the clouds will part next time also.
The next moonlight run is scheduled for 9:30 p.m. June 18 at Auger Falls.