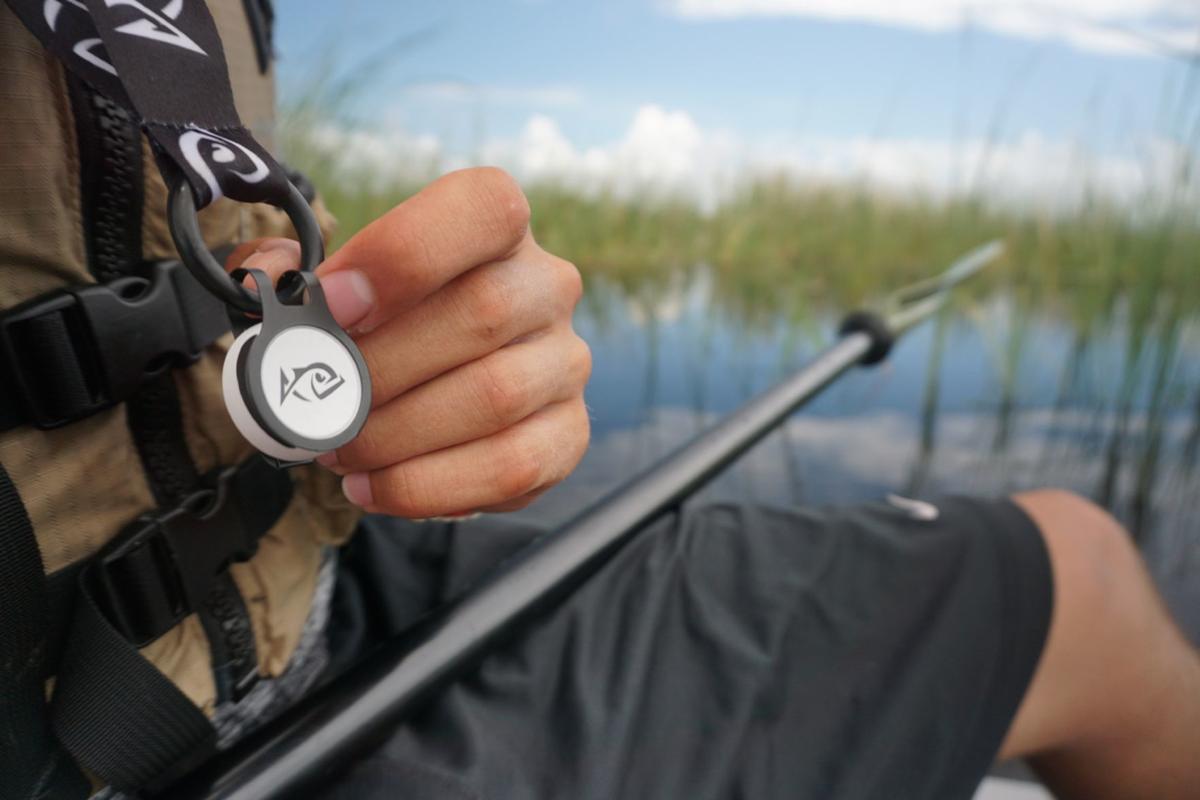 My cellphone chime echoed off the walls of the Snake River Canyon as I unhooked and released another feisty smallmouth bass. The noise originated from my ANGLR Bullseye, a new fishing gadget clipped to my backpack.
"I like this thing already," I teased my fishing partner as I launched my crankbait back into the current. "You're going to be hearing that ding in your sleep!"
The Bullseye is a nifty device that pairs with a free smartphone app and allows anglers to instantly record data during a fishing trip. You simply start a new trip once you arrive at your fishing hole and click the quarter-sized Bullseye once every time you catch a fish, or twice to mark a waypoint on the map. At the end of the trip, the app will show you how many fish you caught (including a timestamp and location), how far you traveled and how long you fished. It also logs weather and water conditions, and anglers can input additional data like which species were caught and what tackle was used.
How much data you capture — and what you do with it — is up to the individual. For me, the device has functioned as a great database for logging fishing conditions, time of day, success rates and other variables. The Bullseye makes it easy — hours' worth of data can be stored digitally with just a few clicks.
In a cool twist, ANGLR has an Idaho hook: two of the its executive team members are native to the Gem State. Nic Wilson is the company's CEO and co-founder, while Spencer Rule is director of marketing. The two have been friends — and avid fishermen — since high school. Wilson headed east after graduation, and he hatched the idea for ANGLR on the banks of Pennsylvania's Alleghany River.
"After a long day of fishing with some friends, we were all arguing around the campfire over who had caught the most fish, the biggest fish," Wilson said. "Nobody really knew. As anglers, we can never have enough information, so we talked about how cool it would be to use technology to help us understand our fishing activity. That's the spirit of ANGLR, and that's where it all began."
Based out of Pittsburgh, ANGLR offers the wearable Bullseye ($29.99), which launched earlier this year. The company also created the Tracker ($89.99), which mounts to your fishing rod and records casts and hooksets in addition to catches and waypoints. Products, testimonials, company info and fishing resources are available at anglr.com.
The Bullseye has worked great for me—it is waterproof, durable and doesn't require charging. The only drawback I've experienced is the device sometimes struggles in areas with poor cellphone service. To combat this, Rule recommended starting the trip while still in service on the way to the lake, which has been a good workaround.
"ANGLR is all about constant improvement," Rule said. "We're dedicated to improving our products and improving as anglers. It's pretty cool to be at the intersection of fishing and technology, which are two things we're really passionate about."
With a slick product and a team of diehard anglers, it feels like ANGLR is just getting started. It's fun to use a fishing product with Idaho roots on Idaho waters, and there are rumors of ANGLR creating the world's first smart fishing reel in the near future.
Until then, hopefully my Bullseye keeps on dinging.
Be the first to know
Get local news delivered to your inbox!