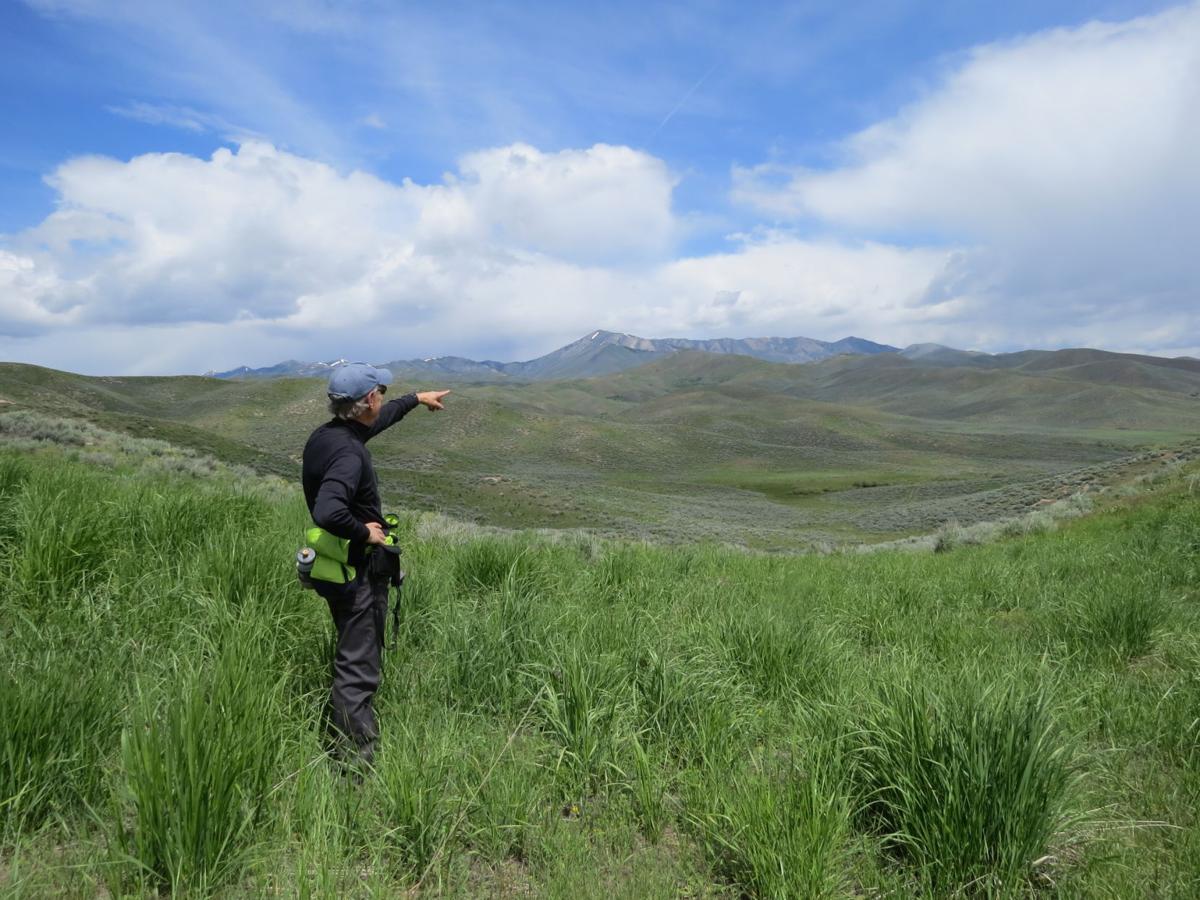 HAILEY — A Western tanager flits above rolling hills of sagebrush dotted with arrowleaf balsamroot, magenta-colored monkey flowers and fragrant yellow lupine. A blue camas nods in the breeze, while 6-inch trout swim nearby in a crystal-clear creek.
The 10,400-acre Rock Creek Preserve is an unfettered landscape of meadows and buttes, sage grouse leks and rock outcroppings west of Bellevue and Hailey.
A couple of roads, a few telephone poles and an old barn and corrals dating back to the 1920s are all that remind you that you're not in the wilderness.
Shoshone Indians wandered through the area during their seasonal journeys. Beaver trappers trapped here. Miners looked for lead, silver, gold and copper on the hillsides. And Oregon Trail pioneers once drove covered wagons over the Goodale Cutoff, which remains marked by a few white markers.
This summer, representatives of both The Nature Conservancy and the Wood River Land Trust are inviting the public to come out and hike, bike and ride horses through the area.
There are a few trails for hikers, primarily near the barn and Hatties Gulch area. And horseback riders and bikers are invited to ride along the Rock Creek and Glendale roads, both of which are dirt, as well as roads leading off them, such as that along the East Fork of Rock Creek.
The University of Idaho is putting 150 cattle on the land this summer for research, but that shouldn't affect recreational use much.
Half of Idaho consists of public lands — much of which is grazed by cattle, noted Toni Hardesty, state director for The Nature Conservancy. "So anything the researchers learn here can be used to educate cattle grazers throughout the state, which should benefit the land."
Rock Creek was homesteaded in the early 1900s by miner George Stewart, his wife, Ella Mae, and their eight children, said Patti Lousen, who researched the area's history for the land trust. They were joined by eight more families, including the Schmidts, who raised cattle and sheep, and the Tews, who moved cattle between Rock Creek and Black Butte north of Shoshone from 1943 to 1963. Part of the Tews family lived in "Cowboy Camp" at Rock Creek between 1927 and 1934.
Harry Rinker, who developed the elegant Golden Eagle subdivision north of Hailey, purchased the ranch in the 1980s with the idea of building a town there — possibly in conjunction with the owners of the nearby Diamond Dragon Ranch.
But a couple of years ago he and his family sold the ranch to The Nature Conservancy and the Wood River Land Trust for a fraction of its market value. A conservation easement now protects it for the enjoyment of wildlife and recreational users.
Snowmobilers groomed the road last winter, allowing access by snowmobiles, cross-country skiers and snowshoers. And hunters are expected to use it this fall.
"Rock Creek flows year-round, so it provides good winter wildlife habitat," said Clark Shafer, director of development for The Nature Conservancy. "We're trying to restore it following years of degradation by cattle."
"It's an entire drainage so you have a landscape that's all encompassing, that's not impacted by downstream water users," added Keri York, who works with conservation easements for the land trust. "I think it's neat that we can preserve an area that people once homesteaded. Hopefully, we'll have some signs up that will better identify the hiking trails by next summer."
Shafer drove out Glendale Road south of Bellevue, continuing on it as it turned to dirt past the last of the ranch houses overlooking Poverty Flats. To the left, he said, is Magic Reservoir — which he could see if the hills of sagebrush weren't blocking it.
When he reached Rock Creek Road, he turned right. An old jeep trail marked by telephone poles sat to the right along the East Fork of Rock Creek. It provides a nice eight-mile loop for bikers, as well as access for hiking and hunting, Shafer said.
While hikers can poke around nearly anywhere, there is no motorized use off county roads like Rock Creek Road and Glendale Road, with the exception of jeep roads like the East Fork. Small signs remind motorists of the restrictions.
Shafer passed a barn and corrals built in the 1920s. There is some pretty good hiking behind the barn, he noted, but he continued on.
A few minutes' drive past the barn, he turned left. A couple of minutes more and he stopped. His passengers got out and passed behind a sign that restricted motorized access, onto a trail.
They walked up the hill, past white and pink phlox to a viewpoint looking over a landscape of tall native grasses, gullies and creeks. Off in the distance to the right was 8,800-foot Kelly Mountain, which looms over the plain offering a view stretching to the Jarbidge Mountains south of Twin Falls.
The trail led past outcroppings, through gullies and along creeks shaded by cottonwood.
"This is amazing," said Marie Gallo, a Belgian now living in Hailey. "Such wide open space. The true West."