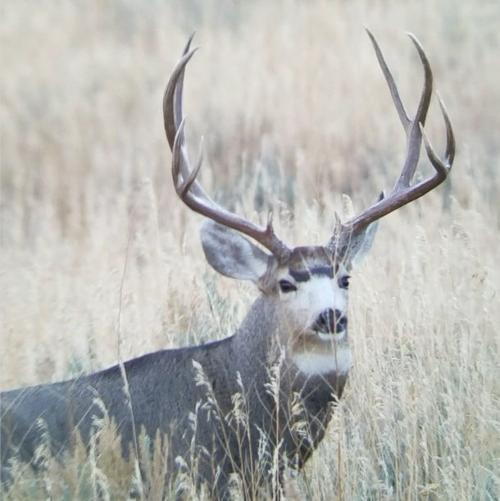 BOISE — Idaho deer and elk hunters should see good to excellent hunting for elk and white-tailed deer and average mule deer hunting in 2019, but that's likely to vary by location across the state.
A difficult winter for mule deer fawns took its toll on herds for the second time in three years which will affect the numbers and age classes of bucks. However, winter had a lesser effect on whitetails in north Idaho and the Clearwater area. White-tailed deer herds there have remained strong and resilient in recent years based on hunter harvest.
Elk typically do not succumb to winter kill except under extreme conditions, and elk herds continue to do well in most areas of the state. They are on track to match some historic high harvests.
Elk
Idaho elk hunters have recently enjoyed excellent hunting with 22,325 elk taken in 2018, which ranks ninth among the top 10 all-time harvests.
Fish and Game's deer/elk coordinator Daryl Meints said that the Idaho Department of Fish and Game is currently meeting or exceeding its elk population goals in 17 of 22 elk zones.
The statewide elk harvest has exceeded 20,000 annually for the last five years, which has not happened since the all-time high harvests between 1988-96. There's no indication that the 2019 harvest will be any different.
During the 2018-2019 winter, Fish and Game managers monitored 868 radio-collared elk in 21 areas of the state. Adult cow survival was 98% and calf survival was 66%. The leading cause of mortality for both adult cow elk and calves was mountain lions.
Meints said part of the reason for the robust herds is that wildlife managers often have more control over elk populations than they do over deer because one bad winter can take a significant percentage of the deer population, but elk tend to be hardier and capable of withstanding harsh winters.
Meints also noted that Fish and Game's 2014 elk plan called for more elk in many areas of the state. This coincided with a long string of mild winters prior to 2016-2017 that helped elk herds expand.
Like elk, hunters have adapted and shifted hunting efforts toward front country areas where herds are thriving, rather than backcountry and wilderness areas that drew many elk hunters in the past.
Hunter numbers have correspondingly grown as word has gotten out about Idaho's elk hunt returning to some of its past glory. Hunter numbers have exceeded 100,000 annually over the last five years. The allotment of nonresident elk tags has already sold out in 2019 — the third-straight year that has occurred.
Aside from healthy herds, part of the draw for elk hunters is Fish and Game's generous allocation of over-the-counter general hunt tags and a broad range of hunting opportunity, particularly for archery hunters.
The 2018 elk harvest at-a-glance follows:
Total elk harvest — 22,325
Overall hunter success rate — 23.5%
Antlered — 11,326
Antlerless — 10,999
Taken during general hunts — 13,473, 18.2% success rate
Taken during controlled hunts — 8,853, 42% success rate
Mule deer
Idaho's mule deer population is currently in a half-empty/half-full situation. Last year's harvest was within 5% — about a thousand animals — of the 10-year average, and this year's harvest is likely to be similar.
But prior to 2016, Idaho had five consecutive mild winters which helped build mule deer populations throughout the state, mostly in the south and central areas where mule deer dominate. Then the 2016-2017 winter hit, which took a large segment of that year's fawn crop. Fish and Game restricted doe harvest in an attempt to quickly rebuild herds, which was reflected in the 2017 deer harvest being 11,573 fewer deer than in the 2016 harvest.
The harvest saw a slight bump in 2018, up about 1,500 mule deer, and this fall's harvest is likely to be similar to last year or a little smaller. Deep snowfall in early 2019 followed by a prolonged wet and cool spring caused winter fawn survival to take a substantial dip for the second time in three years. About 46% of radio-collared fawns survived last winter, which is below the 20-year average of 58% survival, but still above the 30% survival for the 2016-2017 winter.
Fawn survival is significant because yearling, or two-point bucks which were born last year, typically make up a significant portion of the buck harvest. Many of the fawns that died last winter would have been two-point bucks this fall. However, there are still older bucks remaining in the herds and, considering mule deer have faced two of the worst winters in recent memory over the past three years, harvest will still likely be close to the 10-year average, or slightly below it, for 2019.
Wildlife managers saw normal winter survival of radio-collared mule deer does, which typically exceeds 90%. If winter weather returns to average, there could be a modest increase in the herds next year.
It should also be noted that fawn survival was not consistent throughout the state, so some areas were closer to average while others were below. The number of animals available for hunters and hunter success will vary significantly throughout mule deer country.
The 2018 mule deer harvest at-a-glance follows:
Total mule deer harvest — 26,977
Overall hunter success rate — 31.1%
Antlered — 21,471
Antlerless — 5,506
Taken during general hunts — 20,060, 27.1% success rate
Taken during controlled hunts — 6,917, 55.3% success rate
White-tailed Deer
All signs point to another good year for whitetail hunters with lots of opportunity and the chance to get a bigger buck for those who put in the time and effort.
The past five years have been the most productive in Idaho's history in terms of white-tailed deer harvest — which has been above 25,000 annually during that span.
Hunters harvested 25,134 whitetails in 2018 which ranks fifth-best of all time. Success rates, the number of five-point deer harvested, and hunter numbers in 2018 also remained fairly consistent with recent years. With abundant whitetail herds and lots of general season either-gender hunting opportunity, it looks like the trend will continue into 2019.
Historically, the vast majority of the whitetail harvest has occurred in the Panhandle and Clearwater regions. It was no different in 2018 as the white-tailed deer harvest in these regions accounted for 94% of the statewide total.
Northern Idaho's whitetail herds appear to be in good shape after the winter, which was late in arriving in northern Idaho. Snowfall was well below average until mid-February when winter arrived with a vengeance — breaking longstanding records in places like Lewiston and on the Palouse. Despite the late heavy snow, this winter doesn't appear to have taken a heavy toll on whitetail herds.
In the past, Fish and Game has not radio-collared whitetail fawns and does each winter to monitor their survival, nor have they completed annual population surveys for whitetails. Biologists have instead relied on other data to determine trends in the population including harvest data.
This is changing under the new White-tailed Deer Management Plan for 2020-2025. This winter, Fish and Game researchers started a robust long-term research plan for the species which will ultimately bring population monitoring for whitetails up to the same level as mule deer.
For now, wildlife managers use the historical metrics to evaluate the white-tailed deer population, and whitetail hunting is meeting nearly all of the department's objectives for the number of hunters, hunter days, buck harvest and percentage of five-point bucks in the harvest.
Idaho has not seen any widespread outbreaks of whitetail diseases since 2003, and no outbreaks have been detected this year. But with parts of northern Idaho experiencing dry conditions during summer, Meints said there needs to be continued monitoring for epizootic hemorrhagic disease — a virus that is spread in whitetail populations via bites from gnats or midges. When water sources dry up and deer are concentrated on those that remain, the potential for a large-scale outbreak is greater.
The 2018 white-tailed deer harvest at-a-glance follows:
Total white-tailed deer — 25,134
Overall hunter success rate — 41.5%
Antlered — 15,163
Antlerless — 9,969
Taken during general hunts — 21,975, 40.2 % success rate
Taken during controlled hunts — 3,158, 53.8% success rate
Here is the Magic Valley region outlook compiled by regional wildlife managers and communications managers:
Elk numbers remain strong and are expanding in all elk zones which puts them at, or above, harvest and population management objectives. Overwinter calf survival continues to be strong.
Due to the healthy numbers of elk, more over-the-counter elk hunting opportunities were provided this year, especially for antlerless elk.
Habitat conditions for elk have been excellent for both forage and available water. Abundant elk herds will benefit from these improved conditions, resulting in excellent antler growth. Hunters should see and hopefully harvest some large bulls this year. Elk may be more dispersed, meaning that hunters may need to venture away from their traditional hunting locations.
Mule deer populations appear to be holding steady in the region. Last winter had a slight decrease in fawn survival which may mean hunters will see fewer yearling bucks this fall.
Due to a wet spring, habitat conditions have been excellent for both forage and available water. Hunters will be pleased to know that, with these improved conditions, antler-growth will be excellent. Hunters can expect to see some large bucks for harvest this year.
With abundant feed and moisture, animals will be widely dispersed across the landscape and not concentrated around good forage or water. Plan the hunts accordingly because historic hunting spots may not have the same amount of game this year, so be flexible and mobile and adapt to the conditions.
Regional biologists routinely hear questions about how well animals survive during our harsh winter conditions. While southern Idaho winters can be harsh, concerns over hard winters and lots of winter mortality are generally unfounded. The vast majority of animals migrate out of their summer range, leaving the high country where snow accumulates such as in the Wood River Valley, to winter in lower elevations like the Bennett Hills where the winter snow is not as deep.
Be the first to know
Get local news delivered to your inbox!