When I heard about Oregon State graduate Jeri Rutherford being a "food scientist with a riding problem," my mind immediately thought of a road cyclist.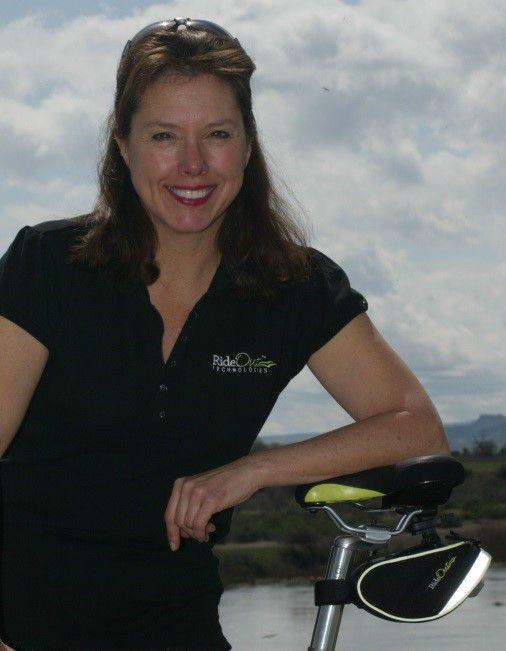 Rutherford is the owner of RideOut Technologies, a small Boise-based bicycle seat manufacturing company on a mission to change how we engage with our saddle while biking. Sore butts need apply.
But what makes RideOut stand apart from all the others? For one, RideOut is 100 percent female-owned, unique to saddle manufacturing.
"I had multiple offers from men who wanted to become partners with me," Rutherford said, "yet I felt very strongly that I wanted to build the very best products I could and I did not want to compromise."
Rutherford's story became more compelling as she presented her life through her products.
"I was a middle aged woman in my fifties," Rutherford begins. "I was a lifelong rider regularly riding 80 plus miles a day, yet early in my forties my bum started hurting and before I knew it, 6 or 7 miles in, I was miserable."
As a cyclist, I can relate. And I was intrigued.
From surfing her website however, I didn't notice exaggerated Strava-time posts, cadence level analysis and macronutrient ratios. Furthermore, bicycle technology usually takes hundreds of thousands of dollars of investment, a Lance Armstrong-approved stamp, and time-tested proof the new product is more amazing than the last.
So I inquired. An email confirming the seat's delivery came across moments later.
Solidifying the saddle
It was a winding road that led Rutherford to her prototype, and the miracle that appeared in my mailbox.
"When I started the process I was water skiing with a friend who had a prosthetic leg," Rutherford said. "I was thinking the saddle needed to move with my body, not just be an extension from the bike."
After one day of sore rides and being furious from not enjoying it, she bought a welder, started studying how carbon fiber worked and began constructing the seat she wanted. The start wasn't easy though — Rutherford was misjudged and discriminated against for being a petite woman, not a muscle-ripped athlete. Four manufacturers declined production.
But she was persistent. Forty-nine prototypes later, RideOut was born.
"The fourth manufacturer rejected my design, but thought it was a good product," Rutherford said of her trials and tribulations trying to land a manufacturer. "The VP said the product is good, but take it to Taiwan if I want it built."
And she did just that. She converted inches to centimeters and found a new partner at Velo — owner Stella Vue — who assisted with a $40,000 initial investment. Rutherford finally started to hear the "yeses" over the "nos."
The seat beneath me
The tumbling sound of water over Auger Falls gently roared in the cold canyon air Thursday as I exited my car. The trail system snaking along the river sported a locally built single track that disappeared into the grasses. With the clouds masking the sun and the ground frozen solid, not a single soul shared the trail. I was left with only one thing to do — ride.
The dirt trails below my wheels scooped my body and my bike through the high desert canyon and enticed me to spin faster and faster even though the wind was biting my cheeks. After two hours of cranking, I started to feel a sensation like no other ride I'd pedaled.
"The saddle needed to move with my body, not just be an extension from the bike," I heard Rutherford's voice saying as I repeatedly looped Haunted Forest trail. I barely noticed the seat beneath me. The rocks and frozen mud ruts were not rattling me like with another saddle.
Complacent over comfort?
"It turns out, most people, 85 percent, do not ride bikes due to seat discomfort," Rutherford said. "I am trying to help these people and folks like me who just needed something better. As you can see, there is a leaf spring-shaped base plate that absorbs road shock and flexes as the rider moves."
Most riders love riding, but put up with seat discomfort far too often. Tacitly complacent riders exist — but for Rutherford, they don't have to.
"I gave several seats to friends to get their opinion and they wouldn't give them back," Rutherford exclaimed. "That is when I realized it wasn't just me. A lot of people are looking for more comfort."
The end of the trail
As I arriving back at Auger Falls on Friday, I found the conditions were even better. The two gentlemen riding around me never knew what they were missing as I flew along Blue Gill Pond Trail, giddy with excitement while eating up rut after muddy rut. Soaring with the wind for 45 minutes ended at the falls.
Riding back in the ferocious wind, calming thoughts of the waterfall frequented my mind. The pedaling became more daunting as I worked my way two laps around Mattie's Trail. The wind lessening but still prevalent, I jumped over to Eagle Trail before completing my pedal adventure on Haunted Forest one last time. The warmth of the car was inviting as the huffing subsided. My muscles were aching, my tires were deflating, but my butt remained happy until the bitter end.
RideOut Technologies now offers four different saddles, a touring bag and set of bike grips. A handmade, solid-wood bike-and-helmet holder will be offered soon also.