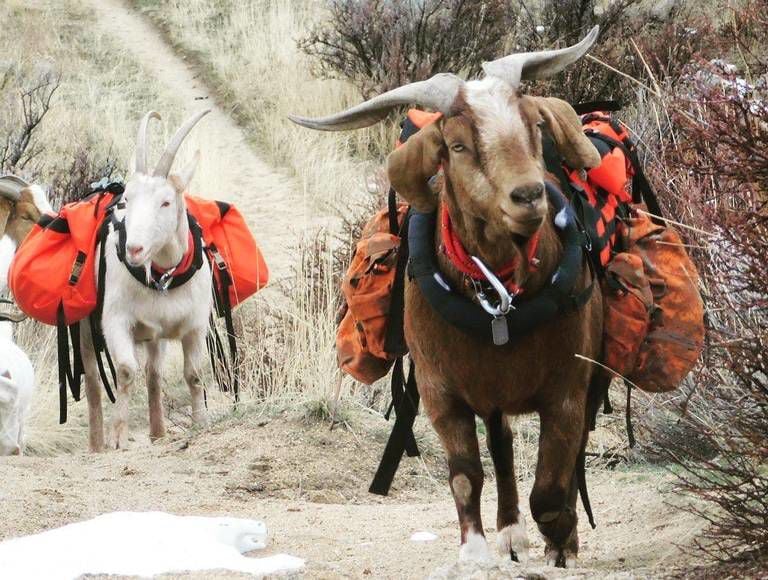 BOISE — Each weekend, Nathan Putnam loads up the kids and hits the trails.
The kids, a handful of young goats, follow behind Putnam in a single-file line made up of adult female goats, called does, and neutered male goats, called wethers, as they make their way into the Boise Foothills. In one winter weekend, they can cover upwards of two dozen miles.
They're pack goats, meant to lighten Putnam's load by carrying gear on hunting and backpacking trips. The 34-year-old Boise man got his first goat four years ago. He said his whole life has been changed by the animals.
Pack goats have become increasingly popular in recent years thanks to their hardy, docile nature and how easy they are to keep in comparison with other pack animals. That boom in popularity is changing the way many Idahoans enjoy the outdoors, but Putnam and other goat packers are fighting to keep their herds in the Idaho backcountry amid claims the goats can spread disease to wildlife.
Hunting trip sparked Boise man's love for pack goats
Several years ago, Putnam was hunting near Robie Creek when he ran across another hunter, also hoping to harvest a bear in the area. The man said he lived nearby and would be happy to use his pack goats to help Putnam haul out his kill.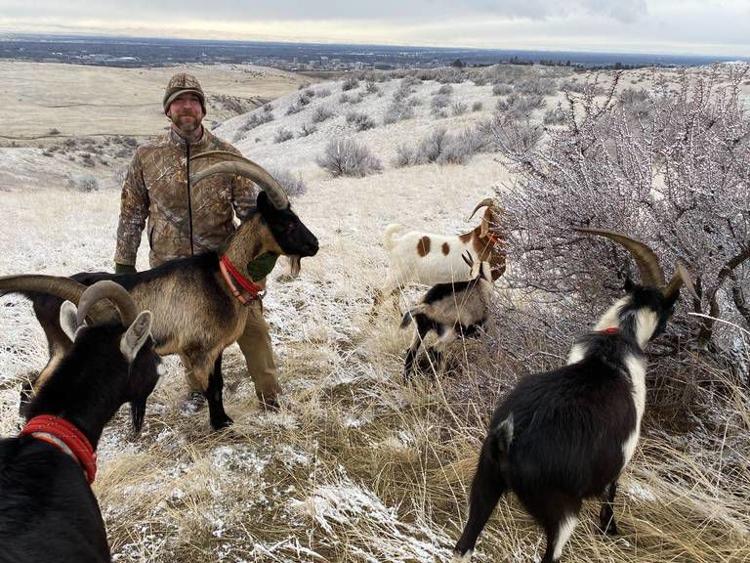 "I've always been interested in homesteading and always wanted goats," Putnam said, so the idea immediately appealed to him.
In 2016, he brought home his first goat, a brown Boer named Trooper. Since then, he's bought and bred more and now boasts a herd of 24.
Putnam's pack goats are a far cry from the dwarf or pygmy goat breeds popularized in recent years by activities like goat yoga. Some are Boers, an African breed raised for meat, while others are Alpines, a breed usually kept to produce milk. Many of them are a mix of the two breeds, which Putnam calls BoePine, that he breeds as a middle ground between the stocky, muscular Boers and the taller, thinner Alpines.
The goats are around 32 to 35 inches at the shoulder and can weigh more than 200 pounds. When they're fully grown around 4 years old, they can carry loads up to 60 pounds.
The goats wear panniers, or packs that distribute weight equally on either side of their body, avoiding pressure on the spine. Putnam customizes some of the packs himself and buys others from fellow Boise goat packer Marc Warnke. Some of Putnam's goats even have sponsorships from gear companies, which he promotes on his goat-centric Instagram page.
Hiking, hunting with pack goats
When Putnam heads to the Foothills, he usually brings between 15 and 20 goats. The weekend hiking treks help keep the goats in good shape ahead of the extensive backpacking or hunting trips that Putnam takes through the year when he usually brings along only 10 animals.
On the busy Boise trails, he finds that the goats take people by surprise — and usually make them smile.
"People love it," he said. "They ask me all sorts of questions about it."
Though they tend to shy away from dogs, the goats are friendly with people thanks to Putnam's efforts to socialize them. They're happy to accept a pat or chin scratch from a stranger.
Putnam said he tries to stick to higher-elevation trails with lower traffic. In the spring and summer, he often heads up to Bogus Basin with his herd.
He's also run into some envious hunters and hikers in the wilderness.
"When I run into hunters in the backcountry, they're jealous," Putnam said. "They're packing out this elk or something all by themselves."
Pack goats booming in popularity
The goats may take some people by surprise around Boise, but they're steadily becoming more popular in Idaho and across the Mountain West.
"The interest in the last 5 years has tripled at least," said Kim Hellums, who breeds Alpine goats at DKH Destiny farm in Middleton.
Hellums sold goats to Putnam and other Idahoans, as well as goat packers across the region.
"Ten years ago, I sold five (goats)," she said in a phone interview. "Starting about five years ago, I sold everything I had. Last year, I had 30 pack goat prospects."
Hellums said she tends to see two types of goat packers: older outdoorsmen who need some help to keep up with their hobbies, and younger ones like Putnam who are looking for a lower-maintenance alternative to other pack animals.
"Horses are harder to keep, llamas are a little more difficult, more temperamental," she said.
Putnam agreed, adding that he can easily load a few into the bed of his pickup truck or about a dozen into a small horse trailer.
Additionally, goats don't require as much space (on her website, Hellums recommends a quarter-acre for two) and don't eat as much as larger animals.
"They're the poor man's pack animal," Putnam said.
Hellums said goats are not the destructive garbage disposals they've been made out to be. While they like to taste everything, she said, they don't eat everything.
"They're actually very picky eaters," Putnam said.
Pack goats are also intelligent, affectionate and easy to get along with.
"I tell everybody, if you like dogs, you'll like goats," Hellums said.
Putnam said his "200-pound puppies" are low impact and love to stick close by on the trails.
"If I'm hand and foot crawling, they're crawling up right behind me," he said.
Concerns over pack goats, wildlife and pathogens
As goat packing has become more popular, it also has become a point of concern for some agencies that say the animals could threaten the health of bighorn sheep populations in the West.
Goat packers in recent years have battled with the Forest Service and state wildlife agencies to allow the animals in the backcountry. Currently, the North American Packgoat Association, or NAPgA, is pushing back against a revised forest plan for Idaho's Nez Perce-Clearwater National Forest that would require "new authorizations and permit reauthorizations for domestic goat packing … to prevent disease transmission between domestic goats and bighorn sheep."
Similar restrictions were proposed in the Sawtooths in 2017, and the Shoshone National Forest in Wyoming approved a plan in 2018 requiring goat packers to show a clean bill of health for their goats before they can get a permit for the area.
The disease in question is caused by a bacteria Mycoplasma ovipneumoniae, or M. ovi. Several types exist in sheep and goats and can cause respiratory infections. Officials say infections in bighorn sheep herds — spread by domestic sheep and goats — could lead to pneumonia, potentially wiping out the wildlife.
Curtis King, president of the association, said one of the main studies on disease transmission between domestic goats and wild bighorn didn't show a conclusive link. A NAPgA study of nearly 600 pack goats in 12 states found trace amounts of M. ovi in 20 animals and positive samples in 18 others.
"At the end of the day, this is all about keeping bighorn sheep safe from a pathogen that is not even carried by (pack goats)," King said in a phone interview.
King said he's encouraging goat packers to send in their comments on the Nez Perce-Clearwater plan, and he's urging forest officials to adopt NAPgA's "best management practices" to keep wildlife healthy. The practices include supervising the goats at all times, tethering them when in camp and keeping them separated from wildlife, as well as a rigorous step-by-step in the event that a pack goat does get lost.
"If people comply with these, contact with bighorns will never occur," King said.
He's hopeful NAPgA can come to an agreement with the Nez Perce-Clearwater because the area is a popular one for goat packers.
"I think the outcome of what happens on the Nez Perce is more important than what happened on the Shoshone," King said.
Putnam said he and other Idaho goat packers are grateful that NAPgA is advocating for pack goats.
"It's good to have someone to look out for the little guys," Putnam said.
Be the first to know
Get local news delivered to your inbox!