BUHL — An outdoor swimming pool kept at 100 degrees might not seem like your typical yoga studio, but if you ask yoga teacher Amanda Hancock, it's even better. Hancock's aqua yoga classes at Banbury Hot Springs are a low-impact way to access the ancient art and gain its many benefits.
On an overcast Saturday morning, eight students gathered near the water input spout, ready for a workout. The group was a sundry bunch. A mid-30s couple, several retirees, two young single ladies, and two veteran instructors formed a circle and began the series with traditional sun salutations, facing east.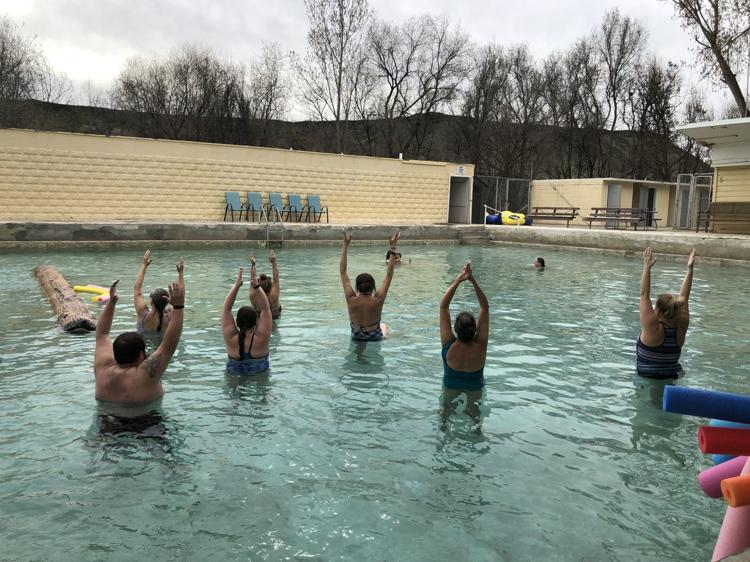 As we began our practice, Hancock spread a lavender oil infusion across our foreheads, and we sipped in the cool morning air. Mist rose from the geothermal springs and birds — morning doves exchanging mating calls — serenaded us overhead.
The resistance of the water offered a new sensation to the practice, one that lengthened the muscles in a different way. Perched close to the wall, the current pulled me to the left, as I flexed my calves and quads, clinging to the pool's grainy floor. Unlike the mat, the moving water delivered a new challenge. Suddenly yoga was a struggle to stand still.
An art form I have long studied took on a new persona as I curled my toes for stability. Even the slightest movement shifted my entire weight and needed to be done precisely. Ribbons of wind sent me swirling sideways, forcing me to focus on my drishti gaze, a yogic focus technique used for balance.
I quickly discovered that I had to engage my core and my bhandas, or body locks, in a much more deliberate fashion that on land, just to stay upright. Uddiyana bandha, the abdominal lock, was critical to not falling out of the pose and becoming completely submerged.
My shoulder sockets opened deeply as we lined up against the wall; a string of sunglass-laden yoginis on the surface of the water, stretching like mermaids in the sun's slanted rays creeping through the clouds. The wall gave a sense of assistance — and of resistance — allowing a deep runner's lunge and a significant stretch in the pelvic floor. Like the floor that normally grounds yoga practice, the wall served as the perfect tool to settle into the pose.
Unlike my regular practice, I wasn't sweating or even hot, despite being in 100-degree thermal waters. The springs felt more like a second skin in the wind than the water sauna I had expected. And for the first time in months, my knees didn't ache when locked out in Warrior Two. Instead, the weightless water cradled my joints, making them feel light and years younger.
Each exhale lasted longer than any I have had on land, stretching from the top of my nasal cavity out through the bottom of my diaphragm. And the next breath was slow to come, leaving my body in a quiet state of waiting. It was utterly relaxing.
Benefits of water yoga include a greater range of motion, improved flexibility, strength and balance, along with improved efficiency of lymphatic and circulatory systems.
Geothermal yoga practice is known for its low impact of the knees, hips and ankles. Instructor Gayle Anderson says many students report up to a 40% greater range of motion in the water, especially those with injuries or limited range of motion.
You have free articles remaining.
Water at Banbury is changed nightly, offering practitioners a fresh palette to practice their asanas (yoga poses) each day. Mineral water flows constantly throughout the pool with no chemical additives.
"I teach land yoga also," Hancock said, "but once I tried water yoga, I just fell in love with it."
Class ended with noodle props that we affixed under our knees and our heads for a splayed-out butterfly pose. Hancock distributed foam pillows for under our heads, and we floated on our backs, hands upturned in the water, free of gravity and any sense of time.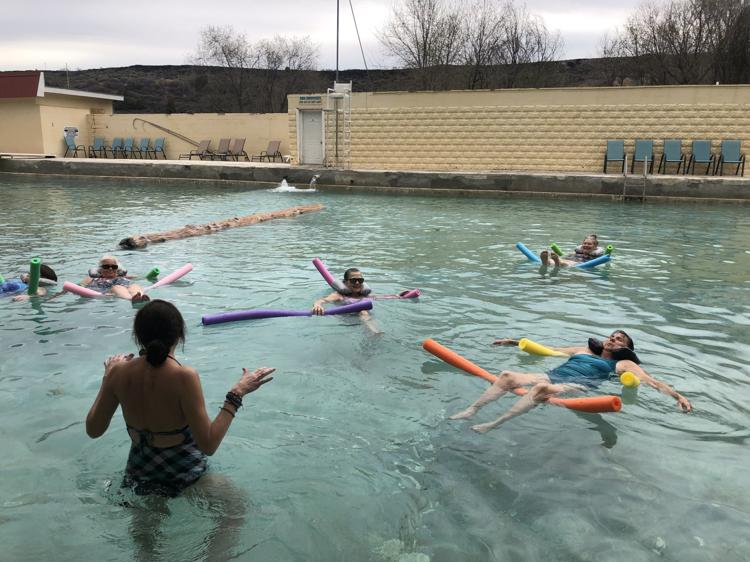 It was then that I felt my throat chakra, one of the body's seven energy centers, expand and contract in a way I haven't felt before. I wasn't thinking or planning. I was resting, weightlessly beaming up at fluffy clouds passing over me and the wings of birds lapping their territory. My mind was a clear expanse, past and present eclipsed by the moment.
"Thank yourself for showing up to practice today, and namaste," she said. "May the light in me honor the light in you." A traditional closing to yoga practice sealed the hour-long aqua session.
My limbs felt lighter as I unfurled from the neon noodles that held me afloat. My vision was keener. And my inner light somehow brighter.
"The more you practice, the greater the benefit," Anderson reminded me. But the best part of the practice is that no yoga experience is required, meaning anyone and everyone can safely give it a shot.
The number of calories burned in the water can often exceed those on land, all the while exercising lung capacity and improving flexibility of the carotid artery — the main vessel responsible for transporting blood to the brain.
Suit up and hit the hot springs for a low-impact, geothermal workout. Classes are offered four mornings per week and one evening at Banbury Hot Springs for $8 each.