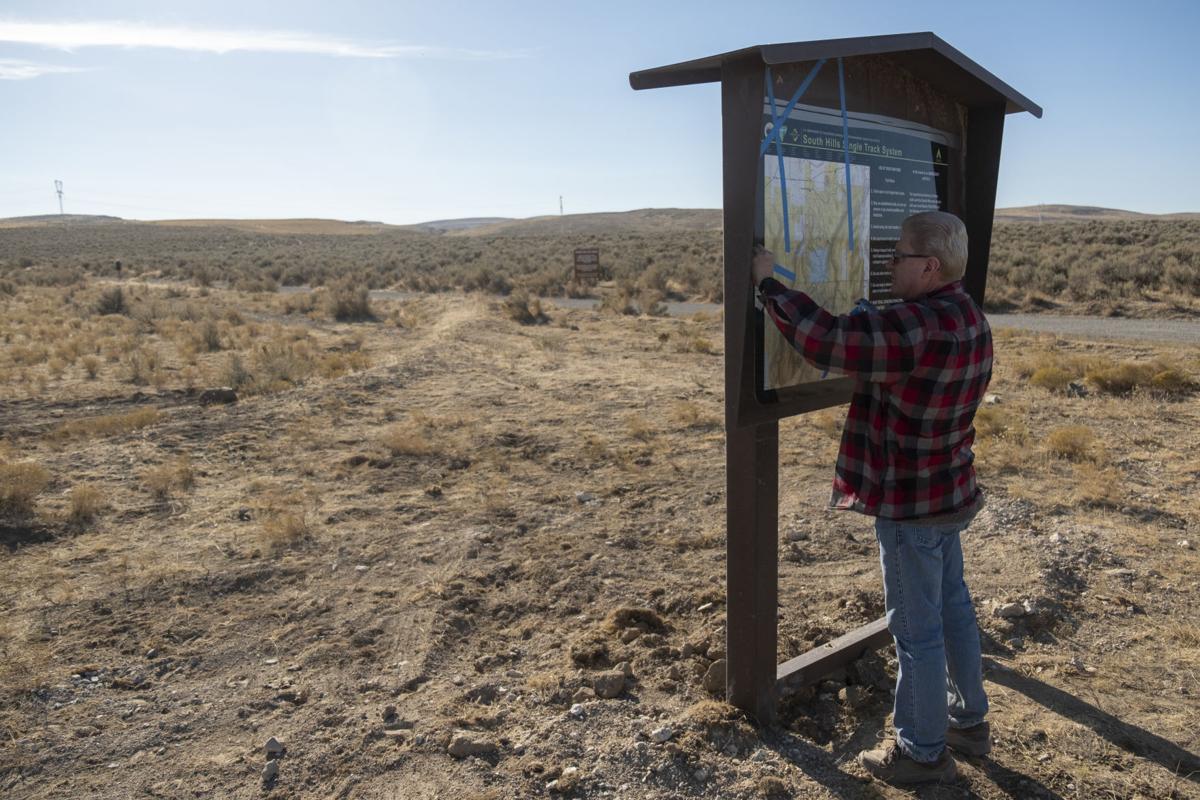 KIMBERLY — Earlier this month, the Bureau of Land Management installed new mapped kiosks at the lower Indian Springs and Dry Gulch trailheads on its land in the South Hills. Current developed trails like Swami, Sweet N' Low and Backdoor are now labeled on the newly erected maps, giving single-track users better information on the trail system and routes that are available.
According to one Outdoor Recreation Planner, phase one of the project is near completion. Phase one consisted of conducting an accurate trail inventory count, using that collected data to create a map of the area, and then design signs for installation at the two main trailheads — two in place currently, two more to be installed at two other popular parking spots in the future.
The project began in November 2019 with collected efforts from user groups and the BLM. Helping to create the new maps was Carson Stanger, a Scout working on his Eagle Scout project with help from his father, Bryce, who helped organize volunteers, inventoried frequently used trails and passed the collected data over to GIS specialist Seth Kirkpatrick at the BLM. There, Kirkpatrick mastermind the map and designed the signs for construction.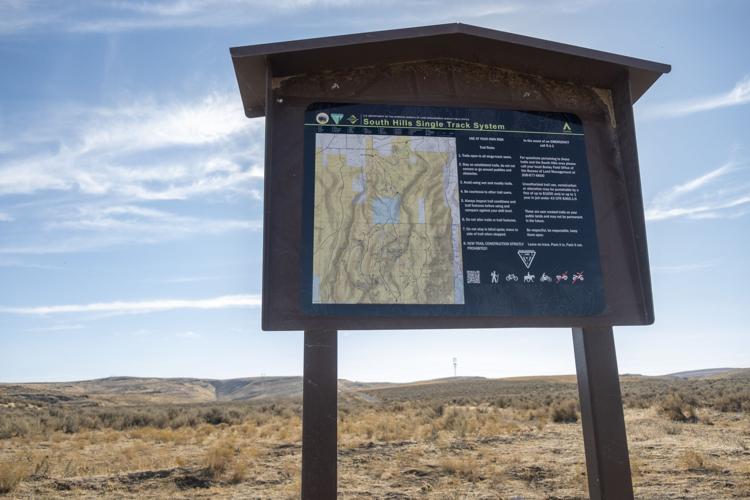 "A Boy Scout made it one of his projects and they went out and updated our inventory of all the trails that are there and GPSed it and created a map that we all incurred were used trails and that we could continue with their use out there as they are," BLM Field Manager Ken Crane said. "That was what generated the maps we created and ended up on those new kiosks."
But these news kiosks are only part of the evolution of Indian Springs. The trails have changed over the past 10 years.
The development of the trail system in the Indian Springs area has been happening for some time, Crane said, starting as a user-made system with mountain bikers riding on cow and game trails, initiating a lot of what is there and developed now. Around 2010, Southern Idaho Mountain Bike Association approached and began working with the Burley Field Office to put together a proposal for a trail system at Indian Springs. But an established system has not been fully implemented for various reasons, including considerations for sage grouse and other resource issues.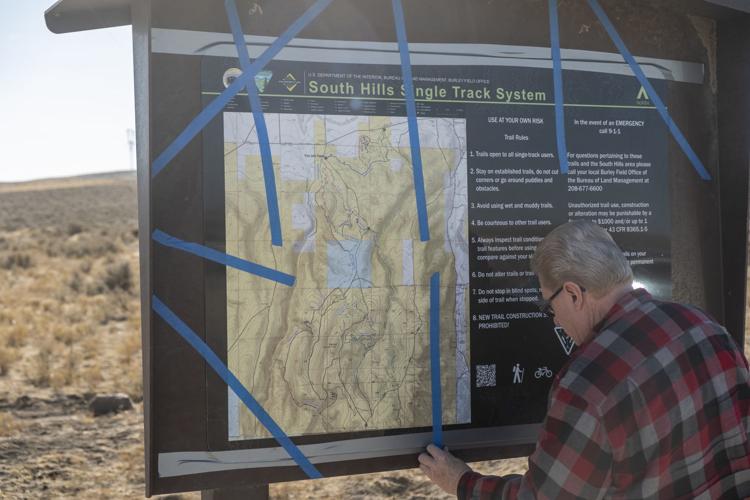 "But in the interim, interest in the area has continued and grown," Crane said. "After a few events like the Beaver Creek Fire (2013) in the Wood River area, a lot of those users were looking for an alternative, especially early in the season, so that (fire) was really a game changer and recognition of the Indian Springs trail system and our use jumped considerably."
As continuation of trail building was happening after the area became more noticed, some activities, not exactly what the BLM was looking for, occurred. Yet, the BLM wanted to establish and strengthen relationships with multiple different users of the area going forward, Crane said.
"This last year, one of my outdoor rec planners took the initiative and made contacts with individuals, leaders within the mountain bike community primarily, to initiate the conversation (about signage), which moved into motorized and other user groups as well," Crane said. "(He) had conversations about the trail use out there, some future management desires for both us and the user groups, and we decided what we needed to do was get a good inventory of the trail system."
Crane noted that the Indian Springs area is important for wildlife purposes, not just recreation. As a winter range for mule deer and a priority-habitat for sage grouse, special consideration is taking into account for those two animals when ideas of trail building arises from user groups. He also said that nesting of sage grouse near or even next to the trails is of utmost importance and managing in ways that ensure necessary protections for the animals occur while allowing the opportunity for recreationalists to enjoy the trails is key.
"In everybody's best interest, working as a partner together, we can retain all those things we enjoy about that area," Crane said. "(Including) the access in riding the trails, as well as retain those values on why everybody likes to go there, i.e. the wildlife, the habitat; all of those things are what makes riding that country interesting to most folks."
Another part of the process was for the BLM to identify the open trails — ones that are in existence and ones wanting to be recognized — along with the notion the agency's creation of the kiosks and identifying the trails is not necessarily the agency authorizing trails.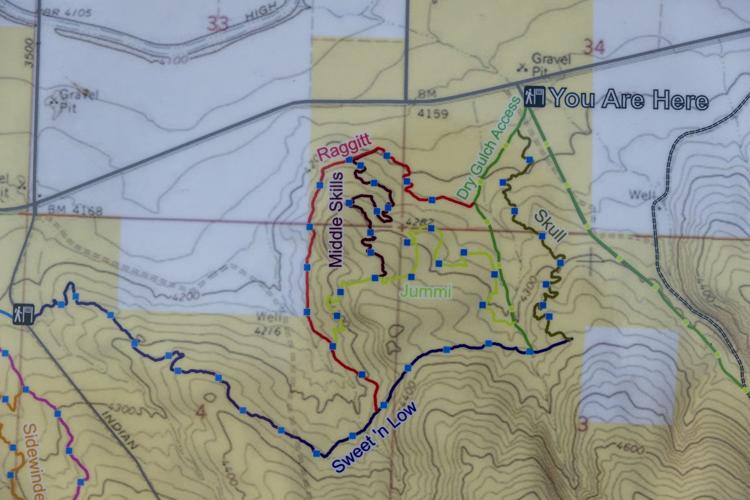 "In the sense of a travel management plan or trail plan...," Crane said, "...that is a specific process we have to go through, and this is not it. These kiosks and these maps we are putting up are simply us recognizing the existence of those trails out there and helping people identify where they are so they can go enjoy them."
One last concern Crane noted was the idea of pioneering new routes. He said if the Indian Springs system, particularly the sage grouse habitat, is not managed carefully by the agency, the BLM could see backlash from the mismanagement and the agency then puts itself in a position that they may not have the access to those trails and certainly not have the ability to thoughtfully manage them, reroute or even potentially create new trails into the future.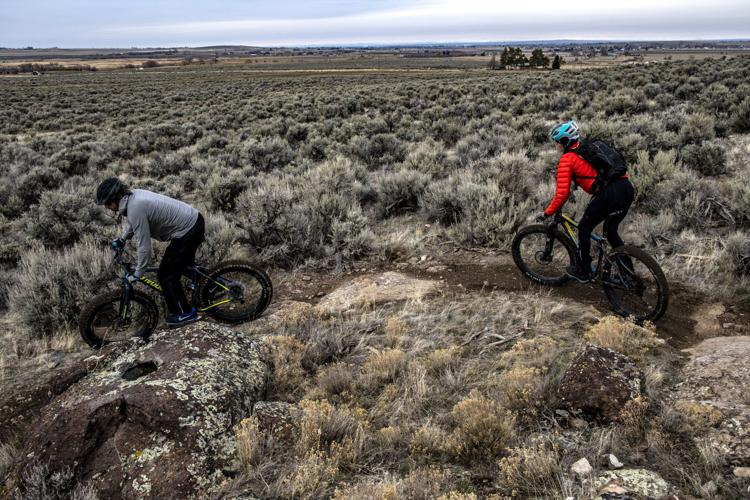 Phase two is starting soon, Harper said, with the goal of placing carsonite signage along the trail system itself — markers used as directional signage with trail names labeled on them — to help users stay on trail or provide better awareness within the trail system. He also added a major portion of the work will also be accomplished with volunteer efforts to be concluded in spring 2021. Future work will be to evaluate maintenance needs and start work towards a solid and sustainable system starting with the current 21 trails that add up to approximately 46 miles.
To date, spending on phase one has totaled $1,850, and $355 spent for phase two with the possibility of up to $200 more being spent on other items for the project.
Be the first to know
Get local news delivered to your inbox!