More than 20 years after wolves were reintroduced in Idaho, Idaho ranchers have been surprised to experience a host of issues related to wolves killing or stressing livestock that no one expected or had heard about before.
Direct predation of livestock was expected to occur, but no one knew, for instance, that range cattle spooked by wolves would attack herding dogs, an essential ranching tool that's been used for more than 100 years to herd livestock.
"What now happens is you send your dog into a meadow after cows have been tormented daily by wolves, the cattle, especially the young cattle, will come at your dog, run at your dog, and try to kill your dog," said Robin Brown, owner of Broken Circle Border Collies in Indian Valley.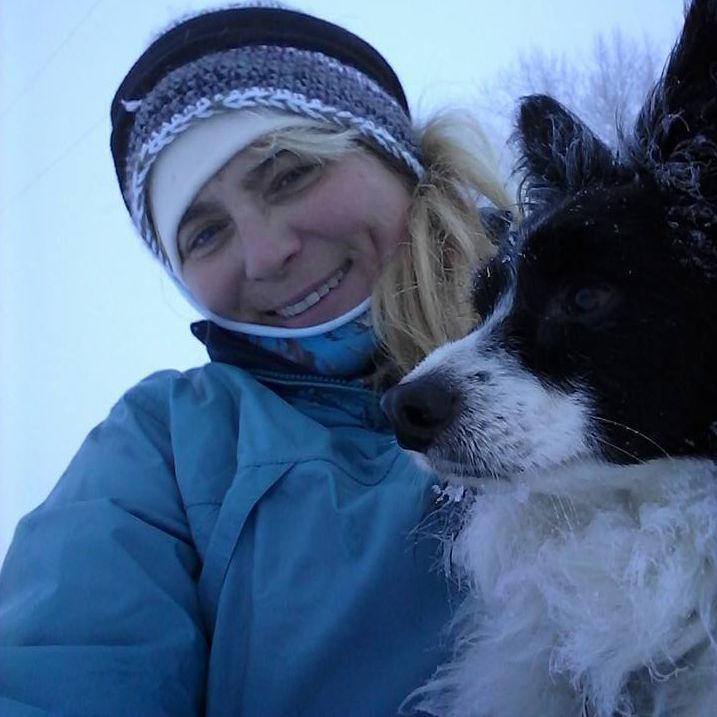 Brown is a professional dog trainer. She has seen first hand how wolves can change the dynamic between herding dogs and cattle. Ranchers pay good money for trained herding dogs — often more than $5,000 per dog.
Once cattle have been spooked by wolves repeatedly, ranchers can't use their dogs to herd cattle, she said. Instead, the ranchers have to hire extra range riders at a rate of $120 per day, if they can find them. Each herding dog can equal the value of three range riders.
The impacts of stressed livestock are something that ranchers are experiencing in wolf range across the state of Idaho, north of I-84, where a minimum estimated a population of 800 of 1,000 wolves reside.
"The trouble is, when you have a pack of wolves in the area, they're continually putting pressure on those cattle," OX Ranch manager Casey Anderson said. "So the cattle aren't using the range the way they did in the past, and to the goals that we have set to be good stewards of the resource. They're always feel fearful for their lives, that they're under attack, heads aren't down eating, they keep getting thinner, they're not utilizing the area they have to feed in."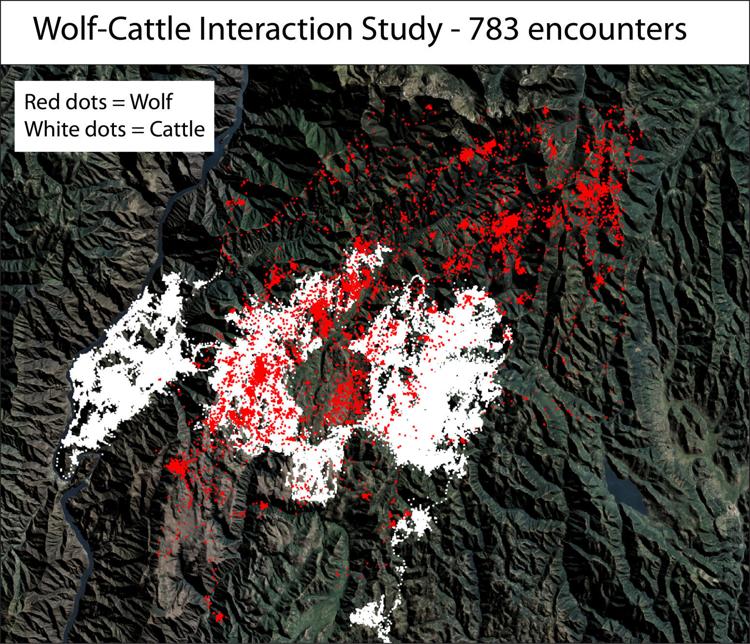 In 2009, a heavy wolf-predation year, Anderson participated in a Wolf-Cattle Interaction study by Oregon State University and the Agricultural Research Service. They tracked a radio-collared wolf that was running in a pack of 12 animals and 10 radio-collared cattle in a herd of 450. The study documented 783 encounters between that radio-collared wolf and the radio-collared cattle from June to November.
That year, the OX had 17 confirmed kills of mother cows, yearlings and a bull, plus wolves injured several horses and killed an expensive border collie. By the end of the season, an additional 65 head of cattle were found dead or missing that couldn't be confirmed. All of those impacts cost money, an estimated $80,000 loss that year.
"Our cattle were coming off the range at least 100 pounds lighter than normal. Those cows had to be put directly on hay. Our conception rate went down to 80 percent," Anderson said.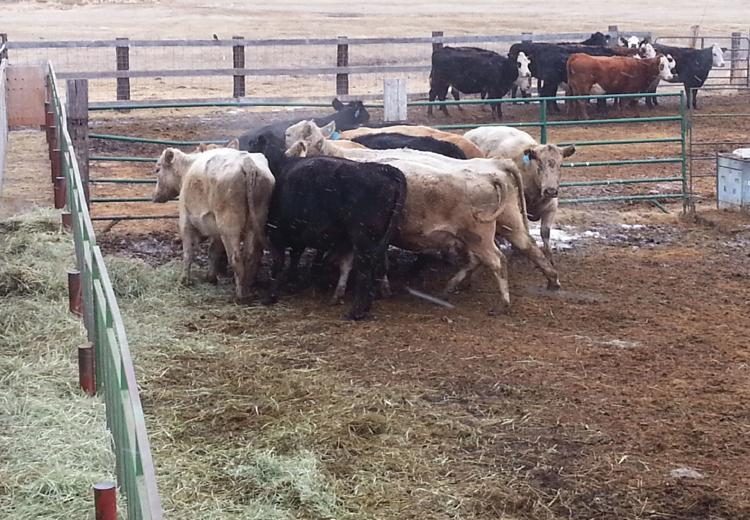 You have free articles remaining.
Lighter calves and lambs coming off the range reduced conception rates and cattle attacking herding dogs are three key issues that were not expected. Other unforeseen wolf impacts include the following:
An Oregon State University study documented that cattle traumatized by wolves suffer from Post-Traumatic Stress Disorder or PTSD, the same issue affecting American combat veterans. "Wolf attacks create bad memories in the herd and cause a stress response known to result in decreased pregnancy rates, lighter calves and a greater likelihood of getting sick," said Reinaldo Cooke, an Oregon State animal scientist who did the study.
Wolves killing healthy mother cows and sometimes leaving them to rot. Wolves were thought to be likely to kill only the sick and the weak. Last year, wolves killed 45 mother cows.
Large numbers of elk dropping into private ranchlands at different times of the year to avoid wolves. Elk apparently see the private pasture lands as "safe" zones. The pastures are a vital part of a rancher's cattle operation, important feed for cattle to eat in the fall. Idaho Fish and Game has a compensation program for that issue.
A higher percentage of mother cows and calves getting killed by wolves on public rangelands than expected.
What are the costs associated with these issues? Lighter calves and lambs coming off the range cuts into a rancher's bottom line. Weiser sheep rancher Harry Soulen said he lost $20,000 one year when his lambs came off the range 5 to 10 pounds light. Wilder sheep rancher Frank Shirts says his lambs are coming off the range about eight pounds light each year.
"We've got too many wolves," Shirts said.
Stressed mother cows don't get pregnant. Typically, mother cows have a 95% conception rate. The financial loss amounts to $1,000 per mother cow that doesn't get pregnant, experts say.
Mother cows killed by wolves is a triple whammy. The loss equals the value of a mother cow — $1,230 — plus the reduced value of the abandoned calf she was raising — $300, a 70 percent loss — plus the value of an unborn fetus — $1,000 by the time the calf would reach marketable value — brings it to a total loss of $2,530.
The cost of losing cattle on public lands is substantial. Pre-wolf introduction, ranchers typically lost about 1% to 2% of their herd to predator issues. Post-wolf, that number has jumped to 5% or more, depending on location and wolf predation. A study in Canada found that for every confirmed wolf kill found on public range, there could be another 6 wolf kills that are never found. The cost of losing calves on the public range amounts to $1,000 per lost calf. If it's a herd of 300 cattle, a 5% loss equals $15,000.
All of these impacts raise costs for ranchers, who have a razor-thin margin to start with. At last count, more than 435 ranchers in Idaho have been affected by wolves killing livestock, and likely some of the unforeseen impacts.
"It's like the death of a thousand cuts," professional economist for Bootstrap Solutions Dick Gardner said. "While no one of these things is very significant, it's the cumulative effect that starts building up for a small business."
Cattle ranching is big business in Idaho. Cash receipts from the beef cattle industry in Idaho averages about $1.7 billion a year.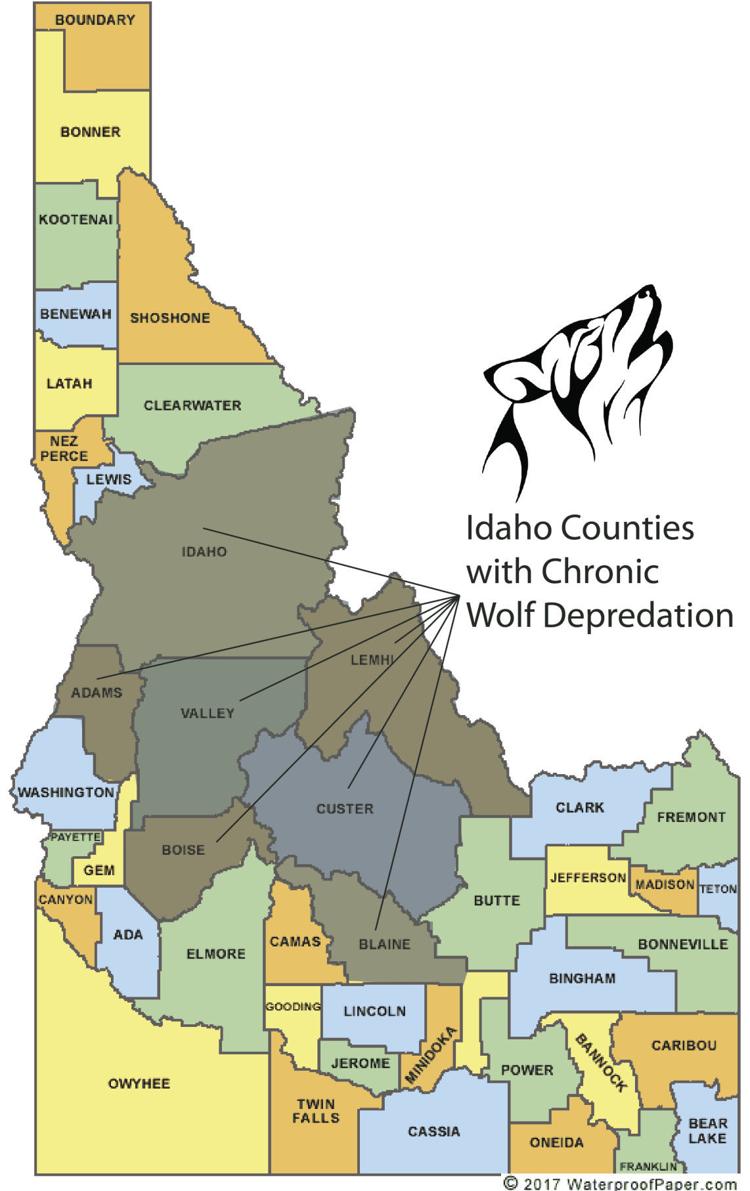 "In many rural communities, they can be the bedrock of a rural economy," Gardner said.