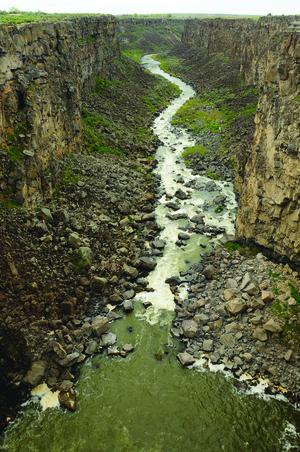 Beneath an overpass on Interstate 84 near Hagerman lies a gorge that is a popular sightseeing stop for out-of-towners and locals alike.
Several yards along and below the overpass lies a bridge, this one for foot traffic where visitors can walk across the Malad River and peer down into what is called the Devil's Washbowl.
It's an intimidating sight to behold - the drop is a steep 250 feet and the rough-tumbling water looks as if Satan himself has stirred the liquid.
But the area - perhaps much like temptations from Hades itself - is alluring.
"The place is absolutely beautiful," visitor Carol Radil said. She gave heaven the credit, not the devil. "This is something that God definitely would do."
Radil, of Alexandria, Minn., came to Boise to visit her son, Barry Radil. While on their way to Shoshone Falls on May 14 they decided to stop at Malad Gorge State Park.
"It's pretty cool," Barry said, noting it was his second time to visit the site.
"Parts of it remind me of the north shore of Lake Superior," Carol added.
Once you cross the river, a paved trail will take you to a lookout spot several hundred yards southwest of the bridge. The site allows visitors a broader perspective of Devil's Washbowl and the narrow canyon walls preceding it.
Three visitor signs describe the river and its 2.5-mile long canyon - if, that is, you're lucky enough to read the signs through the bird droppings that cake two of them. A wooden railing is the only thing that stands guard between the signs and the canyon's edge. Stay on trails and be careful when anywhere near the canyon rim. Another sign reminds parents to keep a close eye on children.
There are other lookout spots in the area, such as the one farther southwest at Wiley's Cove - a large canyon inlet also with a steep drop - that offers a distant view of the Hagerman Valley and its famed fossil beds.
As the official name of the recreation site suggests, there's also a lawn park in the area with picnic tables, shade trees and restroom facilities.
Malad Gorge State Park is home to a variety of birds, aquatic fowl, insects, rodents, snakes and a number of plants including sunflowers.
Malad Gorge was formed thousands of years ago when "immense flows of water from alpine glaciers and high levels of precipitation sent waters cascading over the Snake River Canyon directly into the Snake River," reads a sign at the site. "Weak joints in the basalt walls gave way to these rushing waters at the mouth of Malad Canyon, concentrating the channel into a narrow canyon. These concentrated flows began to retreat and deepen over many years, following a zig zag direction that eventually created not one, but three canyons before diminishing to … water levels found today."
Water from the Malad River comes from the Big and Little Wood rivers near the Camas Prairie, according to another sign, and flows for about 15 miles before entering the Snake River between Hagerman and Bliss.
The river received its name in 1824, when a Hudson Bay fur trapper named Alexandria Ross visited the area.
About 37 members of Ross' party fell ill after eating locally trapped beaver. They assumed the local wildlife survived on poisonous plants and, because of the sickness incurred after eating the beaver, named the water "Riviere aux Malade," which means "Sickly River."
Later, the gorge and its rocks became a favorite hiding place for some old-time outlaws.
You might not see any outlaws when you visit Malad Gorge today, but you'll likely see families and school children hiking along the trails or picnicking under shade trees at the park.
Such was the scene last Thursday when students and parents from Twin Falls School District visited the site.
A number of other visitors stopped briefly to check out Devil's Washbowl, the area's main attraction.
Ken Cole, a visitor from Boise, said he had been to the site a number of times before but had never photographed it. This time he came prepared with his digital camera.
"It's pretty impressive," Cole said of the gorge. "I just wish they hadn't put the freeway on top of it."
IF YOU GO
Malad Gorge State Park, open from 7 a.m. to 10 p.m. all year, is located at 1074 E. 2350 S. off Interstate 84 near Hagerman. Exit at No. 147.
Cost is $4 per car; $26.50 to reserve a picnic shelter.
For more information: 208-837-4505.