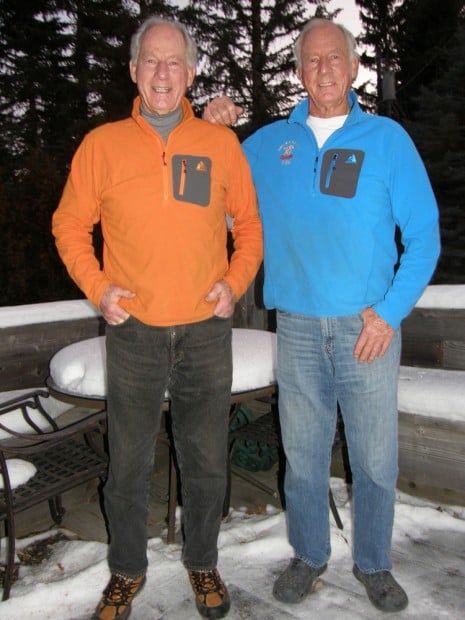 KETCHUM • "Hey, Lou!" I said as I spied the famed mountain climber Lou Whittaker holding court with a half-dozen women from the Port Townsend rowing team in Starbucks.
The man I addressed in the orange ski top rose up from his chair — all 6'2 feet. Then he held out his long arms and hugged me.
"I'm not Lou," he laughed. "I'm Jim. Lou's over there," he said, as I noticed another man who looked exactly alike save for the blue ski top he was wearing.
Eighty-two years after they were born, it's still difficult to tell the twins apart. But anyone who follows mountain climbing can't fail to recognize that they're a Whittaker.
"They're the Vince Lombardis of mountain climbing," said Nappy Neaman, a Hailey resident who once accompanied Lou up Mount Rainier. "Climbing with Lou is climbing with a super hero. It's spell binding listening to his stories. And it's unimaginable to think how many lives he's touched. He's totally revered in the climbing world."
Mountain climbing has taken the former Seattle boys far.
Jim became the first American to reach the summit of Mount Everest in 1963. That not only earned him a spot in a Jeopardy question but helped him parlay REI from a store the size of a closet into a multimillion dollar outdoor sporting goods chain. It also led him to escort Sen. Robert F. Kennedy to the top of a 14,000-foot peak that had not been climbed until then and teach JFK's children to snowplow on skis.
Lou, meanwhile, carved out a name for himself by leading the first American ascent of the North Col of Mount Everest in 1984. He also summitted Mount Rainier more than 250 times as he established Rainier Mountaineering, Inc. (RMI) — America's foremost climbing business.
Lou, who has spent winters in Sun Valley since the 1960s, is always willing to entertain questions at his daily afternoon sojourns to Tully's and Starbucks, where he indulges in one of life's little pleasures that he couldn't enjoy holed up in a tent on the side of a 29,000-foot mountain.
And he relishes telling stories at various events from St. Alphonsus' annual Ski and Trauma Conference to the Ancient Skiers confab in Sun Valley.
Though 82, the two are obviously still trying to squeeze every bit of living out of life, skiing Baldy and the Nordic trails north of Ketchum on their recently implanted titanium knees.
"I said one day, 'My knees are killing me. I'm gonna get two new knees.' And Jim said, 'Let me know how it goes; maybe I'll get some, too,'" Lou said. "Now I tell everybody, 'Don't wait. If it's painful, get it fixed.'"
The Whittakers began skiing Sun Valley while attending college in Seattle. They'd cut classes on Friday, ski all weekend and drive all night Sunday to get back to classes Monday morning where they'd fight to stay awake.
"We'd wear white shirts to show off our tans," recalled Lou. "I think Sun Valley's the best resort in the world — it's beautiful, it's got good lifts, snow, sun, food. And it has the mountain."
The Whittakers have gravitated toward the mountains since they began hiking and climbing the Cascades under the tutelage of a Boy Scout leader who had lost a hand serving with the 10th Mountain Division.
"Mom and Dad both loved nature and were always telling us to go outside and play. I wonder if we would've done the same thing today, given the video games and things kids do today. We believe nature is a great teacher and that people's motto should be 'No child left inside,'" Lou said.
That's not to say the two have never felt fear while crawling through blizzards and narrowly avoiding being killed by ice falls.
"If a guy says he's not afraid, I say, 'You're not on my rope,'" said Lou.
"You'd better be afraid of heights if you climb mountains," added Jim. "Nature gave us a gift — that fear of heights. That's why we're alive today. I see kids wearing 'No Fear' T-shirts and I'm thinking it should be 'Know Fear' T-shirts. It's when you know fear that you're going to be smart and stay alive."
Fear took out a few of Jim's fellow climbers on the first day of his Everest climb when a vertical wall of ice fell off in the Ice Fall, killing a guide from the Tetons.
Faced with two months of transporting tents and other equipment up the Ice Fall to higher camps, some elected to remain in base camp for the duration of the expedition.
"I told myself, 'So far, I've been lucky. I just have to climb smart.' The most important thing is being able to say to hell with it and turn around," Jim said. "The mountain will always be there, save for Mount St. Helens, which blew its top."
Lou was at a ski trade show in Los Angeles when news traveled halfway around the world that an unidentified American had pounded a metal stake holding an American flag into the ice atop Everest. He knew right away that it was his brother, even though the man's identity would not be revealed until a week later in those days when climbers didn't carry satellite phones with them.
Lou has had his own experience with death, most notably in 1981 when a massive section of Rainier's Ingraham Glacier ice fall broke away, sweeping 11 climbers led by Lou's son Peter into a crevasse. Park officials said it was an act of nature that no one could have foreseen.
"We can predict avalanches to a certain extent. It's ice falls that are unpredictable," Lou said.
Lou said he never felt envious that his twin brother had been the first American atop the world's tallest mountain.
"I was so proud of him. Being identical twins, we have pretty much the same ability. We figure that if one twin does something the other can, too," he said.
The Whittakers charged $28 to lead clients up Rainier in 1951. Today RMI can command between $970 and $1,968-and they still have a waiting list.
Demand only increases after news of a mountain climbing tragedy, Lou said.
"We have our clients spend three years preparing to climb a Himalayan peak," he said. "They have to climb Rainier, Aconcagua for the height and Denali for the cold. You don't want to trust your guide. You've gotta be able to get up and down yourself because guides can die up there, too."