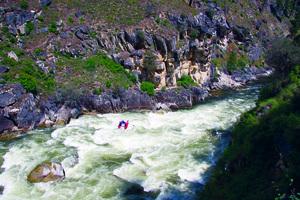 KETCHUM • Idaho River Publications publisher, photographer and guide Matt Leidecker intends to release the third edition of "Middle Fork of the Salmon River — A Comprehensive Guide" in June with the aid of a Kickstarter campaign which ends June 7.
Leidecker's Kickstarter project has pledge levels that start at $5. Backers can opt for rewards including a signed copy of the new guidebook; a custom-designed T-shirt depicting Velvet Falls, one of the river's more notorious rapids; fine art photographs of the Middle Fork; a private multimedia presentation on the canyon's geology, history and scenic beauty; and a seat on a six-day commercial trip hosted by Leidecker and Adventure Guides on June 9.
Leidecker's latest edition of the waterproof guidebook includes updated descriptions for rapids and campsites that were affected by wildfires in the past five years.
"The fires along the Middle Fork were a big catalyst for change," the Hailey author said in a press release. "More than 15 rapids were created or altered from landslides since 2000."
Other significant additions are maps and overview descriptions of Marsh Creek and Bear Valley Creek. These tributaries to the Middle Fork are sometimes used for early-season access to the river but offer standalone day and overnight trips for small rafts and inflatable kayaks.
"The Middle Fork is very unique in that its remoteness combined with more recent federal protection has left the 100-plus miles of the river corridor and its tributaries in a natural state with very little human disturbance," Leidecker said in the release. "There are several ongoing scientific studies looking at how this large natural ecosystem reacts to the effects of wildfire and climate change. I reference several of these papers in the new material."
Leidecker was raised in Ketchum and Sun Valley and received an undergraduate degree in geology from Middlebury College in 1996. A guiding career that began in 1991 on the Middle Fork led to the publication of his first book of photography, "Impassable Canyon, A Journey Down the Middle Fork of the Salmon River" in 2002 (Sun Valley Press). In 2005, he formed Idaho River Publications, which published Leidecker's first waterproof guidebook to the Middle Fork. His first hiking guidebook, "Exploring Sun Valley" was published in 2010.