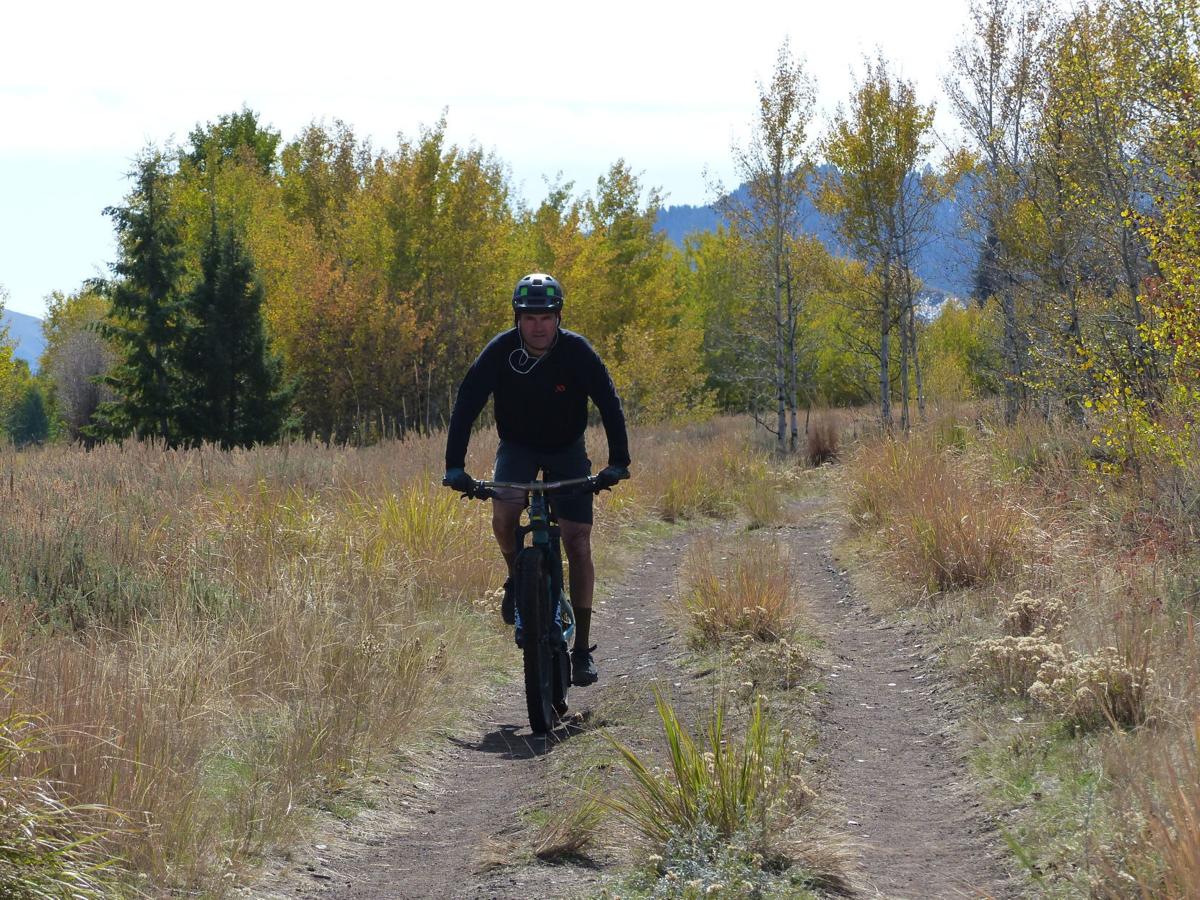 KETCHUM — It was a deteriorating hip initially that turned my attention to electric bikes.
As it became increasingly more difficult to pedal, I began wondering if I might benefit from a little assist while I waited out the months leading up to surgery.
When a slew of friends began bragging about how much fun they were having on their e-bikes, I took it as a sign. The time had come for me to invest in an e-bike.
By the time I came to this important conclusion, I could no longer throw my leg over the bar on my road bike. And the thought of simply stepping one leg through to the other side made perfect sense.
I visited the bike shops around Ketchum, including Formula Sports, Sturtevants, Backwoods Mountain Sports and The Elephant's Perch. I also tentatively prepared to hang on as I took that first bike for a spin on Ketchum's steepest hills.
On my first try, the bike shot me up a steep hill from a standing start with ease. I felt a small surge as I pointed the bike up the second hill —a grin spread across my face.
"They're so much fun I never want to get off mine," artist Barbara Kline told me as I saw her pedaling up a steep hill from her home in Greenhorn Gulch south of Ketchum to Zenergy Health Club and Spa, nestled in the hills on Ketchum's north side.
I took my new e-bike for its maiden voyage to a National Outdoor Leadership School workshop about 15 miles from my home. I pedaled without assist most of the way. But, with time running out and a hill looming on the horizon, I turned on the assist, accelerating from eco mode to tour mode to sport mode and, finally — Turbo.
The assist cut the time it would have taken me to cover the remaining distance in half, and I easily arrived in plenty of time.
By the time I returned home, a thunderstorm was sweeping down from the north with an angry wind that would have practically stalled me at times as I made my way up the bike path from Hailey to Ketchum.
I turned on the pedal-assist to turbo mode, and soon had a small peloton of cyclists drafting behind me.
As a daily rider of the 22-mile bike path that stretches from Ketchum to Bellevue, I can vouch for the fact that half of the bikes being pedaled on the path this past summer were e-bikes — many of them rented by Sun Valley tourists who chose them over conventional bikes.
The city of Boise is switching the 127 regular bikes in its bike-share program for 500 e-bikes after learning that bike-share riders across the country use e-model three times more than regular bikes.
While the National Parks have decided to allow e-bikes on trails, some trails around Sun Valley have been closed to e-bikes.
Those trails can be ridden by e-bikers with medical waivers, however. Alan Patzer, a longtime, avid mountain biker, was given an e-bike by his son after heart problems made it tough to ride. His mountain e-bike has allowed Patzer to ride trails from Corral Creek to Greenhorn Gulch.
You have free articles remaining.
"Personally, I think it's ridiculous that the Sawtooth National Recreation Area does not allow e-bikes on the Harriman Trail," said Elephant's Perch owner Bob Rosso, who sat for many years on the Galena Trails Advisory Board. "All e-bikes do is offer you a little assist — like someone putting their hand on your back. They're not motorcycles — if you don't pedal, you don't move. There's no gas, no sound — just big smiles on people's faces. I think it will all work out fairly soon as officials realize they're not all that different from regular mountain bikes."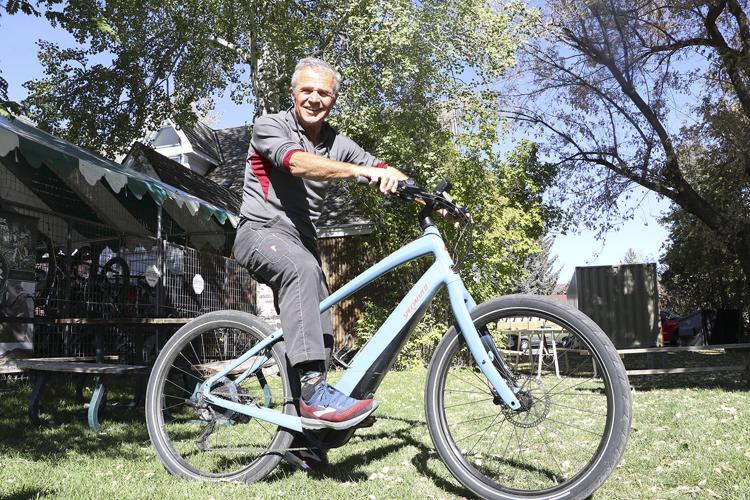 Indeed, I've clocked my bike at 22, even 23 mph on a downhill. But that was without pedal assist — still a regular road biker passed me. When using turbo speed, I usually run about 18 mph.
I can maintain a speed of 14 or 15 mph when I'm booking it on my road bike. But that drops off going uphill against the wind, so I find the assist gets me home in half the time.
The downside of e-bikes is that they're heavier because of the battery. I can't just throw it in the back of the Subaru as easily as my road bike.
And the tires on my e-bike are 2 inches wide — if I run out of electricity on the way home, it becomes a bit of a slog pedaling uphill.
Mountain bike e-bikers also have to be more careful, Rosso cautioned, and keep in mind that the bike will be heavier if they fall.
The upside is that the heavier bike doesn't get pushed around as much in strong wind, as my road bike does. And the wide tires have taken me places like the dirt road heading out Muldoon Canyon east of Bellevue that I would not ride my road bike.
Some hardcore mountain bikers, in fact, have been using e-bikes to go farther back in the canyons than they would otherwise. And Sun Valley outfitters Joe and Francie St. Onge have been using e-bikes, rather than trucks or backpacks, to get supplies to their backcountry yurts.
It's fun to track my mileage and my speed on the odometer. And the light on my e-bike illuminates the bike path way better than any light I've ever had before, easily signaling the elk and deer up ahead that it's time to skedaddle.
I get about 50 miles per charge — five little dots on the odometer disappear one by one as I pedal through my charge. Once I've gotten down to one dot, I plug the bike in overnight.
Jamie and Andrea Lieberman still ride the 400 miles of single track around Sun Valley on their regular mountain bikes. But they often use their e-bikes to ride to the grocery store down the steep hills outside their Sun Valley home.
"It's better for the environment. It gets you outside," Jamie Lieberman said."They're like one-seat electric cars that can get you from point A to point B without needing gas."
The popular personal vehicle varies widely in price from just over $1,000 to about $5,000, although some of the new gravel bikes run from $2,600 to $15,000. Good road bikes, in comparison, cost about $1,000.
Demo and rental bikes are in high demand at the end of the season. And some shops are offering 30% off on their e-bikes right now.
My e-bike looks like a grey tank. But one Ketchum cyclist pedals a forest green bike with wooden components that makes it look like a cruiser.
I've pedaled 1,400 miles on my bike since getting it in late June — about two-thirds of those with an electrical assist.
And, even after 1,400 miles, I still smile as I feel that little push up the hill.
Be the first to know
Get local news delivered to your inbox!