KETCHUM — Maintaining healthy forests is not only a necessity, it's more important than ever as more challenges arise from factors like drought and climate change.
On the slopes of Bald Mountain during the last few years, diseased and dead trees have become more prevalent. These trees are an eyesore, hinder the forest's overall health, and, without proper maintenance, will affect several uses on the mountain.
The National Forest Service, Sun Valley Co. and the National Forest Foundation have been working together to create a vegetation management project — the Bald Mountain Stewardship Project — for several years.
"This project, if you break it down, has three components," Zach Poff with the forest service said Tuesday during a slope-side tour of the project. "One is fuel reduction, two is forest health and resilience, and the third is a recreation component in this specific area.
"Our project area is much larger than just this recreation area and that will encompass those other two components as well — reduction in fuels, and forest health and resilience."
Reducing forest fire fuels
One fuel reduction element is being performed by Miller Timber Services of Philomath, Oregon.
Miller Timber crews have been harvesting and thinning stands of trees in order to reduce fuel loads from catching fire and spreading quickly. The thinning also allows firefighters quicker access to a fire if one were to ignite.
But using machines that harvest and gather wood on the steep slopes is difficult.
The harvester will fall, limb, and buck trees into logs in the stand. During this process, the harvester creates common-use trails, typically 60 feet apart and pre-marked in straight rows.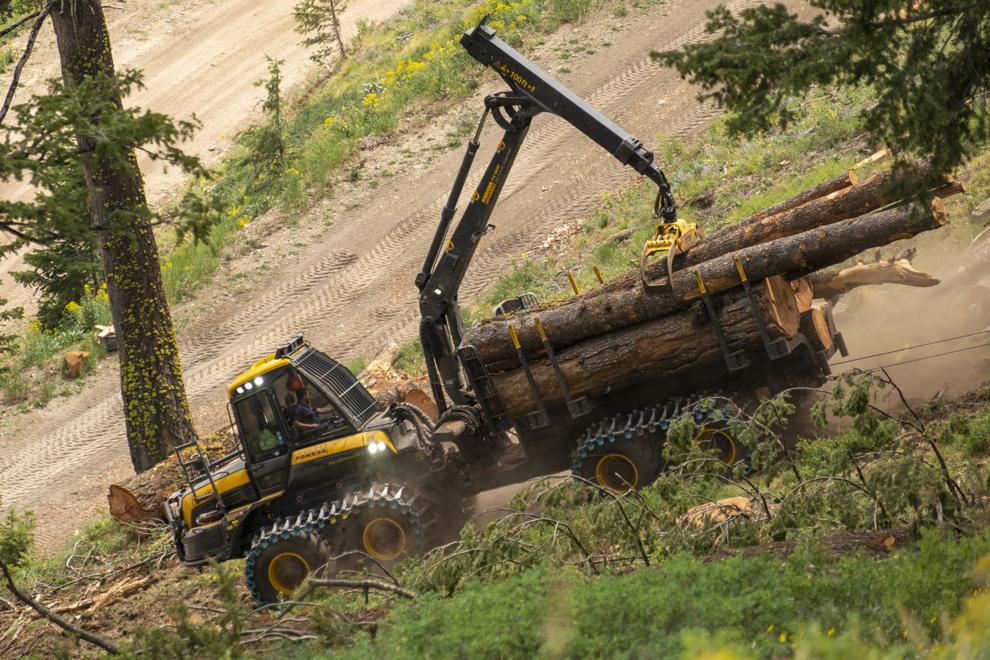 The winch-assisted log gatherer, called a forwarder, is tied off at the top of a stand of trees and driven down to the cut logs, where it piles the timber and carries it out to the road for removal.
Drought isn't the only thing killing the forest
Dwarf mistletoe, pine beetles and gypsy moths have all contributed to the demise of the trees on Bald Mountain, particularly Douglas fir and whitebark pine.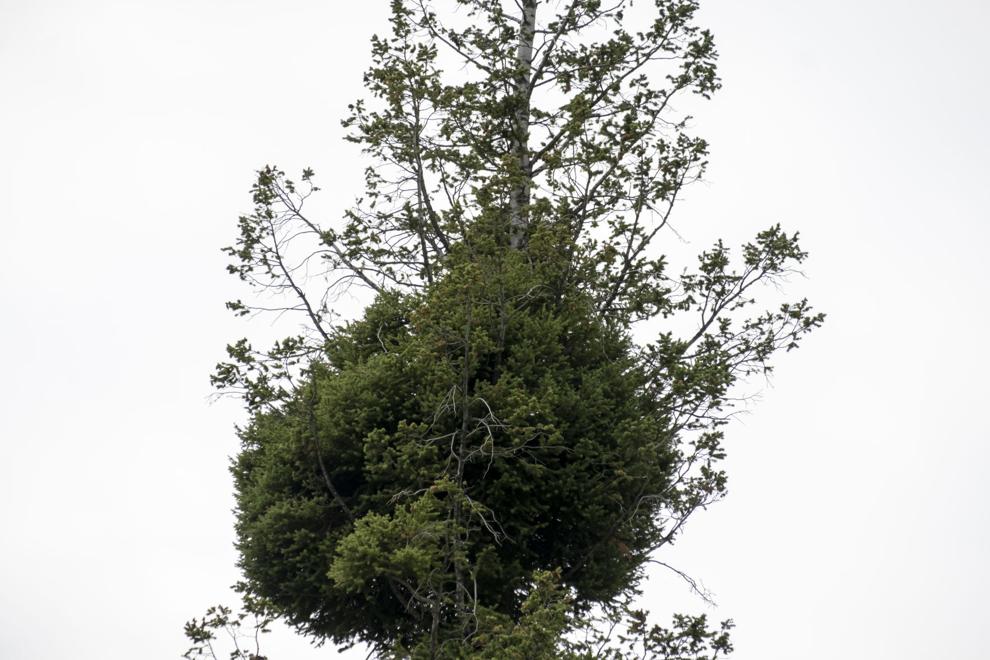 Jeff Walters, assistant mountain operations manager, told the Times-News what he thought was a contributing factor to the unhealthy forest.
Walters said fires like the 2013 Beaver Creek Fire, which burned more than 100,000 acres south of the ski resort, drove the pine beetles north onto Bald Mountain in search of live trees, spreading insects into the healthy trees.
The project is thinning old-growth tree stands and will thin new, tighter stands of trees as the project moves forward to create a more balanced and healthier forest.
One issue Walters and Ranger Nelson Mills addressed was the abundance of wood being collected from the project and what to do with it.
"Most of the wood we sell (from the mountain) is to local firewood distributors and luckily we have been able to sell all of that," Walters said. "When you look at the vast expansion of how much more work we have to do on Bald Mountain, is there really going to be that much need for firewood in the Wood River Valley?"
Mills agrees with Walters.
"The thing that's being communicated from industry in this local area is a flood of wood material into the local economy," Mills told the tour group. "I'm getting folks... saying things like, 'We've got a lot of wood from Baldy, which is great, but the challenge is how do we utilize this wood product better coming off the mountain?'"
Mills suggested converting the wood to biochar, a carbon-rich substance that some experts tout as the key to soil rejuvenation. The process involves burning the wood in low-oxygen conditions.
Another answer he offered was using the Magic Valley's agriculture industry.
"If we can find a way to tie into agriculture or Idaho National Laboratories east of us, we can get these wood products used into something that's not studs," Mills said.
The project has several moving parts in a short window of time. Some factors include migratory birds, migrating fauna, recreational seasons and even weather.
"Based on the analysis we've done, we have some time constraints as well," Poff said about the real-time speed of the project. "There is only certain times we can be in certain areas. There is so many different factors going into it. If it was up to me, we would just snap our fingers and it would all be done."
Speaking about Bald Mountain's appearance, Dani Southard, Northern Rockies program manager with the National Forest Foundation, also expressed another component to why the project is useful.
"I think it is also important to note that if we are not doing enough, quick enough, then what is the result?" Southard said. "The results are we are content with a brown or black viewshed, so there is definitely a piece of it where we need to be balancing (the three components) that Zach mentioned and how quick we can get after some of these challenges."
There's good news for recreationists who visit Baldy: The thinning has opened up new acreage to ski and ride in during the winter season.
Some 276 acres of additional glade has been created for recreational use by the forest health project over the last few years, Peter Stearns with Sun Valley Co. said in an email to the Times-News.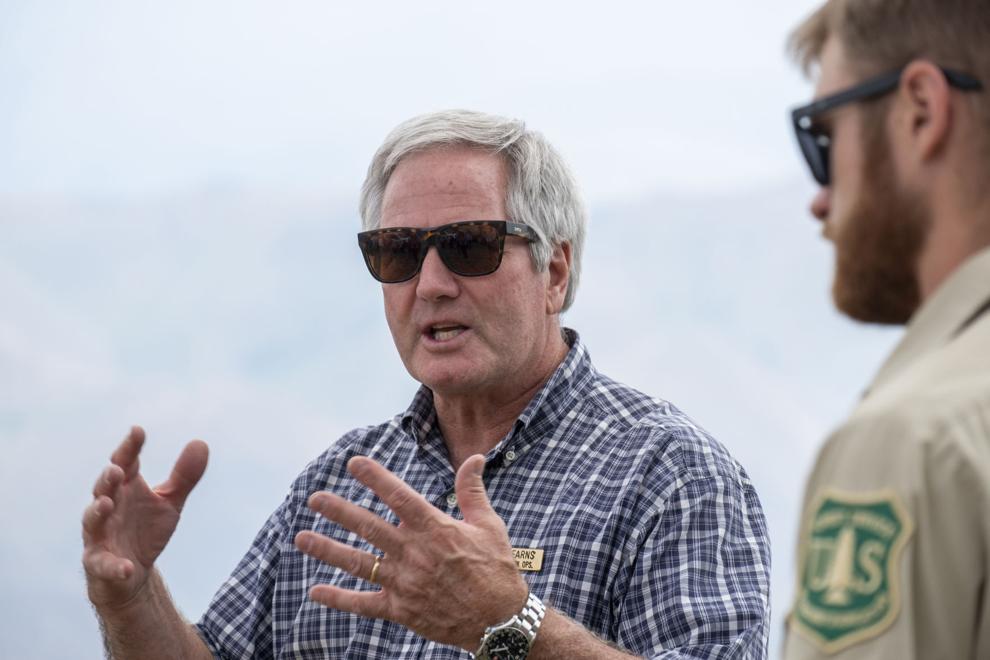 The acres being thinned yearly — along with the 380-acre Sunrise Expansion that opened in winter 2020-21 — creates more opportunities for glade skiing, even if the average rider doesn't directly see the thinned sections.
The project crews are looking to complete 30 acres of forest maintenance by the end of the summer.