SUN VALLEY — It's billed as "the best bike event in the universe." And now Outerbike is coming to Sun Valley June 21 through 23.
The event is a chance for bike demo maniacs to try the latest, greatest bikes out there — as many of them as they want.
Not ready for a new bike? Just bring the one you have and ride the trails and enjoy the parties with other cyclists.
"There will be people flying in to get the best bike for the year," said Ray Gadd of Visit Sun Valley Marketing Alliance. "We're left blushing to be included on Outerbike's list of top-notch locations around the country."
Mark Sevenoff, who leads bike tours around Moab, Utah, said the event started about 10 years ago and grew out of the Interbike trade show held each year in Las Vegas for retailers and industry insiders.
"A lot of our Western Spirit Cycling clients wanted to go," Sevenoff said. "My wife said, 'Maybe we could get the vendors and manufacturers up here.'"
When the vendors arrived, so did the cycling enthusiasts. And pretty soon Sevenoff found himself holding four Outerbike events per year in places such as Whistler, Canada.
Last year, Outerbike attracted attendees from 49 states who took advantage of 10,000 bike demos. There were 182 exhibitors, offering the latest and greatest bikes and cycling products, along with information about bike tourism.
Many attendees went home with a new bike. Some went home with a couple.
"This will give bicyclists the chance to try out some cutting-edge equipment and see all the newest electric bikes," said Olin Glenne, owner of Sturtevants in Ketchum. "There's a constant evolution in bicycles — they keep getting better, more efficient, lighter, funner. There should be a lot of excited riders."
Sevenoff has scheduled four Outerbike events this year in Sun Valley; Moab; Crested Butte, Colorado; and Bentonville, Arkansas.
This is the first time Outerbike has come to Sun Valley, even though it's one of Sevenoff's favorite places to ride. He expects 400 to 500 people to participate this year, and for the event to be even bigger next year.
"We have to cap it at a thousand people in some places because we only have so many bikes. But the first year is always a little smaller," he said. "And Sun Valley's a destination — you've got to want to get there."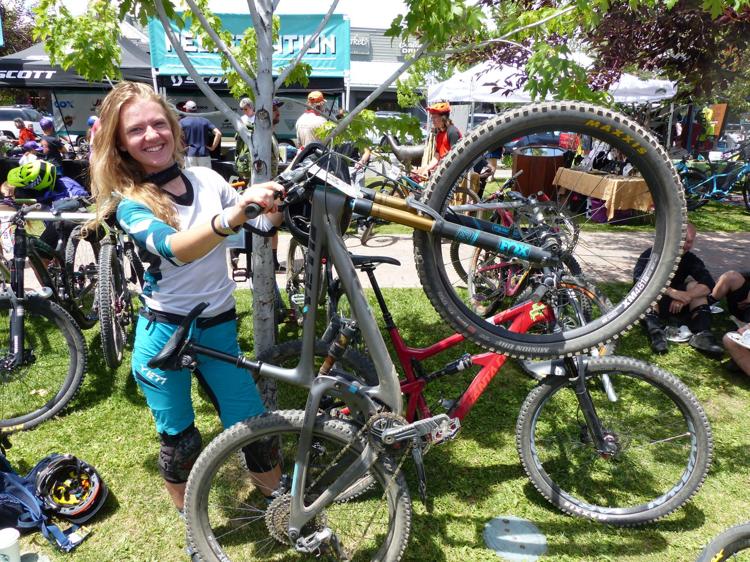 Tickets to the event start at $85. Packages include free beer, lunch under the big tent prepared by a private chef from Moab, and an opportunity to try out as many bikes as one's legs can pedal, as well as other gear such as helmets.
Lift tickets to ride Sun Valley Resort's Bald Mountain and a chance to chat with manufacturers and other bicycling enthusiasts over lunch or a beer are also part of the allure.
Additionally, the Ketchum group and others are staging events that will add to the festival-like atmosphere.
Power House in Hailey will stage the Sheeptown Drag Races beginning at 6 p.m. June 20. Open to adults and kids alike, bicyclists will race head-to-head, dragging a log behind them. The log is lit on fire for the finals.
The city will host a Summer Solstice Bash from 4 to 9 p.m. June 21 to celebrate the first day of summer at the Ketchum Town Square. It will include a balloon clown, face painters, jugglers, magicians and more, plus live music from Nate Botsford and Band.
Warfield Distillery & Brewery will host a Film by Bike film festival featuring short films highlighting adventures on bikes from 8 to 10:30 p.m. June 22. The Warfield will follow up with a Concert on the Corner at 8 p.m. June 23, featuring the Josh Kelly Band.
And the Sun Valley Center for the Arts will hold a reggae concert featuring Ziggy Marley and Michael Franti at River Run at 7 p.m. June 24, for those who want to hang around an extra day.
Last year, 27.5-inch wheels were hot, Sevenoff said. This year, the latest technology for e-bikes is expected to turn heads.
Registration and early check-in take place from 5 to 7 p.m. on June 20.
Registration resumes at 8 a.m. on June 21, with the bike demos beginning at 9 a.m. The first shuttles will head to Greenhorn Gulch south of Ketchum at 9:30 a.m., where e-bikes are allowed.
There also are guided rides with former national mountain bike champion Rebecca Rusch, as well as Wild Rye Ladies Rides, no-drop XC rides offered by Club Ride and more.
The event ends at 4 p.m.on June 23. To learn more visit outerbike.com.