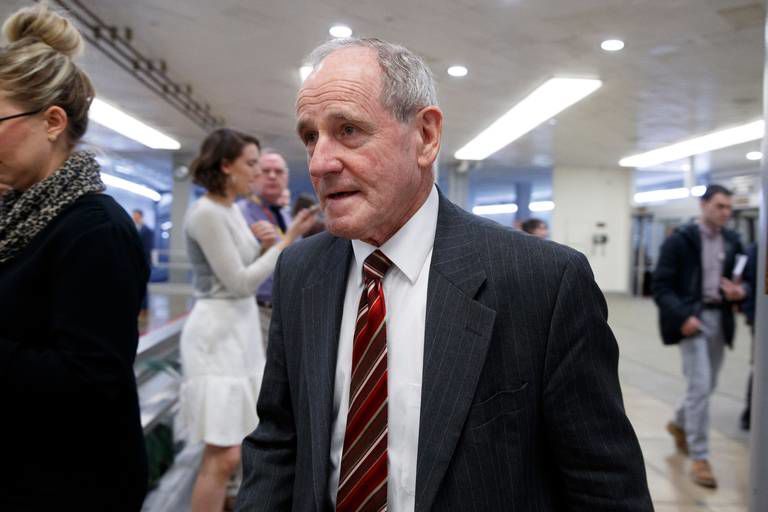 It seems that Sen. Jim Risch cares about nothing other than his party: not human rights, not American global standing, not even the safety of American troops.
The chairman of the Senate Foreign Relations Committee had little to say for much of the week about a series of disturbing reports, first that a Russian military intelligence unit had placed bounties on American troops in Afghanistan, then that President Donald Trump had received an intelligence briefing on it in February but did nothing, then identifying a former drug smuggler who had arranged some of the payments.
Risch was entirely mum about the reports for days. When he finally spoke, his words were predictable. For years, Risch's favorite rhetorical ploy has been some version of: "I can't tell you what I know. It's top secret. But if you knew what I know, you'd agree with me." He's always vague to the point of indecipherability, and for that reason, he lacks all credibility.
Risch's statement on the Russian bounties this week was true to form.
"As a member of the Senate Select Committee on Intelligence, I've reviewed all materials relevant to the news reports about the alleged Russian bounty program and can state that the reporting is grossly inaccurate," Risch said.
Asked what was inaccurate in the report from the New York Times, since independently verified by the Wall Street Journal, the Washington Post, the Associated Press and numerous other news agencies, Risch's staff responded with the usual: can't say, that's classified.
None of this is surprising if you've followed Risch's fawning relationship to Trump, his failure to stand up any time important principles are on the line.
It's an ignominious list: Resisting all attempts to impose serious penalties on the Saudi government for the murder and dismemberment of Washington Post columnist Jamal Khashoggi. Failure to stem arms shipments to the Saudi dictatorship after it used our bombs to commit war crimes in Yemen: blowing up busses, weddings, funerals, schools, food processing plants and water bottling plants.
Add to that this week's failure to stand up to his party's leader when the lives of those still deployed in America's longest war are on the line. Note that Risch said nothing at all about the safety of U.S. troops. With reports Russia had bounties on American heads, Risch dutifully chirped: "Fake News."
Not all in Risch's party have been so servile.
"I want to understand how it's conceivably possible that the president didn't know. How does that possibly happen?" said Sen. Ben Sasse, R-Nebraska.
But what has Trump done since this intelligence was included in the President's Daily Brief months ago? Pushed for Russia to be rewarded by bringing it back into the G7 over the objections of other European members, and sought to withdraw 10,000 U.S. troops from Germany without so much as talking about it with our European allies. All without a peep of objection from Risch, Trump's most obsequious lackey, while other Republicans are pushing back.
There are no red lines in Risch's foreign policy. Nothing Trump does or fails to do can wring a drop of criticism out of him.
What does get Risch's back up? The thought that the Boulder-White Clouds might be named after an old Democratic rival. He nearly shut down the government throwing a tantrum about that.
What else? The thought that his party would lose its Senate majority in the next election (he claimed the Democrats would grant statehood to Washington, D.C., and Puerto Rico).
"I will be the last Republican chairman of the Foreign Relations Committee forever," Risch cried breathlessly at the recent GOP convention.
After Risch's performance on the job, the real question is: Why would anyone want one?
The Post Register's editorial board consists of Publisher Travis Quast, Managing Editor Monte LaOrange and editorial writer Bryan Clark. Clark can be reached at 208-542-6751.
Catch the latest in Opinion
Get opinion pieces, letters and editorials sent directly to your inbox weekly!