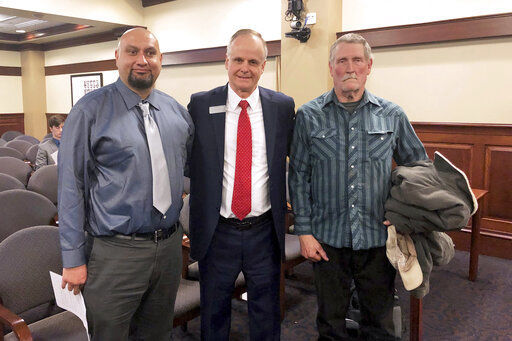 Twice, Idaho has not only fessed up to sending a man to prison for a murder he didn't commit but then found the true culprit.
Can you find a more graphic miscarriage of justice — exposed by the miracle of DNA analysis?
And yet, in each case, the men who were wronged remain left to their own devices. As far as the state of Idaho is concerned, they are entitled to not much more than a handshake and maybe a set of new clothes.
The most recent developments involve Charles Fain.
Now 71, Fain spent 18 years on Idaho's death row for the 1982 murder of a 9-year-old Nampa girl. Relying on flawed expert analysis of hair samples and the testimony of two jailhouse snitches, a jury convicted the Vietnam War veteran.
By 2001, his legal team produced DNA evidence proving the hair samples did not belong to Fain.
Then through the use of genetic genealogy, Canyon County officials last week traced the evidence to 62-year-old David Allen Dalrymple, who has been serving a 20-year to life sentence nearby at the Idaho State Correctional Institution at Kuna for the past 16 years. Dalrymple was convicted of kidnapping, lewd conduct and sexual abuse involving a minor between the ages of 9 and 11 years old.
The same thing happened in an Idaho Falls courtroom last year.
Coerced into a confession that persuaded a jury to convict him of the 1996 murder of Angie Dodge, Christopher Tapp spent more then 20 years in prison proclaiming his innocence. In 2017, he won his freedom through a deal that left the murder conviction on his record. The same genetic genealogy that located Dalrymple first led Idaho Falls police to the culprit in the Dodge murder — Brian Dripps of Caldwell, who at the time of Dodge's murder had lived across the street from the victim.
With that, Tapp was fully exonerated.
But Idaho is among 15 states that does not compensate the wrongfully convicted — unless, of course, one of them can prove deliberate misconduct on the part of police and/or prosecutors resulted in their confinement. A simple good-faith error is not sufficient.
Less than a year ago, state Rep. Doug Ricks, R-Rexburg, assembled a broad-based coalition of prosecutors, court officials, Attorney General Lawrence Wasden's office, representatives of inmate exoneration groups and budget office staffers behind a package. Based on models approved in Kansas and Nevada, they produced compensation for the wrongly convicted:
l Cash — $75,000 for each year spent on death row, $60,000 for each year spent in prison and $25,000 for each year spent on parole. The budget outlays would be relative small — no more than four individuals were known to qualify and the measure called for payments to be spread out in $85,000 yearly increments unless a judge decided otherwise.
l Benefits — Tuition waivers toward an undergraduate degree at Idaho's state institutions of higher learning, health insurance, help toward finding work, mental health counseling and housing assistance.
Aside from one lawmaker who voted against a final version after the bill was amended to prevent those not fully exonerated on new evidence from claiming benefits, the measure sailed through both the House and Senate.
But Little vetoed the bill — long after lawmakers left Boise and could no longer override him.
The governor didn't like the process. Rather than go to court, he thought the parole board or the Board of Examiners should adjudicate.
He questioned what he called "unfunded mandates" to provide free college education and health care. Better to pay for that out of the exoneree's cash payment, Little said.
He asked how the Legislature established the compensation targets: "We should be sure that the amount Idaho makes available to compensate the wrongfully convicted is comparable to the amounts other states give."
Why Idaho could not work within the court system when other states can is a bit of a mystery. Parole boards are notoriously deaf to claims of innocence. The board of examiners, of course, leaves the governor, secretary of state and attorney general in charge of the case.
As for the amounts and benefits proposed, those numbers were set in January; why did Little wait 60 days to complain?
Little's case for vetoing the bill already was weak after Dripps' arrest. In light of Dalrymple's identification, it's been fully repudiated.
When the Legislature reconvenes next year, Ricks will have a replacement bill supported by virtually everyone. Only Little will be standing between Tapp and Fain and the justice owed to them. — M.T.
Catch the latest in Opinion
Get opinion pieces, letters and editorials sent directly to your inbox weekly!