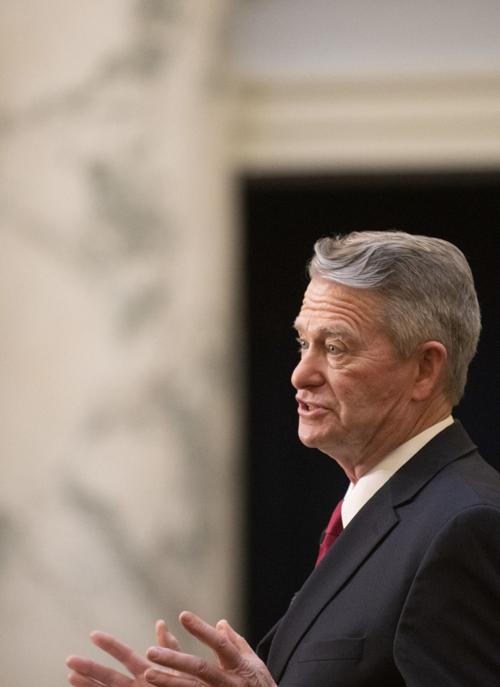 Gov. Brad Little's second State of the State address set a promising tone for the coming legislative session, emphasizing key state investments even in a time where disappointing revenues force lawmakers to make tough decisions.
It is especially positive that Little's commitment to early childhood literacy, ensuring every Idaho child is a proficient reader by third grade, remains his top priority. It's an approach that, if successful, will pay huge dividends down the line.
Childhood literacy affects every later step in a child's education, so boosting it has a good chance of increasing academic achievement over the long term. An educated workforce is a better-paid workforce, which will both increase the general quality of life and pay back tax revenue over time. It's an excellent investment.
But more fundamentally, literacy is key to living a full life. It allows a person to expand their world, reading books and newspapers. Literacy is a key quality for engaged citizens in a democracy.
Little should also be commended for his commitment to exempt public education from cuts made elsewhere in state government, necessitated by tax cuts and lower expectations for economic growth.
And Little's commitment to pushing for expanded rural broadband access offers the promise of renewed economic opportunity to Idaho's shrinking rural communities.
There are also proposals that, while innovative, could be risky. That's particularly true of Little's proposed "Zero-Based Regulation" system, which would involve regular rewrites of the regulatory code of the kind Little's administration was forced to make last year.
Regulatory uncertainty can make long-term planning difficult for businesses. So if regulations are changed significantly every few years, that could negatively impact business investment.
And the small army of lobbyists in Boise could exert continuous pressure to change regulations to help one business gain an edge over its competitors, or make it easier for industries to pollute or exploit consumers.
And state agencies can likewise push to change regulations to benefit them at the expense of the public.
For example, the Idaho Department of Correction recently attempted to exempt from disclosure the drugs used in lethal injections. Lethal injection uses a well-established cocktail of drugs in the hopes of ending a person's life quickly and painlessly. (There's reason to doubt that. One of the drugs administered is a paralytic which prevents the condemned from giving any signal they are suffering.) Advocacy by state's journalists for public records access largely beat back that attempt. But in the recent overhaul of regulations, that exemption was quietly reintroduced.
Many manufacturers of the original drugs used in the execution cocktail have begun refusing to provide them to states, either because of moral opposition to the death penalty or public pressure. Some states have turned to novel drug combinations, and the results have often been horrifying.
Two years ago, the State of Oklahoma executed Clayton Lockett using an untested drug cocktail. For nearly an hour, he writhed in pain, attempted to get up, spoke and convulsed before finally dying of a heart attack. This is why it's important to know what drugs Idaho uses to kill someone.
So while it could be of substantial benefit not to allow regulations to pile up like cordwood, and Little's overhaul found plenty of useless or meaningless regulations, safeguards need to be introduced to prevent mischief. Since a much larger portion of the state's administrative regulations would be up for review each year, Zero-Based Regulation should include a much more extensive public comment process than the existing rules review system to give watchdogs ample time to spot and criticize questionable regulatory changes.
Overall, we are pleased with Little's first year leading the state of Idaho, including a long-awaited breakthrough in negotiations between the U.S. Department of Energy and the state of Idaho over nuclear research and waste cleanup, and we're impressed with many of the ideas he's laid out for his second. But we'll continue to watch closely.
The Post Register's editorial board consists of Publisher Travis Quast, Managing Editor Monte LaOrange and editorial writer Bryan Clark. Clark can be reached at 208-542-6751.
Catch the latest in Opinion
Get opinion pieces, letters and editorials sent directly to your inbox weekly!