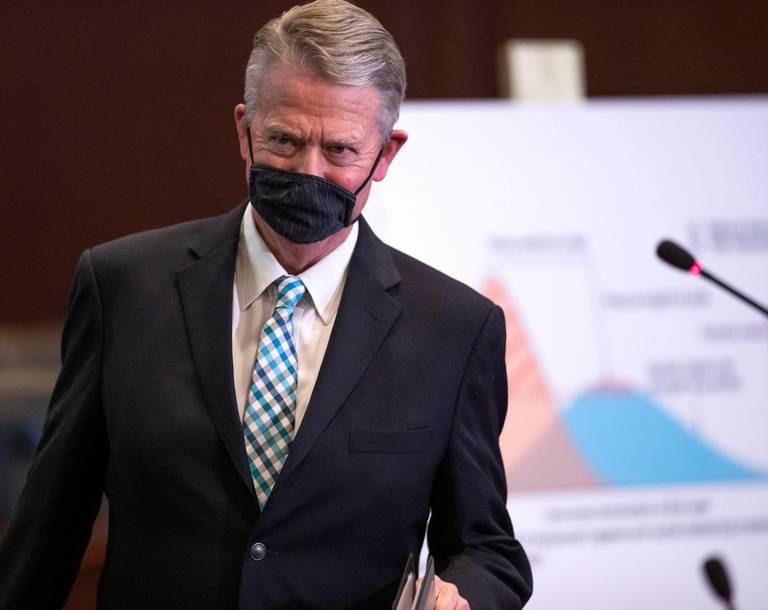 The state of Idaho launched a #MaskUpIdaho campaign this week, encouraging everyone to wear a mask when in public.
It's a good start, but it doesn't send nearly a strong enough message.
It's time to make wearing a mask in public mandatory in Idaho. How about #MakeItMandatory?
We've talked a lot about how the coronavirus pandemic and resultant shutdown is destroying our economy.
Likewise, allowing COVID-19 to run rampant without any checks will destroy hundreds of thousands if not millions of people's lives and destroy our health care system.
But we can avert both. We can get our economy back up and running and keep COVID-19 at bay.
"The goal all along has been to ensure our hospitals aren't overrun with people seriously ill from complications of this highly contagious respiratory disease," Gov. Brad Little said Thursday. "You can engage in the economy, safely go back to work, and safely receive care from your medical provider, but you must do so while practicing the proven measures to fight the spread of coronavirus."
That includes wearing a mask.
But merely suggesting that people wear a mask isn't enough.
Gov. Little must send a clear message that this is serious enough for everyone to be required to wear a mask when around others in public spaces.
Telling Idahoans that masks are mandatory also provides much-needed cover for businesses such as Boise restaurant Bacon, where owner John Berryhill is trying to do the right thing by requiring masks of his customers.
Even he is getting pushback, but if he and other business owners were able to say, "Sorry, the state of Idaho requires it," we'd have much wider compliance and participation.
And that means more businesses would be able to reopen, more people would be able to go back to work and more paychecks would start flowing again.
Little on Tuesday pushed back against the idea of mandating mask wearing, pointing out that nine counties in Idaho don't have any cases. Since then, we're down to seven counties without a case.
"Mandatory masks for somebody that works by themselves outside all day, that doesn't pass the common sense test," Little said Thursday. "What does pass the common sense test is we know that face coverings work, and we want to urge anyone that, particularly if they're inside of that 6-foot circle that we talked about, to do it."
We understand the position the governor is in, once again trying to thread the needle of protecting the public health, getting the economy going again and balancing the interests of urban and rural Idaho.
He also has to contend with a contingent of Idaho that won't listen to anything "the government" tells them to do.
Just look at the impromptu legislative session that took place at the Capitol on Tuesday. None of the 15 legislators were wearing masks or socially distancing, and very few masks could be seen among the crowd of 200 people who crammed together in the House gallery to watch.
We're not naive enough to think that if Little "ordered" everyone to wear a mask that the people who showed up Tuesday would magically comply.
You can't mandate common sense.
"The mask wearing in Idaho compared to what it was two weeks, a month ago, two months ago, has gone up astronomically," Little said Thursday. "We've got a way to go, but mandatory masks just don't make any sense for a lot of Idaho."
We disagree. Mandating masks makes a lot of sense.
Coronavirus cases are rising in states with relaxed policies on wearing masks, according to a report this week by the Philadelphia Inquirer.
In the 16 states that currently recommend but do not require that residents wear masks in public, including Idaho, new coronavirus cases have risen by at least 84% over the last two weeks, according to an analysis by the Inquirer.
That includes Idaho, where new cases went from 298 during the period of June 1-7 to 612 in the period June 15-21, a 105% increase, according to the Inquirer analysis.
Meanwhile, in the 11 states that mandate wearing masks in public, new cases have fallen by 25% over the last two weeks, according to the Inquirer.
Wyoming and Washington don't have mandates for everyone but they do have requirements for employees and patrons of certain businesses. Nevada and Oregon have requirements for employees of certain businesses. Utah and Montana, like Idaho, have no requirements. Utah has seen a 44% increase in new cases, and Montana has seen a 287% increase in new cases.
The more stringent the mask policy, the better the numbers.
A recent study by researchers at the University of Iowa concludes, "There is a significant decline in daily COVID-19 growth rate after mandating facial covers in public, with the effect increasing over time after signing the order."
That study, published June 16 in Health Affairs, looked at 15 states that implemented mask mandates from April 8 to May 15. It measured daily growth rates from March 31 through May 22 and found a growing decline in the daily COVID-19 growth rate by 1 to 2 percentage-points in the weeks following a mandate signing. The study estimates as many as 230,000–450,000 COVID-19 cases were possibly averted by May 22 by these mandates.
We also recognize the tough spot Little is in when it comes to compliance.
"You know, you could do something, but you wouldn't — the compliance would be terrible," he said Thursday.
That's fine. The state isn't really enforcing any of the other "guidance" or "suggestions" from the state, anyway. So let those who choose to ignore a mask mandate do so at their own peril.
But send the message anyway — that enforcement is not the point, it's making it mandatory so people take masks more seriously.
Boise Mayor Lauren McLean has an opportunity to lead where the governor will not. If the governor won't issue a statewide mandate, McLean should issue a mandate for Boise. Unfortunately, in a conversation Thursday with the Idaho Statesman, McLean twisted herself into philosophical knots trying to justify why she shouldn't mandate masks.
At the end of the day, wearing a mask is just the right thing to do, so make it mandatory. It's really as simple as that.
If everyone wears a mask in public, Idaho can be a leader in controlling the spread of the disease while at the same time resparking our economy.
Statesman editorials are the unsigned opinion expressing the consensus of the Idaho Statesman's editorial board.
Catch the latest in Opinion
Get opinion pieces, letters and editorials sent directly to your inbox weekly!