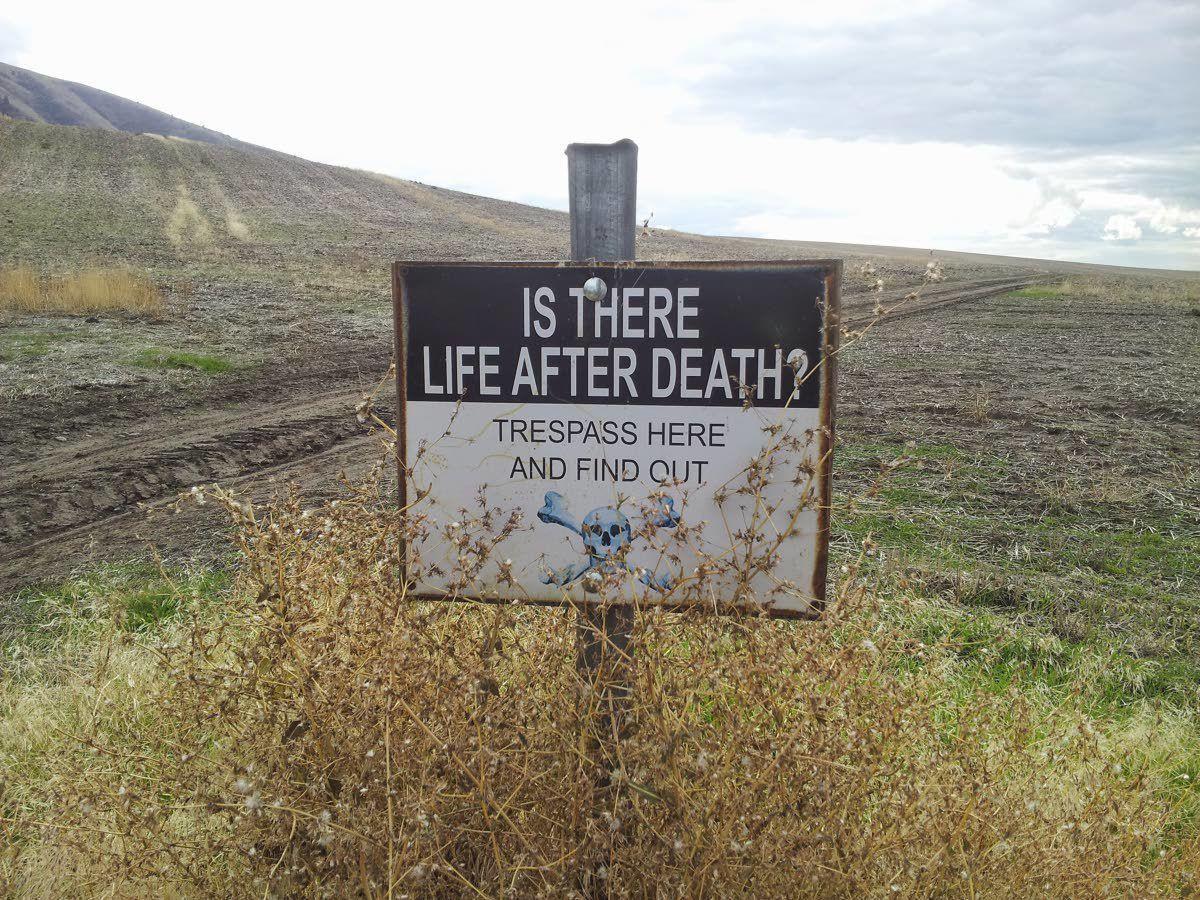 If your hiking path inadvertently crosses onto private land, you could be fined $300.
And if you happen to do it again, you could be charged with a criminal offense, face mounting penalties, possibly jail time and the loss of hunting and fishing privileges.
Even if you walk on to a neighbor's yard to retrieve a baseball, you could be hit with a civil lawsuit — and compelled to cover the other side's legal and investigate costs.
That's how seriously the Idaho Legislature takes trespassing.
Two years ago, legislators bowed to the wishes of the Idaho Farm Bureau, the Idaho Cattle Association, the Idaho Dairymen's Association, Monsanto, J.R. Simplot Co., Idaho Power Co., Avista, Idaho Forest Owner's Association, the Idaho Freedom Foundation and Farris and Dan Wilks of Cisco, Texas, in ramping up penalties for trespassing. But at the same time, they softened the burdens on landowners. For instance, they no longer have to post their property every 660 feet. Instead, a "reasonable person" standard applies.
Fair enough. Private property is just that and owners have rights.
But if someone hired an armed security guard to keep people from using a public forest road in Valley County, what then?
What if someone chased hunters off public land in eastern Idaho, claiming it was private?
Say somebody illegally stretched a gate across a frequently used forest road just north of Bogus Basin ski area and east of Horseshoe Bend?
Or what if someone fenced off a stream from a public trail and posted "private property" and "no trespassing" signs?
If keeping the public off public lands, streams and rights of way isn't the mirror image of trespassing, what is it?
You have free articles remaining.
The problem is Idaho's public access laws are not as clear as they should be.
And even if they were, the people who enforce those laws — county sheriffs — have enough on their plates.
So the Idaho Wildlife Federation has offered a fairly reasonable approach.
It clarified your right to access all lands open to the public, all navigable streams, public highways and private lands open to the public through recorded easements, rights of way and access agreements.
Next, it provided a series of fines for illegally interfering with public access. Within two years, the first offense carries a warning. The second would be an infraction with a $200 fine. The third would be handled as a misdemeanor with a $1,000 fine but no threat of jail.
Finally, it would empower individuals to enforce their rights through civil action, giving the offending party 72 hours to cease and desist. If he refuses to do so, then a judge could bill him for the other side's legal fees and damages. That could be a real factor if, for instance, a hunter who draws a rare tag was illegally barred from accessing public lands.
You'd think such a bill would get a fair reception.
After all, in a state where public lands and outdoor recreation are inextricably linked, access is a value shared across all political shades. Even a legislative task force that targeted federal land ownership in Idaho acknowledged hearing "consistent support for continued public access to public lands regardless of their management by the federal government or the state."
Access is so important that Idaho Fish and Game has invested more than $1 million to keep the gates open to state-owned lands.
But when it came time to merely introduce the bill — and give it a public hearing later — the GOP majority on the House Resources and Conservation Committee balked.
Thanks to Sen. Fred Martin, R-Boise, that's not the end of it. He managed to have the bill printed by the Senate Resources and Environment Committee. But the Senate killed a similar bill last year. And some members, notably Sens. Bert Brackett, R-Rogerson, and Jim Gurthrie, R-McCammon, have more sympathy for those who would fence people out — even when the fences are in the wrong place.
"Many fence lines are not on property lines," said Brackett, a rancher. "They weren't when they were put in 100 years ago, and they're still not. ... I don't know where my fence lines are, many of them."
Here's just one more reminder about who has influence with the Idaho Legislature — and who does not. — M.T.
Marty Trillhaase is the Editorial Page Editor for the Lewiston Tribune.