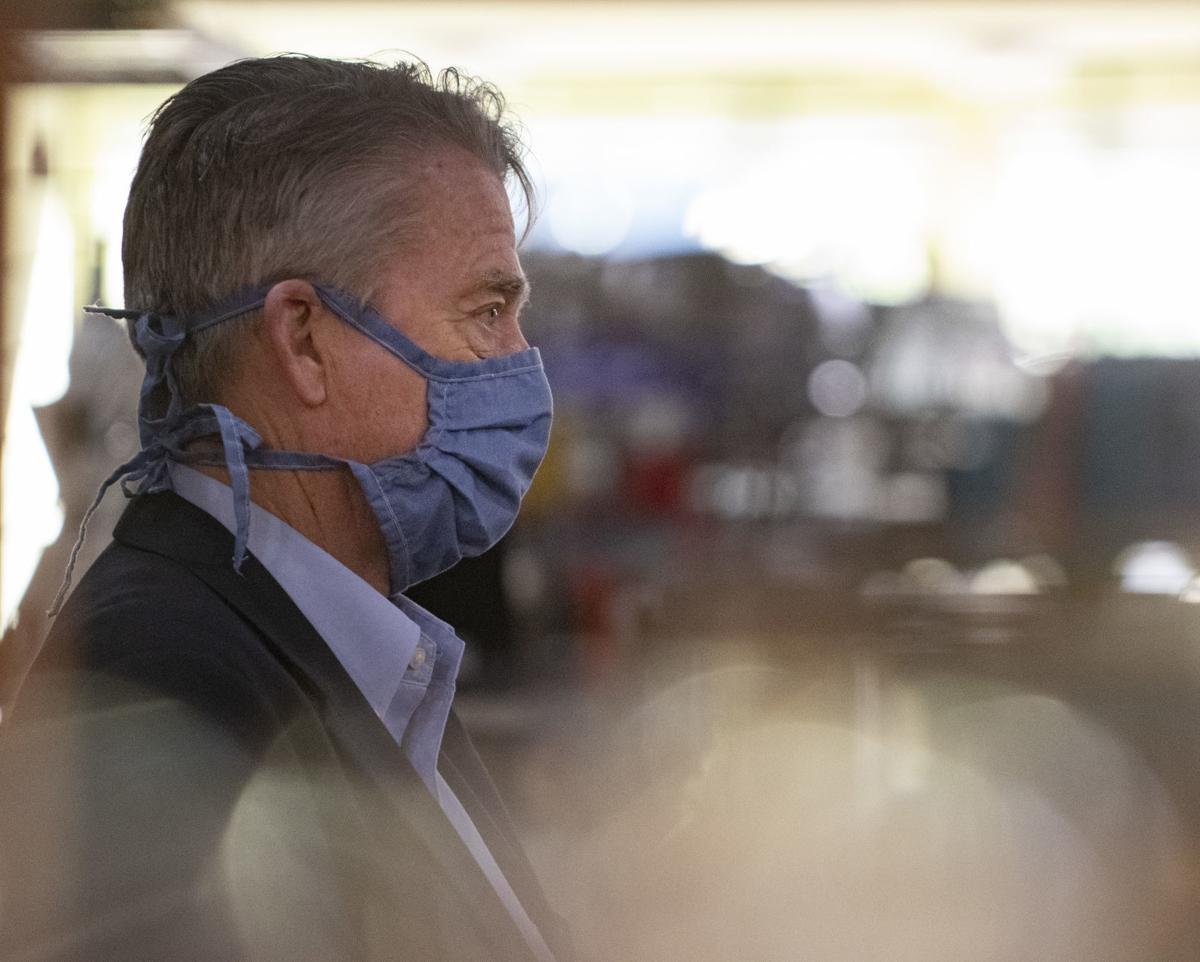 Idaho Gov. Brad Little just pushed Idaho into Phase 2 of the state's reopening plan, but truthfully, Little is between a rock and a hard place.
The hard place is that Little has constituents who are still saying that coronavirus is a hoax, that COVID-19 isn't that bad and that stay-home orders are tyrannical, unconstitutional and the equivalent of Nazi Germany.
Armed protests, open defiance and a guest opinion piece from Lt. Gov. Janice McGeachin telling government to get out of the way all suggest a simmering insurgency that threatens to boil over if Little clamps down too tight.
But the immovable rock is a legitimate threat of a full-blown health crisis. The majority of Idahoans and business owners have taken all of this seriously and are continuing to do so — even to the point that some are not reopening when their stage comes, but waiting longer to make sure they have every precaution in place.
Those Idahoans are practicing what Little on Thursday called "Idaho common sense."
"A good dose of Idaho common sense is what's required here," Little said during a live-streamed press conference.
Little has repeatedly said that he would rather rely on peer pressure and education to maintain guidelines, rather than enforcement by authorities. Although he said businesses that open outside the parameters of the plan risk losing their licenses, Little has maintained a hands-off approach.
This balancing act has worked so far, but as we move into Stage 2, we have concerns.
There will be more and more pressure on businesses to start opening before they're supposed to. The businesses in Idaho City all decided to reopen on May 1. A Meridian hair salon reopened last week. A Nampa bar opened, with the message, "We truly do not care if you disagree."
Without real enforcement, we're likely to see more of this.
When asked by Kevin Richert of Idaho Education News whether he was contemplating any action against schools holding in-person graduation ceremonies in violation of the order, Little simply said, "No, next question."
As we see more and more of these acts of defiance, we're certain to see a spike in cases. How much of a spike will depend on how many violators we have.
Let's look at just one such act of defiance.
A food processing plant in Weiser shut down this week when at least seven employees tested positive for the coronavirus after attending a family gathering of at least 30 people, including some from Utah.
Here's the real problem: The food processing factory, Fry Foods, wasn't approved to test all 260 employees at the Weiser facility — only about 50 or 60 who likely came in contact with the employees who tested positive. Other employees were able to get tested on their own.
Testing is a crucial piece of the puzzle to stopping a widespread outbreak. Without testing the other 200 or so employees, how are we to know whether they became infected? To have 200 possibly infected people continue to go about their business, go to the barber or salon, or go to a restaurant, as we said in an earlier editorial, is a recipe for disaster.
Even if Idaho were to have more robust testing, the state is still working on ramping up its contact tracing efforts.
State Health and Welfare Director Dave Jeppesen said Thursday that the state is hiring and training 255 tracers, which is a good start. A new Harvard report out this week suggests Idaho will need more like 500-550 tracers, Jeppesen said.
The governor up until now has simply relied on a majority of business owners and residents — people who luckily are not in line with the right wing of his party — to model appropriate behavior. He has given orders of closure, but he has made clear that violating those orders will not result not in punishment. Instead, he'll continue to say Idaho is doing just fine policing itself. He probably never had any intention of penalizing places that did not comply.
And to be fair, it would be a very tough decision to make examples of businesses and penalize them. And yes, it would cause even more of an uproar from the far-right fringe. But it's also, as the governor has said himself, completely unfair and disrespectful for those places to open and flout legal orders, safety concerns, social distancing, etc. So why shouldn't they be penalized?
Moving into Stage 2 is not a free-for-all license to go back to business as usual. As restrictions ease, we're bound to see a mild spike in cases. Further defying restrictions and going beyond the limits of Stage 2 could cause a more serious spike in cases and, unfortunately, deaths.
Little's approach so far has allowed him to thread the needle.
But the space between that rock and a hard place is closing, and becoming harder to navigate. Without voluntary compliance, enforcement is Little's only remaining option.
Catch the latest in Opinion
Get opinion pieces, letters and editorials sent directly to your inbox weekly!