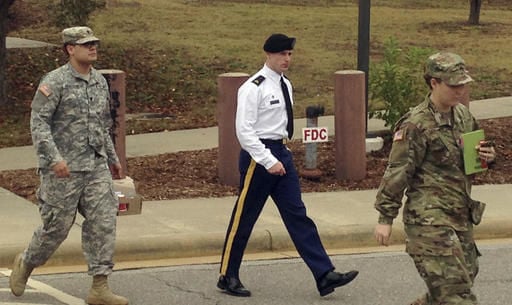 Not long after he waded into the presidential campaign five years ago, Donald Trump picked an Idahoan as practically the first object of his hyperbolic vitriol.
His name: Army Sgt. Bowe Bergdahl.
The Hailey resident was a ready-made target for the tough-talking Trump.
After leaving his post in Afghanistan in 2009, Bergdahl had been captured by the Taliban. Five years later, President Barack Obama got him back by trading the release of five Taliban operatives from Guantanamo Bay, Cuba. That drew immediate fire from Republicans in Congress, although, notably, not from the four-member Idaho delegation that lobbied for Bergdahl's release. Not only did the GOP think Obama paid too steep a price, but three soldiers were injured while searching for Bergdahl, including one who suffered a head wound leaving him unable to speak and bound in a wheelchair.
If Trump had his way, however, Bergdahl would have become the first American service member to suffer the death penalty for desertion since Pvt. Edward Donald "Eddie" Slovik faced a firing squad in Europe on Jan. 31, 1945.
In August 2015, Trump told a New Hampshire audience that Bergdahl was "a dirty rotten traitor." Twice, Trump pretended to fire an imaginary rifle. Then, he said: "Bing bong."
By October of that year, Trump told one of his rallies in Las Vegas: "We're tired of Sgt. Bergdahl, who's a traitor, a no-good traitor, who should have been executed. ... Thirty years ago, he would have been shot."
That same month, Trump promised: "You probably can't do it, but if I win, I may just have him flown back in the middle of that place and dropped him, right in the middle. Let them have him. Let him have them. That's cheaper than a bullet."
A few weeks later. Trump said: "In the old days when we were strong and wise, we (would) shoot a guy like that."
Around the time he was formally nominated for president in July 2016, Trump said: "Remember the old days? A deserter, what happened?" Drawing a bead with an imaginary gun, Trump pulled the trigger and uttered: "Bang."
It was never that simple.
A military investigator concluded Bergdahl — whose emotional problems caused him to be washed out of basic training in the U.S. Coast Guard in 2006 before the Army issued a waiver and accepted his enlistment two years later — suffered from delusions when he walked away.
At the hands of the Taliban, he was beaten with copper wire, spent years in a cage and endured malnutrition and gastrointestinal ailments.
He was charged with desertion and misbehavior before the enemy — a rarely filed allegation that could have produced a life sentence.
In 2017, Bergdahl pleaded guilty. His ultimate sentence was harsh, but just: dishonorable discharge, reduction in rank from sergeant to private, forfeiture of pay, but no prison.
By then, Bergdahl's commander in chief tweeted: "The decision on Sergeant Bergdahl is a complete and total disgrace to our Country and to our Military."
All of which told Bergdahl's friends and neighbors back home that Trump could be cruel, even reckless. But at least they perceived in all that bombast a president who placed a high value on the lives of their service people.
Unless, of course, it means tangling with Russian President Vladimir Putin.
On June 26, the New York Times reported that the White House learned in March how Russia placed a $100,000 bounty on the heads of American soldiers in Afghanistan. Since then, the Washington Post, the Associated Press and others have confirmed it.
The Washington Post also reported intelligence officials believe an April 2019 convoy attack that killed three U.S. Marines and wounded three other service members in Afghanistan was tied to the bounty program.
You can get into a parlor game of what the president knew about this and when did he know it. Trump said he didn't get the word — which might be plausible given his reluctance to read the Presidential Daily Brief.
But it's been almost two weeks since Trump read it for himself in the media. What has he done?
Did he come before the American people?
Did Trump assure them he would get to the bottom of this?
Did he make it clear the safety of our troops was paramount and that he would do everything possible to protect them?
Instead, he labeled it a hoax and sent his minions before the cameras to suggest the intelligence community was divided on this issue. People in the field say that's not unusual. Intelligence reports are rarely absolute.
What is unusual is the complete lack of presidential response.
Sixty times during the course of two years — according to the American military newspaper Stars and Stripes — Trump condemned Bergdahl.
Wouldn't you feel better if he stood up to Putin?
Marty Trillhaase is the opinion page editor for the Lewiston Tribune.
Catch the latest in Opinion
Get opinion pieces, letters and editorials sent directly to your inbox weekly!