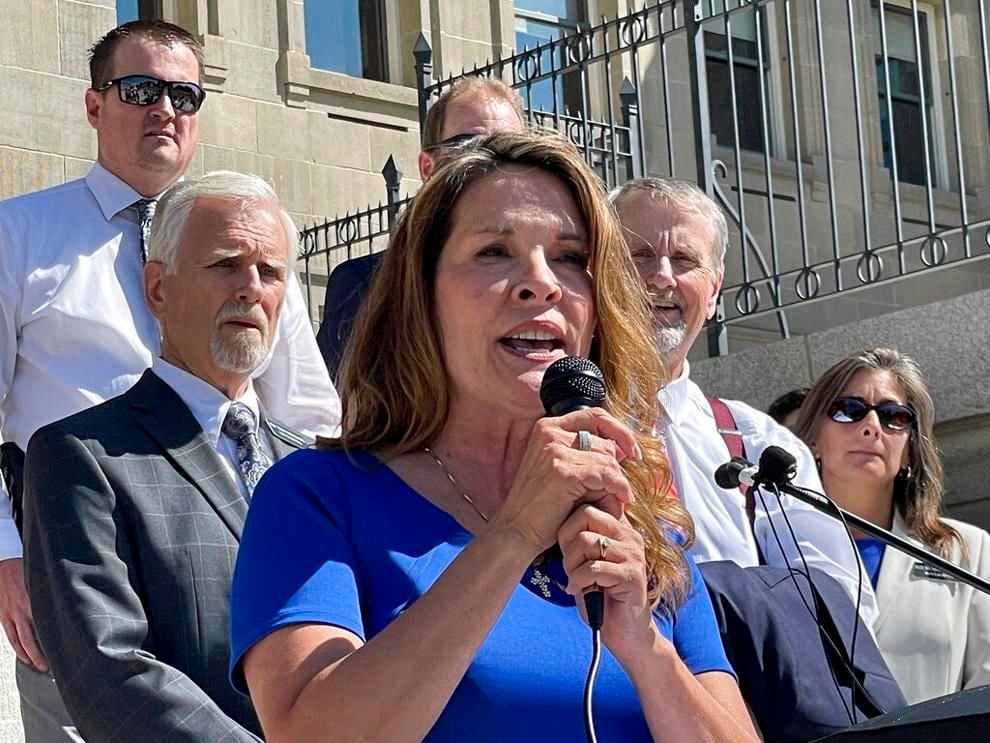 This week two scenes — a tragedy and a farce — played out in Idaho.
The entire state of Idaho entered Crisis Standards of Care on Thursday, as hospitals finally buckled under the weight of Idaho's large unvaccinated population. A day before, several far-right members of the Idaho House met at the Capitol, trying to force lawmakers back to ban efforts to get more of the population vaccinated. Those in attendance included Rep. Ron Nate, R-Rexburg; Rep. Karey Hanks, R-St. Anthony; Rep. Dorothy Moon, R-Stanley; and Rep. Chad Christensen, R-Ammon.
Around the nation, stories of the "collateral damage" of the unvaccinated's decisions are starting to come in. A 12-year-old boy in Florida sat for hours, shaking with pain, in an ER with no room because of unvaccinated COVID-19 patients. By the time he was finally diagnosed with appendicitis and sent for surgery, his appendix had burst, which is potentially fatal. He lived, luckily.
Not everyone waiting for a hospital bed will.
As lawmakers met in the Capitol, more Idahoans were hospitalized with COVID-19 than at any other time during the pandemic, and every indication is that infections are continuing to rise at a break-neck pace.
And while people died in ICUs, while sisters and brothers and husbands and wives mourned, while people experiencing chest pains waited for an overwhelmed hospital to have time to see them, the buffoons on the steps of the Capitol gave speeches.
"I've just got all kinds of things happening up north where you wouldn't expect it," said Rep. Heather Scott, R-Blanchard, according to the Idaho Press. "I've got elderly people that are at home who are in pain, and they won't take them in the hospital."
That's happening, Rep. Scott, because people aren't vaccinated. And you are actively fighting measures that would get more people vaccinated. You are responsible for the suffering of your constituents.
Rep. Nate attempted to introduce a bill that would have defined any vaccine requirement as a criminal assault. If you can't get a hospital bed in the coming weeks, thank him.
As the political circus played out, serious, moral people were finding the resolve to keep going against impossible odds.
At Eastern Idaho Regional Medical Center's ICU, Dr. Kenneth Krell left a message of strength for his colleagues in trying times, according to Sally Krutzig of the Idaho Statesman.
"In the end what sustains us, and what we will remember about having survived this madness, are the remarkable people who endured this with us, the best of humanity — all of us — who demonstrated the best of our calling. We endured this together and supported each other. We saved lives and lost lives, and we did both with compassion and competence. We will not forget this."
Our contempt for the death cult in our Capitol should be matched only by our gratitude to doctors and nurses who are pulling us through this crisis, who continue to endure as they lose patients that could have saved themselves with a simple, free shot.
The Post Register's editorial board consists of Publisher Travis Quast, Managing Editor Monte LaOrange and editorial writer Bryan Clark. Clark can be reached at 208-542-6751.