Twin Falls — Weddings take a lot of work, but do yourself a favor and attend the Twin Falls Bridal & Party Expo today from 10 a.m. to 4 p.m. at Radio Rondevoo Event Center, 241 Main Ave. W.
Make it simple
More than 50 professionals were set up for the Twin Falls Bridal & Party Expo at Radio Rondevoo Friday evening. Vendors specializing in flowers, cakes, photography and more will be there again today.
This is your one-stop shop if you're planning a wedding in the new year.
A common theme among many vendors was a simple and personalized style.
Nailed it
You might want to skip the nail salon after trying Color Street, a nail polish in sticker form. It adheres to your nail like polish — and looks like it too.
Tara Becker started selling Color Street two years ago. This year was her first year as a vendor at Twin Falls Bridal & Party Expo.
There are 16 double ended strips in one pack, which cost between $11 to $13 depending on style. Becker said the sticker polish lasts up to two weeks. It also makes a great bridal party gift.
Bake it special
It's not just about wedding cakes anymore. Ginny Behr owns Today's Creations, a bakery in Burley. She said contemporary brides and grooms want a little of everything. That means brownie cakes, cupcakes and small cakes — sometimes in addition to a wedding cake. A couple of years ago, Behr added a doughnut wall to her repertoire of desserts.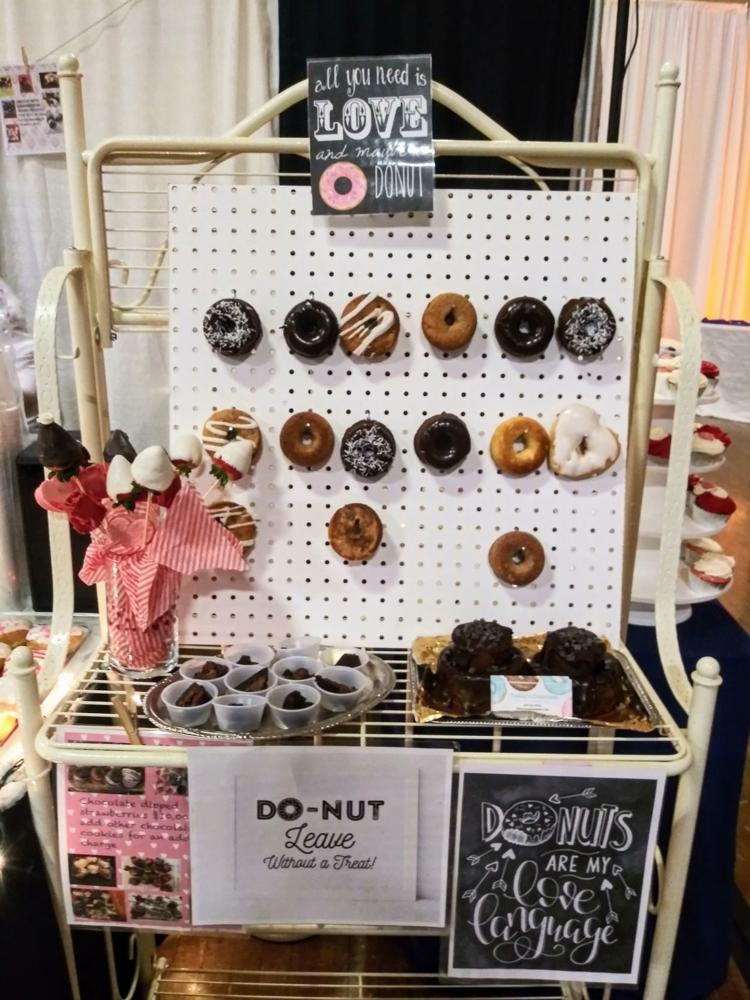 Doughnuts are popular at weddings, Behr said, because guests can walk around with them, rather than waiting to be served.
The doughnuts come in a variety of flavors from S'mores to Rocky Road, and even Margarita.
Picture of trust
Bethany Cook hated her wedding photos, which led her to become a wedding photographer.
Cook has owned Set In Time Photography in Twin Falls for 10 years. Over the years, she has specialized in senior photos, wedding photos and family photos.
But wants to make 2020 all about weddings.
You have free articles remaining.
"This year my goal is to focus more on weddings," she said.
Her advice to couples is to check out a photographer's work first to make sure they trust the photographer's vision and eye.
"You cannot go back and recapture that day," she said. "You get what you pay for."
Personal touch
Jennifer Gould of Wayment Manufacturing Inc. said personalized engravings on raw wood are popular for weddings. Other popular items are engraved beer steins and shot glasses for groomsmen.
The Filer-based company can engrave on almost any type of material.
Forget paper — the company can engrave wedding invitations on sheets of wood, coasters or spatulas using a laser.
Need a wedding topper for your cake? A wooden cut-out of a bride and groom might cost between $10 and $15, depending on size.
"It's a customizable shop," Gould said. "So anything people can come up with, we can probably do it."
No such thing as lashes that are too long
Long eyelashes are trendy — whether you are getting married or still single.
Brenda Van Leeuwen always wanted long lashes.
"They make me feel so much prettier," she said. "I would have loved to have had long lashes my whole life, but I had to wait until I was this old."
She started selling Tori Belle magnetic lashes in August last year. It was her first time setting up a booth at the Expo Friday night.
Van Leeuwen said to skip lash extensions at the salon. Magnetic lashes will save brides time and money. They cost about $55 for a set and last for up to 30 wears.
You simply apply magnetic eyeliner and the lashes with six small magnets on them.
And voila! You have long lashes for your big day.