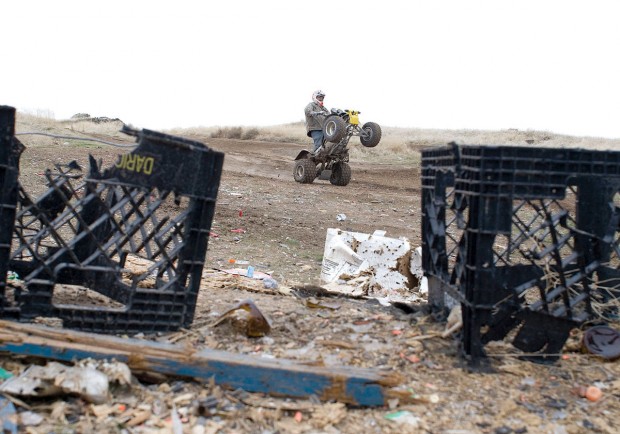 It's time to talk about responsible gun ownership.
Drive — or if you're brave, walk — through the Snake River Canyon Park on any given day and it feels more like touring the city dump than a place set aside for outdoor recreation.
And while there's satisfaction to be had in firing that first shot at an unmarked refrigerator door or blowing the dials off a washer and dryer set, it's irresponsible to drive an appliance onto shared public land for the purpose of target practice and leave its bullet-riddled body there to rust.
Come this May, large amounts of community resources will be expended to clean up litter-filled shooting sites in the park, a 7,000-acre piece of land just east of U.S. Highway 93, on the north rim of the Snake River Canyon.
Business owners will donate the use of roll-off Dumpsters and front loaders. Volunteers will give up their weekend. Tax money will be spent overseeing the removal of tons of appliances, car parts and shattered sheet rock.
This month, the Jerome County commissioners announced they would host public meetings to discuss a crackdown on littering in the Snake River Canyon Park.
Though no decision has been made and no timeline has been set, commissioners suggested they might weigh a limit or ban on shooting.
While gun ownership is a constitutional right, shooting on public land is a privilege. Gun owners who enjoy that privilege and would like to see it continue should make every effort to show that littering does not go hand-in-hand with recreational shooting.
And, they should demonstrate that target practice can happen safely amid the many other uses people have for the park.
Ranchers with grazing permits have spoken of cows being shot and an overall change in the number of shooters and the kind of weaponry being used. The trend has moved from a small number of people using .22 caliber and small rifles in the park, to a larger number of people firing higher caliber and semi-automatic weapons.
"It's no longer your standard dad teaching his kid to use a .22," said John Kurtz, an outdoor recreation planner with the U.S. Bureau of Land Management. "And along with that shift are the inherent dangers. How far can a bullet travel and how much damage can it do?"
With the increasing use of the park, many of the safe places to shoot — places with a backstop to keep bullets from flying over a rise toward an unsuspecting ATV rider or rancher — are taken by mid-morning, Kurtz said. That doesn't stop latecomers from setting up target practice on a flat stretch of land.
When a Times-News reporter and photographer visited the Snake River Canyon Park this past week, the reporter described "bullets flying over our heads, but we couldn't see the shooter."
While it's time to discuss limiting where we can shoot in Snake River Canyon Park, the county commissioners should act carefully if they do choose to restrict that freedom.
Calling public hearings is the first step. These decisions cannot be made in a vacuum. By year's end, commissioners should have a plan in place for the direction they want to take, then spend the winter educating the public about any changes on the horizon in time for the spring shooting season.
"Whatever is going to be done, will be a cultural shift," Kurtz said. "The message needs to get out in time for every user to digest."