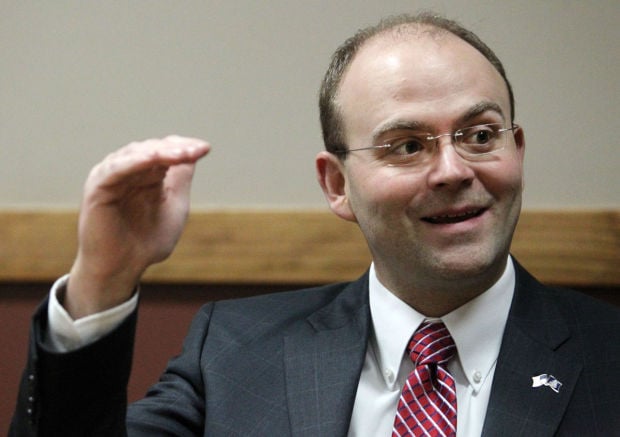 It's pretty clear that ideas for campaign finance reform and improving Idaho's elections keep Phil McGrane up at night. Ada County's deputy clerk is an election wonk, a man whose eyes light up when talking about legal minutia that could make an election run smoother or a campaign more transparent.
That's why "the kid" as he's dubbed by one of his opponents — he's only 33 years old — should win in the May 20 GOP primary for Idaho secretary of state. We're confident, if elected, McGrane would overhaul the outdated campaign finance reporting system, champion more frequent campaign reports and bring Idaho's elections into the 21st century, a shortcoming noted recently by a Pew Charitable Trusts analysis.
The Republican field of hopefuls looking to succeed Ben Ysursa is a packed one. McGrane is one of four candidates seeking to take the Republican line and face Democrat state Rep. Holli Woodings in November. State Representative and former House Speaker Lawerence Denney, and former Idaho lawmakers Evan Frasure and Mitch Toryanski, a retired U.S. Army colonel, round out the GOP field.
All three opponents point to McGrane's lack of political experience — he's never before sought an elected office — as if it's a strike against the kid. We disagree.
The secretary of state post, in a perfect world, would be entirely non-political. That's, of course, not the case. The job requires oversight of elections, redistricting and campaign finance. It's bound to lead to occasional spats between the state's election magistrate and a disgruntled lawmaker or two. But someone with Denney's baggage cannot do the job with the objectivity required. He has too many friends. He has too many enemies.
We liked Frasure, and found him knowledgeable and reasonable. But he's also hard to engage. Put simply, he dominates a conversation. We believe that would hurt his chances of getting lawmakers on board with needed reform and self-policing.
Toryanski's West Point resume, which includes several posts as a state attorney, is impressive. But we found his answers to our questions seriously lacking in detail. We expected more.
Each of McGrane's opponents went right to the State Board of Land Commissioners (Land Board) when asked why they are running. They went directly to the one part of the job that's purely tertiary and political. We agree the state's ownership of cottage sites and storage units is something that should be examined. But arguing that the Land Board spot is the key part of the secretary of state's job is flatly incorrect. It's no different than claiming the state attorney general should spend the bulk of his time on Land Board issues, which is absurd. McGrane's opponents are hitching to the wrong cart.
Ask McGrane why he's running and you'll get years' worth of new ideas for bettering elections in Idaho. He's a self-groomed secretary of state in waiting. On-demand ballots, post-election audits, online voter registration and new voting technology are the things that keep him up at night. That's why he's clearly the best candidate.