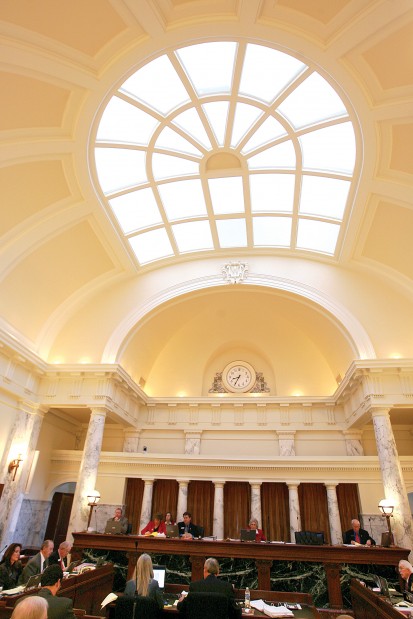 On Tuesday, Huckleberries — an Idaho blog of the Spokesman-Review newspaper in Spokane, Wash. — posted an online poll that asked readers, "What scares you more: the Idaho Legislature in the Statehouse or wolves in the forest?"
The legislators won, 74 percent to 10 percent.
Just in time for House Bill 343, which would allow the governor to declare a wolf emergency and ask city and county law enforcement officers to hunt down the predators.The House passed it 64-5 on Tuesday and the Senate Resources and Conservation Committee — which used to be the most-respected in the Senate — approved it 7-2 on Wednesday. The full Senate will consider the legislation today.
The bill's sponsor, Rep. Judy Boyle, R-Midvale, said residents of her west-central Idaho district are scared of wolves. Rep. Lenore Barrett, R-Challis, said, "The wolves eat better than anyone else in Custer County," and threatened to weep if the House didn't pass the bill.
You have free articles remaining.
It's reality check time, folks. This state has 705 wolves, or one wolf for every 119 square miles.
No wolves have been documented attacking humans, but the predators kill dozens or hundreds of sheep, cattle, hunting dogs and wild game including deer and elk annually. There's currently a proposal in Washington, D.C. to lift federal protections from wolves, and an agreement is in the offing to allow the Idaho Department of Fish and Game to resume managing wolf populations.
Any governor would need his head examined if he invoked HB343, sending cops traipsing off into the backcountry while there are real criminals on the streets. But Idahoans need not worry: As state Sen. Elliot Werk, D-Boise, pointed out, the legislation is almost certainly unconstitutional, and if passed by the Senate and signed by Gov. C.L. "Butch" Otter will eventually be thrown out in court.
Far more worrying is the fact that our Legislature has completely abandoned reasoned discourse.
Under every speaker of the House and president of the Senate we can think of — extending back to Pete Cenarrusa and Jack Murphy — lawmakers took pride in not wasting their constituents' money on hysterical nonsense.
That's not the case anymore.
Catch the latest in Opinion
Get opinion pieces, letters and editorials sent directly to your inbox weekly!