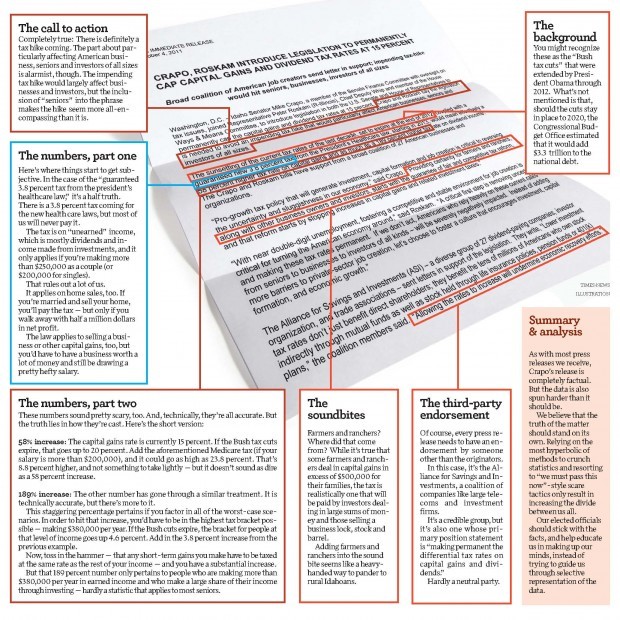 Every day, the Times-News gets dozens of press releases. They come to us from stores, musicians, and politicians, all looking for free publicity for their event or platform. Most of the time, we're happy to lend them space, but we also like to check all releases for both spin and accuracy before we publish them. In the interest of transparency, here's a look at a recent release from Sen. Mike Crapo , R-Idaho. In this case, the release is accurate, although much of the data is represented to look scarier than it might actually be.
Completely true: There is definitely a tax hike coming. The part about particularly affecting American business, seniors and investors of all sizes is alarmist, though. The impending tax hike would largely affect businesses and investors, but the inclusion of "seniors" into the phrase makes the hike  seem more all-encompassing than it is.
You might recognize these as the "Bush tax cuts" that were extended by President Obama through 2012.  What's not mentioned is that, should the cuts stay in place to 2020, the Congressional Budget Office estimated that it would add $3.3  trillion to the national debt.
Here's where things start to get subjective. In the case of the "guaranteed 3.8 percent tax from the president's healthcare law," it's a half truth. There is a 3.8 percent tax coming for the new health care laws, but most of us will never pay it.
The tax is on "unearned" income, which is mostly dividends and income made from investments, and it only applies if you're making more than $250,000 as a couple (or $200,000 for singles). 
That rules out a lot of us.
It applies on home sales, too. If you're married and sell your home, you'll pay the tax — but only if you walk away with half a million dollars in net profit. 
The law applies to selling a business or other capital gains, too, but you'd have to have a business worth a lot of money and still be drawing a pretty hefty salary.
These numbers sound pretty scary, too. And, technically, they're all accurate. But the truth lies in how they're cast. Here's the short version:
58% increase: The capital gains rate is currently 15 percent. If the Bush tax cuts expire, that goes up to 20 percent. Add the aforementioned Medicare tax (if your salary is more than $200,000), and it could go as high as 23.8 percent. That's 
8.8 percent higher, and not something to take lightly — but it doesn't sound as dire as a 58 percent increase.
189% increase: The other number has gone through a similar treatment. It is technically accurate, but there's more to it.
This staggering percentage pertains if you factor in all of the worst-case scenarios. In order to hit that increase, you'd have to be in the highest tax bracket possible — making $380,000 per year. If the Bush cuts expire, the bracket for people at that level of income goes up 4.6 percent. Add in the 3.8 percent increase from the previous example.
Now, toss in the hammer — that any short-term gains you make have to be taxed at the same rate as the rest of your income — and you have a substantial increase.
But that 189 percent number only pertains to people who are making more than $380,000 per year in earned income and who make a large share of their income through investing — hardly a statistic that applies to most seniors.
Farmers and ranchers? Where did that come from? While it's true that some farmers and ranchers deal in capital gains in excess of $500,000 for their families, the tax is realistically one that will be paid by investors dealing in large sums of money and those selling a business lock, stock and barrel. 
Adding farmers and ranchers into the sound bite seems like a heavy-handed way to pander to rural Idahoans.
The third-party endorsement
Of course, every press release needs to have an endorsement by someone other than the originators. 
In this case, it's the Alliance for Savings and Investments, a coalition of companies like large telecoms and investment firms.
It's a credible group, but it's also one whose primary position statement is "making permanent the differential tax rates on capital gains and dividends."