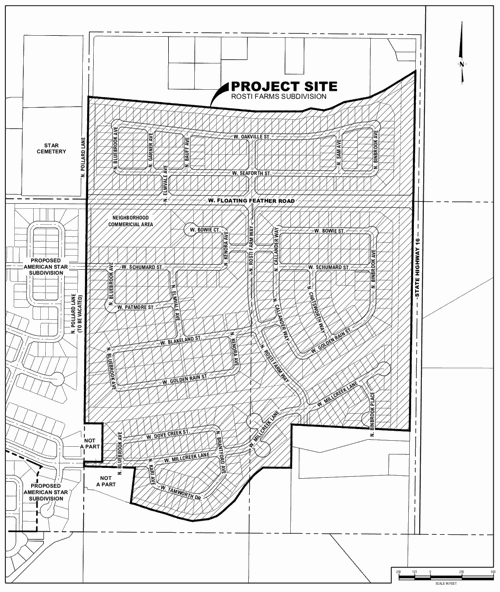 STAR — One of the nation's largest home-builders wants to build 469 houses in an area of Star that is rapidly transforming from farmland to rooftops.
Toll Brothers, a home construction company based in Horsham, Pennsylvania, has applied to build the subdivision on 171 acres owned by the Rosti family off HIghway 16, north of State Street.
Kari Rosti said by phone that the land is under contract and has not yet been sold to Toll Brothers. She declined to comment further. Toll Brothers could not immediately be reached for comment.
The developers are asking that the area, which is currently zoned as rural urban transition, be zoned to allow five houses per acre.
The subdivision would be built in at least eight phases. A house and other buildings on the property would be removed in a few years, according to the application.
The subdivision, tentatively called Rosti Farms, would include a pool, playground and several pathways, according to Toll Brothers' application to Star. It would also include a 191,209-square-foot space for a future commercial development, such as a car wash or gas station, at the intersection of Pollard Lane and West Floating Feather Road.
At full build-out in 2027, the subdivision is expected to generate about 5,832 car trips per day.
The development is just one of many new projects that have sprung up in Star in recent years as it has transformed from a rural farm town to one of Boise's fastest-growing suburbs. Much of the growth has sprung up near the intersection Idaho 16 and Idaho 44, or State Street.
Southeast of the intersection, M3 Cos. is planning to propose a 268-house subdivision on a 145-acre lot at 7575 W. Moon Valley Road. To the southwest, Boise lawyer T.J. Angstman is building a 196-unit apartment complex called Crystal Springs. And a company managed by Brian Black, vice president of Boise's Ameritel Inns Inc., recently bought a parcel at the northeast corner of Highway 44 and Highway 16.
Nearby the proposed Rosti Farms subdivision, and just East of North Plummer Road, the Agoura Hills, California-based company American Homes 4 Rent is building a neighborhood of 240 single-family rental homes.
Be the first to know
Get local news delivered to your inbox!