TWIN FALLS – The downtown revitalization of Twin Falls meant drastically different things to different people.
For contractors, it meant scrambling to meet deadlines as each block of the project neared completion. Restaurant owners, meanwhile, grimaced at declining customer counts. And downtown shoppers watched with nostalgia as the trees they knew and loved were cut down.
But for Urban Renewal Agency Executive Director Nathan Murray, it was about more than tearing up and rebuilding a road.
"It's more than just a street," he said. "We look at it as a place. It is a destination, this whole area of Main Avenue. Think of it almost like your front lawn, in a way."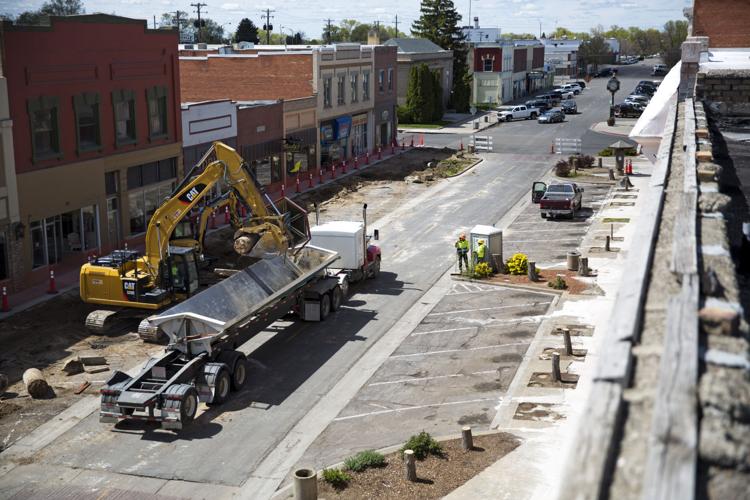 The reconstruction has already resulted in enthusiasm, Murray said. The city has increasingly heard from developers outside the area who are looking at opportunities for housing and offices.
A vibrant downtown, Murray said, is what Twin Falls needs to attract the millennials who are going to fill workforce demands. The path to building that vibrant downtown is a winding one, and it will look different to everyone. Still, step one is complete: reconstruction.
The shopper
When Jamie Miller came downtown this summer, she was shocked to see the large shade trees gone, exposing the businesses on Main Avenue.
Miller, formerly of Jerome, was in town visiting her family. She was not a fan.
But now that new trees are in – albeit smaller ones – it's slowly growing on her. The Washington resident was inside Rudy's – A Cook's Paradise on Nov. 21 with her mother, Kara Vanderlinden, of Jerome.
"It's still kind of shocking not to see the trees," Miller said. "But it's good."
Vanderlinden was pleased with the smooth sidewalks, but said she'd like to see the project extend farther down Main Avenue.
"I like to cruise and see what's new," she said. "I definitely eat down here all the time."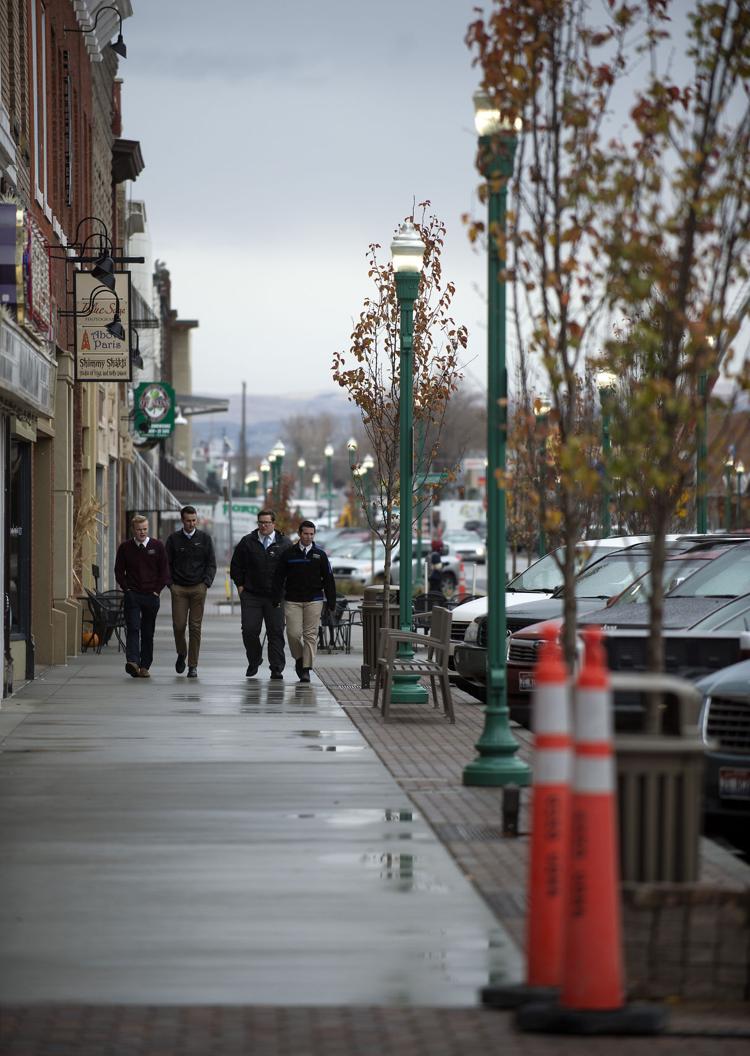 The renovation was also a fresh change for Twin Falls resident Alli Martin, who said it looked weird, but nice. On the drive to Advantage Archery, her children mentioned that the downtown looked busier.
"I said 'That's the whole point,'" Martin said. "'They're trying to attract more people here.'"
Another archery fan, Brent Gough, said he came downtown every day he wasn't working. At times, he had to park a block away because the back parking lot was full.
"The average customer wouldn't do that," Gough said. "It broke their habits. People are habitual."
As a result, he saw a fewer customers at Main Avenue's Advantage Archery. The lack of shade also forced owner Caleb Drake to purchase window shades in the summer.
"I'm glad it's over," Drake said.
The restaurant owner
At several restaurants, getting customers downtown was a struggle that continued well past their respective block's reconstruction.
"It was really, really hard," Javier Serva, owner of Ketchum Burrito, said in November. "We're still really, really slow."
His business had begun to see a decline in clientele even before his block was torn up. Altogether, he estimated he's lost about half of the business he could have had. For a while, he even cut his business hours.
"I know it's going to get better," Serva said. "It's just going to take time."
Still he appreciates the new Main Avenue aesthetic. He, like most downtown businesses owners, said the construction made huge improvements to the overall look and feel of the street.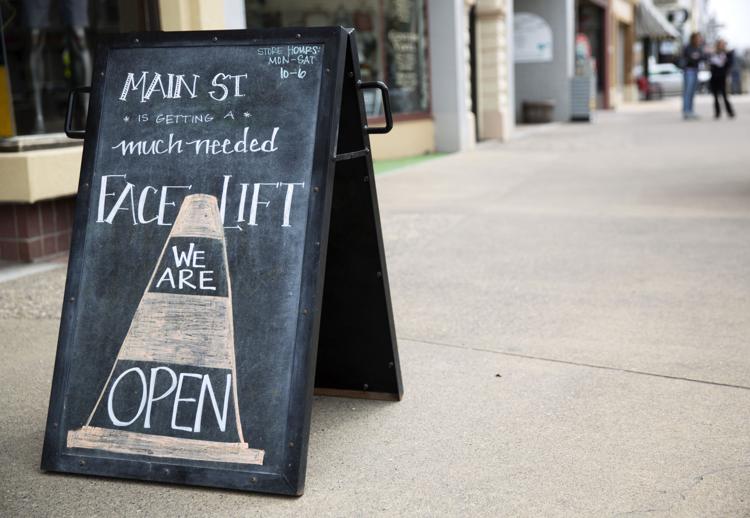 Some Main Avenue businesses – like Rudy's – A Cook's Paradise and Sav-Mor Drug – reported no effect on business during the spring and summer months. Twin Falls Sewing Center reported a potential all-time high in summer sales.
"It's a thousand times better than it was before," said Tim Stastny, owner of Slice Pizza. However, "Twin hates construction – it doesn't matter where you're at. They'll avoid it."
Stastny was irritated that the city had not done more to encourage people to come downtown. He and Guppies Hot Rod Grille owner Aaron Gupton have estimated decreases in business of 30 percent or more when construction was ongoing.

Stastny was also frustrated that more than one block at a time had been under construction; he said he'd been told by the city initially that that wouldn't be the case. Plus, during Western Days, his business had no front door entrance.
Some of his regular customers, he said, specifically told him they would come back when the construction was over. By late November, when almost every block had been completed, Stastny still had about 15 percent fewer customers than usual.
"I think the people have a perception still that there's nowhere to park, and there's still construction going on – which there is," he said in late November.
The concrete worker
With fewer than 60 days to go, workers from Tom's Concrete and Webb's Nursery and Landscape were scrambling to meet the construction deadline for Main Avenue.
"We're just trying to stay caught up," concrete foreman Todd Embretson said as he oversaw activities on Sept. 13.
A looming rain storm was not expected to slow things down much, but any concrete that wasn't dry would need to be covered up.
But the most challenging part of the project, concrete workers and pavers said, was the grading. The buildings along the five-block corridor of Main Avenue weren't constructed at the same level, a quirk that becomes more apparent from a few steps away from the buildings. Contractors had to ensure the sidewalks were level with the doorways, without exceeding a 2 percent slope between buildings to meet ADA guidelines.
There was a noticeable difference between the elevations in front of Blue Lakes Real Estate and Poindexter's Novelty & Costume Store, for example.
"That's at least 6 inches," Embretson said.
When it was finished, the chairs on the sidewalk between Rudy's – A Cook's Paradise – and Sav-Mor Drug were on a slope.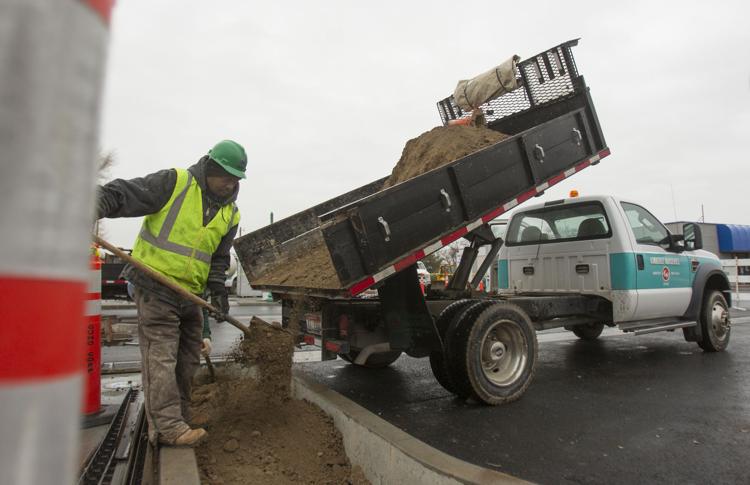 "That's what we had to match," Embretson said, pointing to the clear slope. "It was kind of hard."
It took more than a month to finish that block alone, between Gooding and Shoshone streets.
Leveling was also what foreman Manuel Valdes of Webbs Nursery and Landscape found the most challenging as he laid the brickwork.
"The hard part today was preparing it," he said on Sept. 13.
It took about five hours to level off sand in front of the old Wells Fargo building at the southeast corner of Main Avenue and Shoshone Street. For the remaining three hours, Valdes and his crew made progress on laying the brick.
What also made his job more challenging was that there were only a few guys available during the week – the rest were working other projects. At first, Valdes was putting in around 60 hours a week.
But on the weekend, they'd make up work with overtime and about a dozen guys. This was one project where overtime was permitted, he said.
"We have a date to finish," Valdes said.
The electrical worker
TWIN FALLS – Visitors of Twin Falls might feel a little more plugged in to the city after the downtown renovation project. That's no coincidence.
The new streetscape comes with about 58 electrical outlets per block, said Zachary Schiffler, journeyman electrician and foreman with Magic Valley Electric. This includes outlets at the top and bottom of each light pole, plus plug-in posts in each landscaping feature.
And because there's a different circuit every couple of poles, more food trucks, Christmas lights and sound systems can plug in without causing a power loss, which will come in handy when planning downtown festivals.
"They can have bigger and badder parties," Schiffler said.
The city will have control for which blocks it wants to turn on those electrical outlets, and when. Nathan Murray said the outlets will likely be turned off at all times except during special events on specific blocks. The city was still considering in late November whether it would turn the outlets on for Christmas lights.
Each block also features better lighting, according to Schiffler.
"These are like an LED light, with probably twice the output as the old ones," Schiffler said, pointing to one of the new poles on Nov. 2.
The downtown has about 15 light poles per block. Taller poles at each intersection also provide more light for pedestrian crossings.
With all the bells and whistles, the project was a significant undertaking, keeping Magic Valley Electric "runnin' and gunnin'" until it was done.
"They're pushing us," Shiffler said back in September. "They want it done yesterday. That's the story of my life."
For much of the project, only two or three employees were needed.
"I can only go as far as the contractor ahead of me," Shiffler said, referencing the sequential nature of the project.
But it didn't help when the heads for some of the taller light poles arrived in the wrong color over the summer and had to be shipped back.
By late October, Shiffler had a half dozen employees burning through 30 hours of overtime in a week so they could finish on schedule.
In addition to the employees putting in wiring, they also had to dig 36-inch trenches for electrical circuitry and irrigation.
The light poles have three banner arms – two for signage, and one for a hanging plant. Irrigation tubes feed through the poles to put the baskets on an automatic watering system.
The tree planter
If you bring up the topic of Twin Falls' downtown reconstruction, people often talk about missing the old trees.
Residents watched with mixed emotions as the trees were cut down in February, months later to be replaced with small, less obtrusive saplings. These younger trees have a lot of growing up to do before they begin to resemble what was once there.
The old hardwood trees provided shade to passersby, homes to squirrels and birds and leafy curtains to obscure deteriorating storefronts. But they were also part of the problem: At around four decades old, their root systems had pushed up Main Avenue's sidewalks, creating a tripping hazard and an eyesore.
Contractors involved in the project say the new trees will help conserve water and spare the new sidewalks from future root damage, while still making the downtown aesthetically pleasing.
"These trees are supposed to be better suited to an urban setting," Guho Corp. Project Superintendent Rob Cloninger said. Guho oversaw the downtown reconstruction.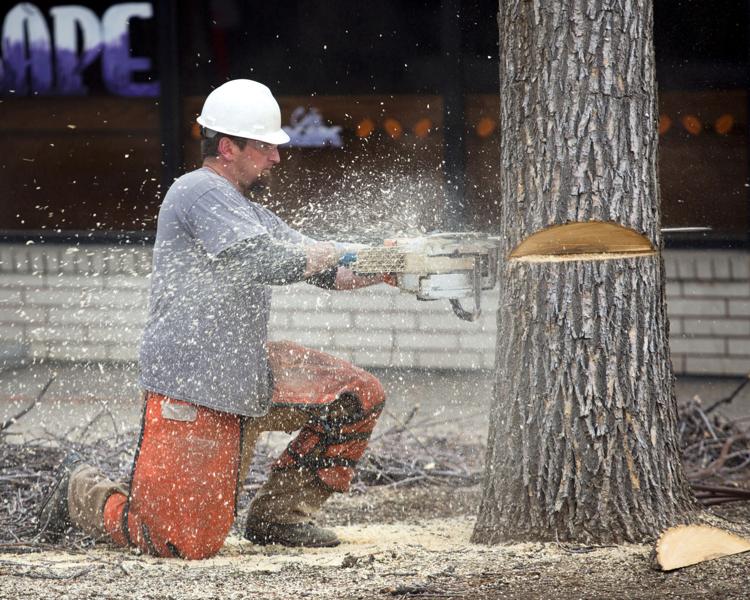 Their final selection didn't quite go as planned. On some blocks of Main Avenue, such as between Fairfield and Gooding streets, last-minute changes on tree species ensured the city would get quality saplings from Oregon tree farms.
From Fairfield Street to Gooding Street, contractors planted green vase zelkova. Chanticleer pear are growing from Gooding Street to Hansen Street, and greenspire linden from Hansen Street to Jerome Street. Newport plumb trees grow at either end of the five-block project, and tulip trees were planted at the end planters of several blocks.
The city saved some money on removing the 160 or so trees that were in place before, but contractors didn't have to take out the old root systems entirely since the trees won't grow back.
The newly reconstructed blocks of Main Avenue now have about 40 fewer trees.
"They were really packed in there before," Cloninger said.
In addition to tree selection, the city also took other measures to ensure the roots would not encroach on the sidewalks. Each 4-foot-by-6-foot tree well is lined with a hard plastic sheet that's snapped together called a root guide. This should box in the tree roots to drive them down.
A deep root watering system will also help, with a screened canister extending a couple feet down into the ground, filtering the water into the earth on either side of the tree roots. The system is covered with a cast iron grate and layer of weed barrier and pea gravel, which Cloninger said should decrease evaporation.
This method of watering should also conserve water, he said, as the deeper soil stays moist for longer. The trees before were getting watered with a system that was closer to the surface, he said.
"If the water doesn't go down, those roots will stay high," Cloninger said. "They're going to follow where there's moisture."