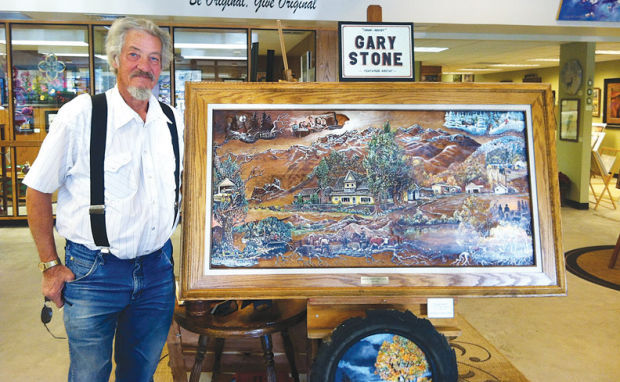 I've been a fan of Gary Stone's artwork before I ever met him. I met his mother-in-law Martha "Marty" Ellinger more than a year ago when she was the first personI interviewed for my "Your Neighbor"column.
In Marty's home was a painting by Gary of a Nebraska twister ravaging a farmhouse. I went to college in Nebraska and it reminded me of the first time I had to retreat to the basement of my dorm during a passing storm. I also loved this piece because it told a story, the vivid imagery almost seemed alive, a moment frozen in time.
Gary, 74, was born in Burley, but now lives in Kimberly. He has been an artist for 43 years.
The story of Gary's career started in the unlikeliest of places — a hospital bed.
It was 1970 and Gary was in Sun Valley trying out the newest buckle ski boot design. Eventually this new boot was later banned, Gary said, but not before he broke both of his legs.
"It was a hamburger break. They almost took my right leg," Gary said.
He was in the hospital for two months and in a long leg cast for two years. To pass the time, Gary started to paint and "took to it like a duck on water."
Eventually, Gary's artwork started spilling into the hallways of the hospital and people bought them. He also started a little side project of painting people in the hospital. Gary's wife, Bev Stone, said that was so popular that there was a line out of the door.
He eventually left his job at an airline company to pursue his passion for art.
Gary studied art at Brigham Young University in the 1950s.
"In those days you couldn't make money as an artist. Only if you were a sign painter," he said.
In the 1960s, he was hired by a sign company in Boise where Gary said he learned from the best in the business. The 80-year-old owner taught him everything he need to know, including how to make his own paint.
In 1974, Gary created his own art form called "wood-cut painting," which the picture is actually carved into wood and then the detail is painted.
Gary said all his paintings tell a story. Much of his work is based on pioneer diaries and western history. There are also a few modern pieces such as a scene in Afghanistan, which is based on his grandson's four tours flying Chinook helicopters.
He has sold paintings to Paul Harvey, a long-time radio broadcaster, famous actors and three U.S. presidents, he said. Gary and Bev published a book, "Stone by Stone on the Oregon Trail" based on pioneer journals and filled with Gary's artwork.
However, locally he might be best known for his mural at the Magic Valley Regional Airport in Twin Falls. The mural is 9-feet-by-47-feet and Gary said he has been working on it for 20 years. He still doesn't consider it finished and had plans Thursday to work on it more.
"You can put your finger on any point in the mural and it tells a story," he said.
Gary's artwork has taken him across the country and the world, but always back to Idaho. Looking back at that time in the hospital, Gary said he never dreamed his artwork would shape his life the way it did.
He said he is now planning to pass on his knowledge to his great-grandchildren.
He is currently working on five new paintings and said he knows what they will look like even before they are finished.
Gary said it's because he's finally become a true artist.
"I finally feel like an artist. Paintings just fall out my paintbrush now."
Tell Tetona Dunlap whom she should meet next for her weekly column: 735-3243 or tdunlap@ magicvalley.com.