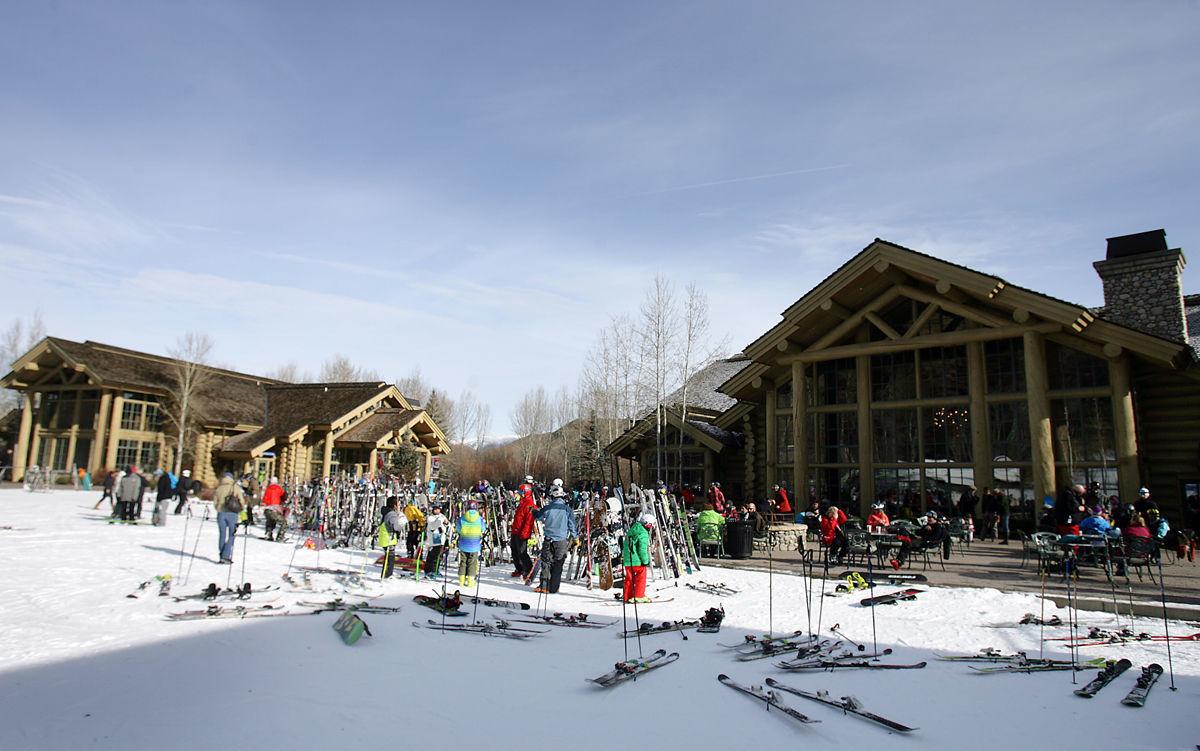 One of Idaho's top tourist areas is asking visitors to — please — stay out. Blaine County, home to skiing, live music, conferences and other ever-popular events in Sun Valley, Hailey and Ketchum, flipped its usual welcoming script in the last week over concerns about the spread of coronavirus.
But that change of heart may have come too late.
Already coronavirus has hit the small mountain community harder than anywhere else in Idaho. Nearly half of Idaho's 148 confirmed cases of COVID-19, the disease caused by coronavirus, are in Blaine County. Two of Idaho's first three deaths, reported Thursday, were also Blaine County residents.
The Wood River Valley's population is barely 22,000 strong, much smaller than Idaho's main population centers in the Boise area, Coeur d'Alene, Twin Falls, Pocatello and Idaho Falls — in counties that all still trail Blaine County in coronavirus diagnoses.
But every year, thousands of skiers, outdoors enthusiasts and wealthy part-time residents with homes in New York, Seattle and Los Angeles flood the valley. From December to March, roughly 30,000 people from around the world usually land at the Friedman Memorial Airport in Hailey and visit restaurants, ski slopes and resorts.
This year, travel in and out began to slow by March, the Idaho Mountain Express reported, as Americans began to realize the serious threat posed by coronavirus. Idaho Gov. Brad Little issued an isolation order for Blaine County shortly after, citing the first case of community transmission.
Now, officials and residents suspect the visitors that are usually the area's lifeblood may have been the conduit that brought the virus to the Wood River Valley in the first place.
"What happened here in the valley is the same thing that happened elsewhere," said Brent Russell, an emergency room physician in Ketchum. "We realized it too late. We realized the virus was here, and in a big way, too late. Including me."
COVID-19 ARRIVED EARLY IN BLAINE COUNTY
Idaho's first case of coronavirus was diagnosed in Ada County on March 13. The next day, the South Central Public Health District announced the first two confirmed cases in Blaine County. The district later indicated it believed a visitor transmitted the virus.
The South Central Public Health District did not respond to a series of Idaho Statesman questions about these early cases.
From there, Blaine County became the first area in Idaho to confirm community spread March 19, meaning coronavirus passed to people who did not travel to other outbreak areas or have contact with known cases. The same day, Gov. Little announced a deluge of 10 new COVID-19 cases in Blaine County and instituted the isolation — or shelter in place — order for the county.
Blaine County has been hit hard by coronavirus — but exactly how hard isn't clear. The Idaho Department of Health and Welfare doesn't have data on how many tests are being performed in each county, spokeswoman Niki Forbing-Orr said. That means there's no way to know if Blaine County is simply testing more people or if it has a higher rate of positive test results than other areas.
"When providers request a test, they don't include the county or much information at all, until we have a positive result and need to investigate known contacts," Forbing-Orr said in an email. "We have no idea about samples being sent to the private labs."
The South Central health district includes seven other counties besides Blaine, but only Cassia and Twin Falls counties have confirmed cases — one each. That's despite how connected Blaine County is to the rest of the Magic Valley. Because of the high cost of living in Blaine County, many resort and hospitality workers have hourlong commutes every day from Twin Falls, Jerome and even farther.
St. Luke's Wood River Medical Center in Ketchum also has been hit hard. It's the only hospital in Blaine County. Joy Prudek, spokeswoman for the hospital, said health care workers started drive-thru coronavirus screenings March 17, the same day as the Meridian St Luke's and a day earlier than the Boise location.
"We started exhibiting symptoms early on … so that may be why we got those tests first," Prudek said in a phone interview.
She said the outbreak is taking "an emotional toll" on health care workers.
"We're such a small community that we're treating friends and neighbors," Prudek said.
It's also taking a physical toll. South Central District Health told the Idaho Mountain Express on Monday that 14 confirmed cases were health care workers.
TOURISM CONTINUED AS USUAL BEFORE COVID-19 DIAGNOSES
In early March, Russell, the Ketchum physician, visited the same places as many tourists — he went skiing, spent time in the lodge at Sun Valley Resort and ate at local restaurants. Russell started noticing a cough, runny nose and shortness of breath about a week before he was diagnosed with COVID-19 on March 19, the day after a coworker received the same result.
In a phone interview, Russell said he's "an avid skier" who had been carrying on like usual two weeks ago. When he initially became ill, he said, his symptoms were not ones typically associated with COVID-19. He had some fatigue and a stomachache.
"I'd been out and about just thinking there couldn't be any chance I was transmitting the virus," Russell said.
Early in the month, events and gatherings in the Wood River Valley largely continued. The National Brotherhood of Skiers, a nonprofit that supports skiers of color, was in Sun Valley the first week of March for its Black Summit 2020 gathering. According to a Facebook post in a Brotherhood group, club officials said in a March 18 email that dozens who attended the Feb. 29-March 7 summit were ill, with five of those illnesses confirmed to be coronavirus.
"Whether they brought it to us or we gave it to them, there's no way to know," Russell said.
Blaine County still sees plenty of visitors in the winter months, in large part because of Sun Valley Resort and plentiful backcountry skiing options. Skiing has been touted as a potential link to COVID-19 infections in Austria and Mexico. Ski areas in California, Colorado and Utah have also seen high numbers of confirmed COVID-19.
"Even though skiing would seem like a low-risk activity since it's outside, it's probably an incredibly high-risk activity," Russell said. "Skiers sit next to each other on chairlifts, sitting shoulder to shoulder, and then you turn and talk to the person and you're on a chairlift for 15 minutes. We also have a gondola where people sit three to a row facing each other.
"It's almost assured that if someone has the coronavirus and gets on the gondola or the chairlift with you, you are going to get it also," Russell said. "Under normal circumstances, (strangers) don't get that close to each other."
Other aspects of ski tourism also could exacerbate coronavirus spread, he added.
"Everyone eats together in a fairly crowded lodge for lunch, and most (visitors) go out to eat every night. If somebody walks past your table and just exhales — they don't even have to cough — there's virus coming out," Russell said.
Prudek, the local hospital spokeswoman, and Ketchum Mayor Neil Bradshaw also pointed to tourism as a major factor in the outbreak.
"It's not really surprising that it hit a tourist area first," Prudek said.
"In my mind, Ketchum is on the front line in Idaho regarding coronavirus," Bradshaw said. "Why are we on the front line? Because we have tourists, we have second homes. We have continual flow in and out of our community. … We've gone full circle on that to become a community that is not encouraging travel (right now)."
The Blaine County Assessor's Office estimates more than half of the county's residential properties are second homes or rental properties. Just 43% of Blaine County homes received a homeowner's exemption for a property they claimed was their primary residence. Assuming everyone who qualifies for a homeowner's exemption applied, 7,917 Blaine County homes are not locals or full-time residents.
"People come here from all over the world," Russell said. "Especially this time of the year. When I'm in the ER, I get people from New York, Washington, D.C., San Francisco, Seattle. Every week there's people from those places. Most likely someone from an urban area or multiple people from urban areas came here and they just set it off."
BLAINE COUNTY OFFICIALS WARD OFF TOURISTS AS RESIDENTS SHELTER IN PLACE
The day that 10 new COVID-19 cases were confirmed in the area, officials in Blaine County asked the governor to issue a shelter-in-place order, meaning residents must stay home except to do essential activities like grocery shopping. On Sunday, officials in other Idaho health districts urged anyone who traveled to Blaine County in the last two weeks to shelter in place, as well.
In an open letter published in the Idaho Mountain Express last week, Bradshaw asked tourists to stay away from Ketchum and the Wood River Valley. The day after Little issued the shelter-in-place order, Bradshaw said he was already seeing decreased activity.
"This is a ghost town, and that's how it should be," Bradshaw said. "And this is quite different to what we normally are like as a city."
Blaine County Commission Chairman Jacob Greenberg said he manned the county's COVID-19 information hotline all day Sunday and Monday and only received two "whistleblower" complaints about people not obeying the isolation order.
"The majority of people are observing and strongly adhering to it," he said.
On Monday, local law enforcement announced its plan to enforce the shelter-in-place directive. Though violations are punishable by fine or jail time, the Blaine County Sheriff's Office, along with local police departments, said in a social media post that it will start by educating residents.
"Given the unprecedented nature of this event, our agencies are in agreement to take a common-sense approach, consider the context of each situation, and utilize lesser sanctions such as education, warnings, or dispersal of the gatherings if warranted," officials wrote. "Our officers have been instructed they have the option to take enforcement action with the applicable misdemeanor charge if presented with a blatant violation."
In addition to fewer residents out and about, Bradshaw said he has "absolutely" noticed a downtick in tourism. He said it will likely have a "massive economic impact" on the area's local-option tax.
"Businesses are going to suffer, and so is the revenue stream to the city," he said.
The Ketchum hospital is already feeling the strain of increased patient numbers. Last week, it suspended normal operations. It has only two ICU beds and a single ventilator. While it can move patients to other Idaho hospitals, there's real concern about what would happen if tourists continued to think of Blaine County as a getaway in coming weeks.
"If we encouraged people by saying, 'Oh, you can take a virus vacation,' we are then encouraging the virus to come here or to be sent out," Bradshaw said. "… Nobody really has the hospital capacity in any town to handle this kind of virus, but certainly not if you're having tourists (getting sick)."
RURAL IDAHO TOWNS LOOK TO BLAINE COUNTY AS CORONAVIRUS EXAMPLE
Other small communities in Idaho are already replicating Bradshaw's plea for visitors to stay away, though some of them have not yet seen their own COVID-19 diagnoses. (One part-time Valley County resident was diagnosed with the illness Sunday, but officials said he had previously been in Blaine County and had not returned to Valley County while infectious.)
Officials in McCall, Cascade and Crouch each issued statements this weekend asking travelers to give them a wide berth. They cited similar concerns about overwhelmed health care infrastructure.
"We are watching closely how the Blaine County situation unfolds to learn lessons from them and apply it here," McCall city manager Anette Spickard said in an email.
Spickard said local businesses already have closed their doors and restaurants have shifted to takeout and delivery options ahead of an outbreak there.
Russell said being "overly cautious" is the best approach right now.
"We don't want panic but we also don't want people to be blasé about this," he said. "I'm all for being done with this and getting the world back going and helping the economy and having people working and making money … but we need to do this right now until we see what's going to happen."
Earlier in the week, Russell told the Statesman that Blaine County's situation could be a sobering but instructive lesson for the entire state, including the Treasure Valley.
"In a way Boise and the rest of the state has an opportunity to not be like Blaine County. Right now is the time to make some personal sacrifice for the greater good," he said.
But by Wednesday evening, things had already changed for the rest of Idaho. Coronavirus cases topped 140 and state health officials identified cases of community transmission in the Treasure Valley and North Idaho. In response, Little issued an "extreme emergency declaration" and an order for all Idahoans not filling essential jobs to stay mostly at home if at all possible, making Idaho the 20th state to issue such an order. Blaine County officials also tightened the isolation order, ending most construction projects, closing hotels to tourists and banning Blaine County residents from leaving the area.
"The experts tell us that the timing of decisions are extremely important," Little said during the order's announcement. "Every state is in a different stage. I am confident that the decisions that we have made in Idaho, over the past few weeks and months, have been solidly grounded in the advice of epidemiologists and our infectious disease experts."
Concerned about COVID-19?
Sign up now to get the most recent coronavirus headlines and other important local and national news sent to your email inbox daily.